South Indian Filter Coffee – Filter Kaapi | How to make South Indian Filter Coffee With & Without a Coffee Filter Press | Degree Coffee is prepared using a special filter, which is used to brew a concentrated coffee decoction, which is then mixed with frothy hot milk & sugar to create a perfect cup of coffee. It is traditionally served in a dabarah and tumbler.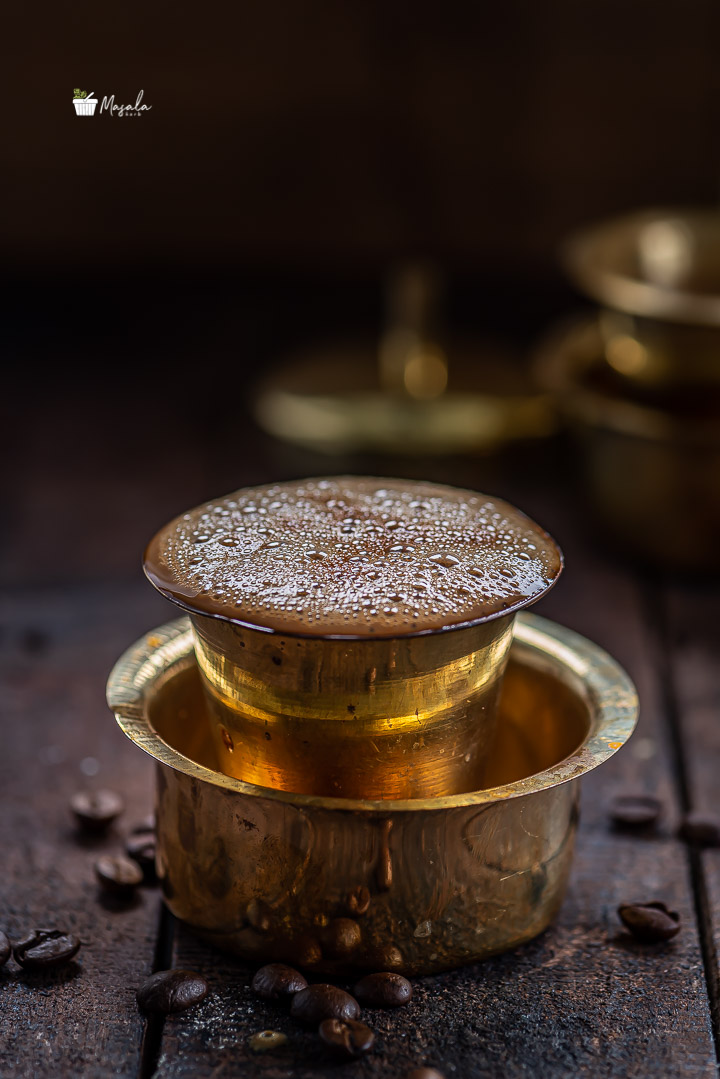 What comes to your mind when I say coffee…for me it's such an emotional thing I connect to..and I really mean it!! I can't stress enough how much a good coffee means to me to start my day. It's just not any coffee…it's that typical South Indian filter coffee or Degree Coffee!! Absolutely different from any of the instant coffees you get across the globe. Trust me there is nothing to beat this coffee for a true coffee lover.
The world is divided between tea drinkers and coffee drinkers….Well, I'm a coffee lover/addict, and do try out a large variety of coffees. In today's time when there are coffee shops in every nook and corner, in my opinion nothing to beat traditional ethic coffee! Start your day or sit back and relax after a long day with this amazing cup of coffee!!
So, let's brew some great coffee!!
Every house has their own mix of coffee. This is the roasted coffee bean powder with some chicory. I like my mix in the ratio 80% coffee seeds to 20% chicory…which is what I'm using today. You can increase the percentage of chicory depending on how intense you want your coffee. It is this mix that's going to give that final flavour to your coffee.
If you love coffee, don't miss out on DALGONA COFFEE ☕️ .
What is a South Indian Coffee Press?
The typical South Indian Coffee Press apparatus comes in traditional brass as well as stainless steel. You can use either of them
The coffee filter press has 4 parts.
The base is the decoction collector. Decoction is the concentrate of coffee.
The upper part has holes and this is where you put the coffee powder & add water and the decoction drips through. This cup nests on top of the base.
There is a  plunger used to press the coffee powder. This will allow the water to seep in slowly through the coffee powder to get a concentrated decoction.
And of course the lid to arrest the aroma of coffee and also retains the heat.
And yes, I do have an alternative method even for those who don't own a coffee filter press…. it tastes equally good!!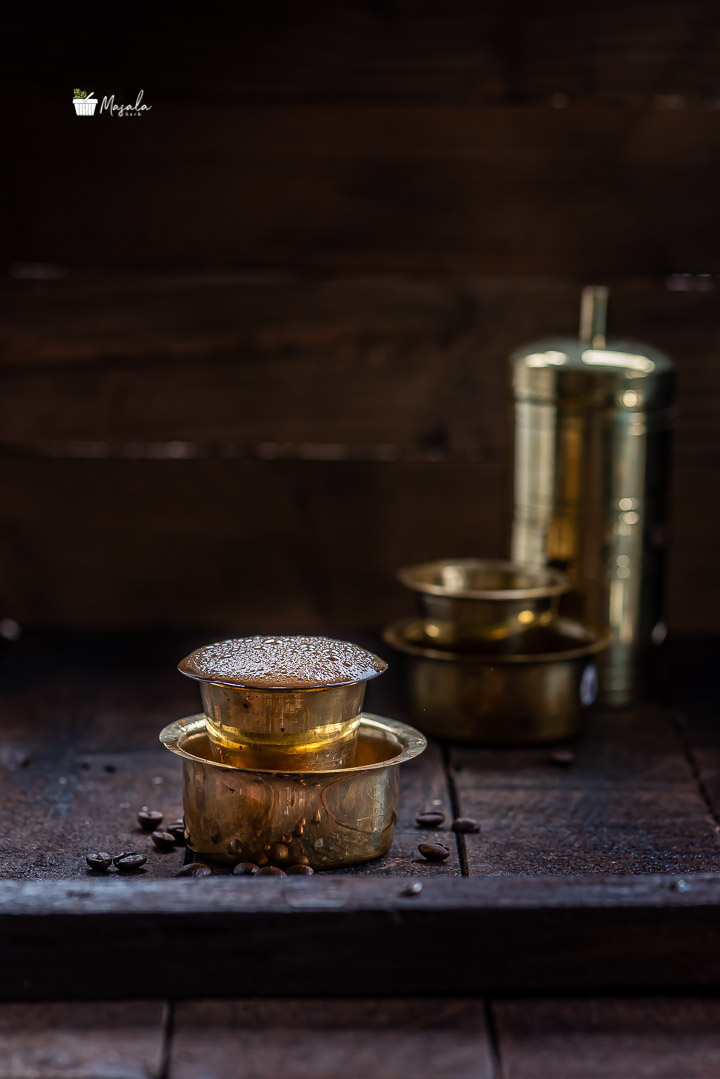 Steps to follow for
South Indian Filter Coffee – Filter Kaapi
Let's make some Decoction:
I'm adding some coffee powder, approximately 3 heaped tablespoons to the upper compartment. This make 2 cups of coffee. But, it will depend on how strong or light you want your coffee to be. Now press it with the plunger to remove any air pockets so that when we add water, it doesn't just pass through quickly. Don't press it too hard either. Mildly tap it once or twice and leave it over the powder.
This is optional. You could also just add plain hot water. Add a teaspoon of sugar to a pot and let it caramelise. Do not stir it. It starts changing colour, when it becomes brown, this is when you add in required water for decoction. As a caution, be careful while adding water.
Once water just starts bubbling, add just before it starts boiling is when you need to turn off the heat.
Add hot water to the upper compartment and cover with the lid. Place it aside, make sure to hold it at the base as the upper compartment will be hot. It takes about 20 minutes for the decoction to drip to the lower compartment.
Making Filter Coffee:
After 20 minutes, the decoction should be done and ready. Collect the 1st degree decoction and keep covered. If you want, you can actually add hot water again and brew second time. This will be slightly milder.
It's time to heat up some milk. Adding in full fat milk and allow this to heat on roll boil.
In the mean time, add sugar and add in some of the decoction to the dabarah. Add as much or as less to your preference. Sugar is personal preference so adjust it to suit your taste. Again this is a traditional way to drink coffee in Tamil Nadu, which is called dabarah and tumbler, a combination of a cup and a glass. But, you can use any normal cup.
Pour this back and forth a couple of times to get that froth. I really enjoy doing this as I like my coffee with the froth on the top. Add in some hot milk and enjoy your coffee. Optionally, top it with some decoction. I like my coffee strong but you can always adjust to your preference.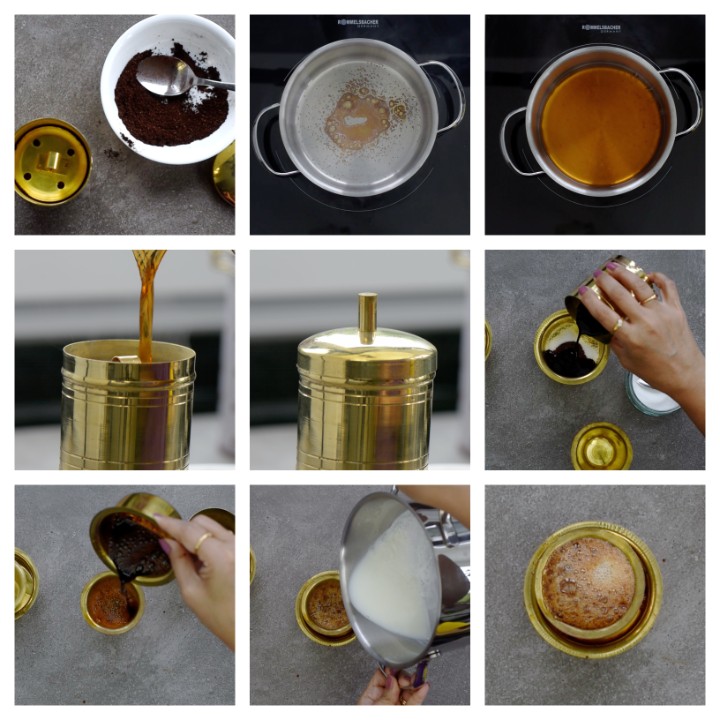 NOTE:
The caramelising step is my tip to get Hotel Style Filter Coffee, it gives an awesome hue to your coffee…..This is just for those true coffee lovers!!! It,s completely optional, you can skip the caramelising step and just boil and add plain hot water. But, once you try this method, you will never go back and make decoction with plain water.
I'm not sure how far this is true, but adding a teaspoon of raw fresh milk to the coffee just before serving is supposed to take the coffee to the next level. I never tried it though!!
Adding a pinch of instant coffee powder is another way to get that colour.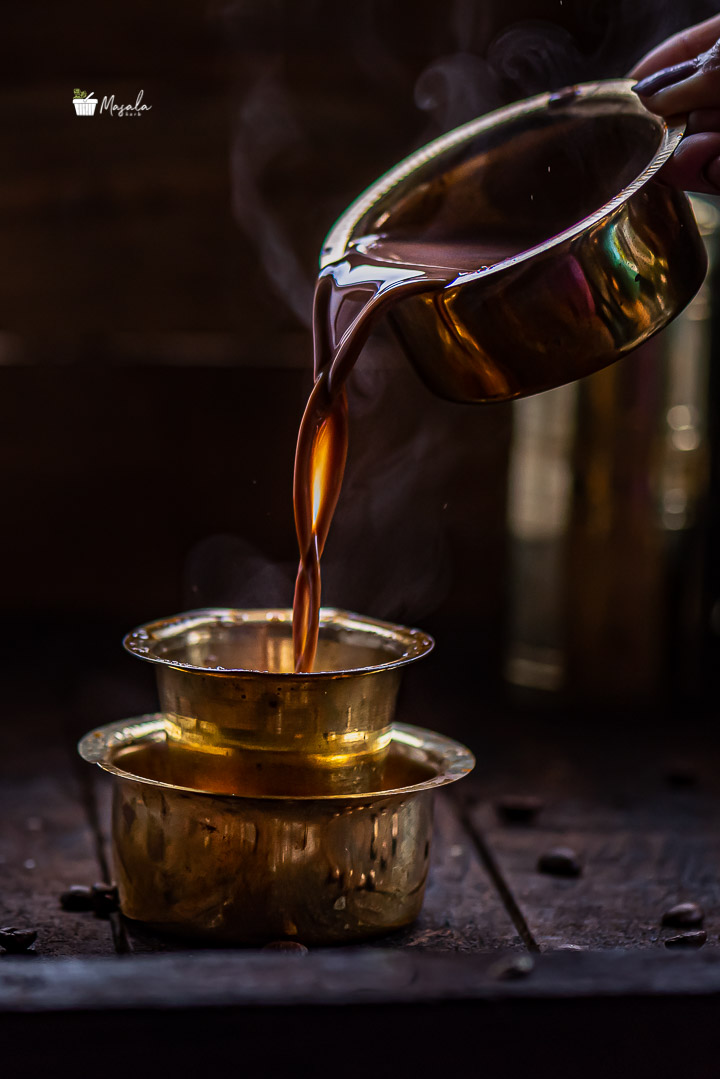 South Indian Filter Coffee Without Filter:
Method 1:
Now, let me show you a quick alternate method for the ones who don't own a South Indian Coffee Filter Press.
Add coffee powder to a bowl. Now, add in some hot water and cover immediately with a lid. This time I'm adding plain hot water.
After about 30 seconds, give it a nice mix and cover it again. This prevents the powder to float above the water.
Let it rest for a minute or 2 to get clear decoction.
Run it through a sieve or a muslin cloth and the decoction is ready.
Use it to make your coffee. Rest of the process remains same as above.
Method 2:
Place a muslin cloth over a sieve placed on a bowl. To this add the coffee powder and lightly tamp the powder using a spoon.
Pour boiling water over this slowly and the decoction drips down to the bowl below it.
Rest of the process remains the same.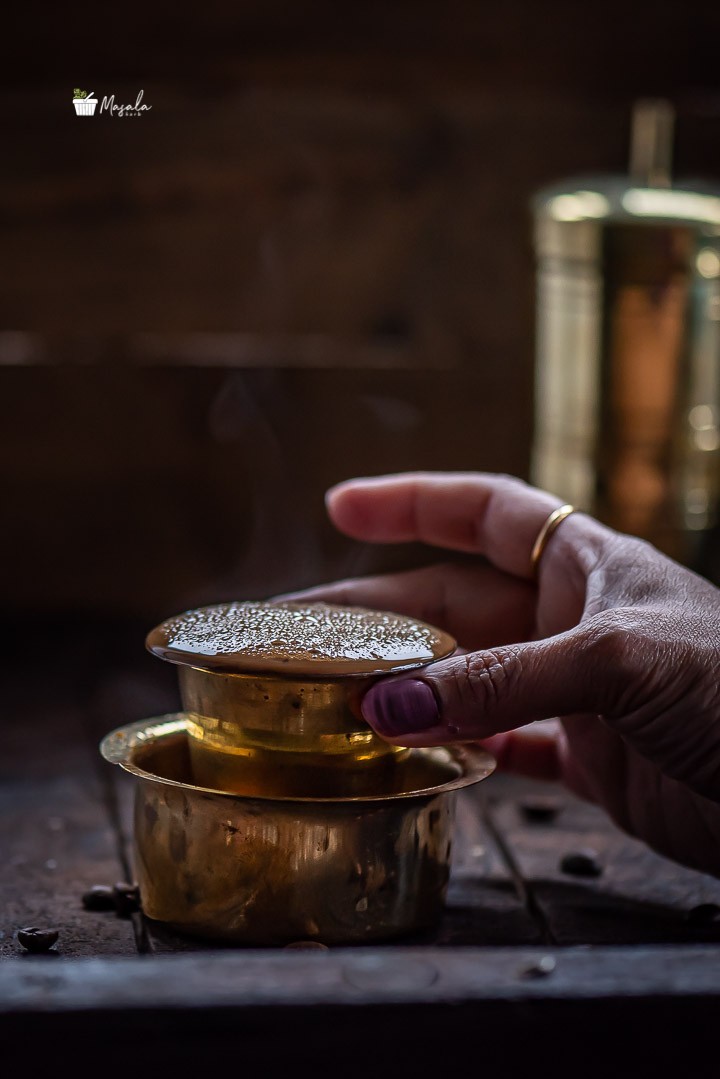 Some frequently asked questions:
Can you make it with Instant Coffee Powders?
It cannot be made with Instant coffee powders like Bru, Sunrise or Nescafe. You will need ground coffee bean powder to make this kind of filter coffee.
How is Filter Coffee different from Regular Coffee?
The traditional Filter coffee has a set process like what you have seen above.
The decoction is made using a filter and then mixed with boiling milk and sugar to make a frothy coffee, but in normal coffee, you can just mix everything in a pan including milk, coffee, and sugar and bring it to a boil and strain.
While Filter coffee is a little frothy and has an intense flavour, regular coffee doesn't have that. Also, filter coffee is brewed for a longer time when compared to the regular coffee.
How to make thick coffee decoction?
You will have to keep following things in mind to make a nice and thick coffee decoction.
First and foremost, the quality of the coffee is very important and it should be finely ground. Including or excluding chicory in it is personal preference.
Choose correct filter size, you have to at least fill quarter and add water accordingly. If you add too much water then the strength of the decoction might not be thick enough. By chance your first brewed decoction gets dripped too fast, then it is too thin.
If by chance your coffee decoction never collects down even after waiting for long, then it means you pressed the coffee powder too hard. then, just gently tap the filter carefully on the rim and try to see if the decoction drips down.
So, to make a thick coffee decoction, add the coffee powder in the top compartment of the coffee filter. Press lightly with the plunger, so that the coffee powder is even. Top with hot water. Cover with the lid and let the coffee percolate for about 20 minutes. Your thick and strong decoction will be ready in some time.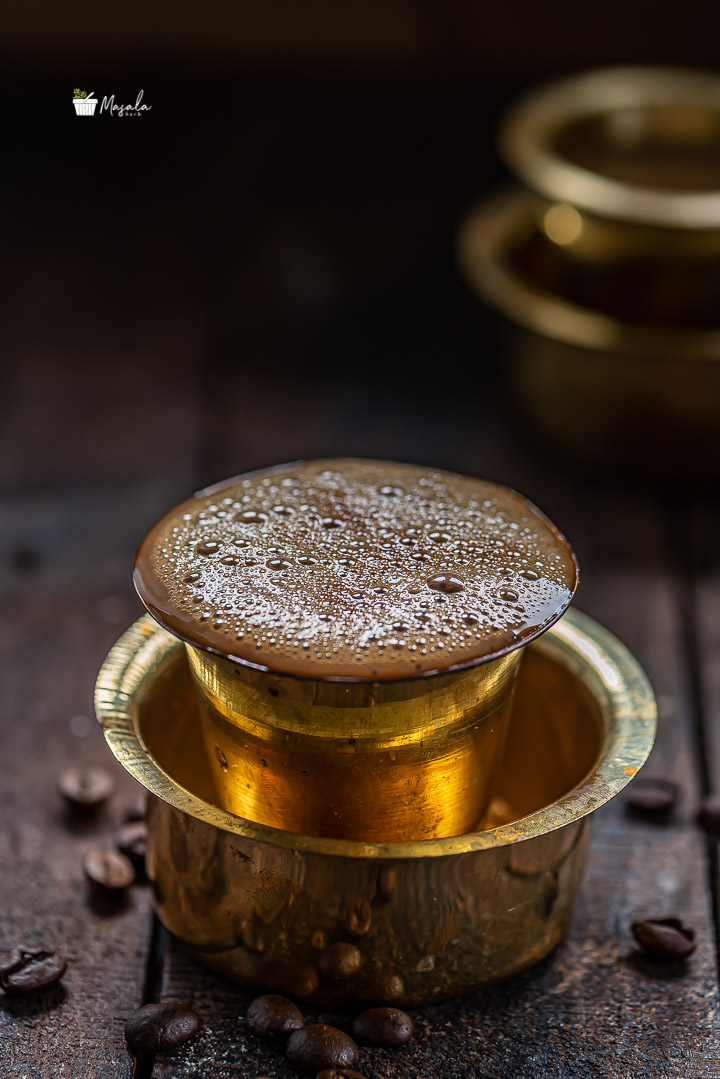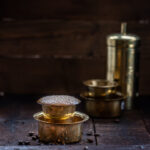 Print Recipe
South Indian Filter Coffee is prepared using a special coffee filter to brew a concentrated coffee decoction, which is then mixed with hot milk & sugar.
Ingredients
3 to 4

tbsp

Coffee Powder

1

Cup

Boiling Hot Water

1

Cup

Boiling Hot Milk

Sugar

to taste
Instructions
Add coffee powder in the top compartment of the coffee filter.

Press it gently with the plunger.

Top with boiling water.

Cover with the lid and let the coffee percolate.

It will take 20 minutes for the coffee to percolate.

Add 2 tbsp (or as per preference) decoction in a tumbler.

Top with boiling hot milk.

Add sugar and mix by transferring the coffee between the dabarah and tumbler a few times.


Notes
Do not use instant coffee powder to make this coffee. Any medium grind with or without chicory works fine for this.

You can store any left-over decoction or you can make it in bulk and store for future use. Just add 1/2 tsp sugar in it and keep it covered in the fridge. But, try to make it fresh as far as possible.
Sometimes, the pores in the filter get blocked with the coffee powder. So, you will have to clean it up with a needle point. Immerse the filter in boiling water weekly once or so if using on a regular basis.
You can also heat up the upper compartment on direct flame just before making. This helps to open up any blocked pores.
Always use fresh milk to prepare coffee.
Never re-heat decoction or coffee! It won't taste good. Simply boil milk and add.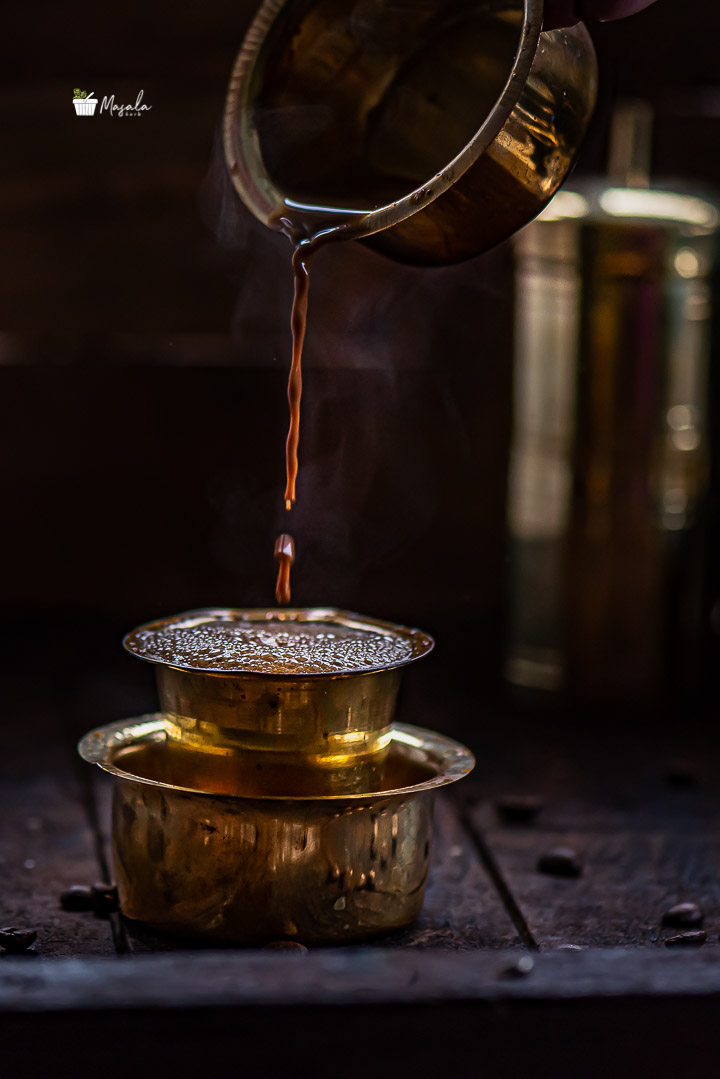 Do check out DALGONA COFFEE  and other Beverages,  Drinks and a few Quick Snacks to go with your coffee!!
Many more to come!!…..STAY TUNED!!
Hungry for more? Never miss a recipe!!…Subscribe to MasalaKorb and have posts delivered straight to your inbox! And connect with me on Facebook, Google, Twitter, Instagram and Pinterest  for all of the latest updates.
Do subscribe to my YouTube Channel  for latest video alerts!! 
If you cook this dish, be sure to tag your photo with this hashtag:  #masalakorb
Happy Cooking 
Cheers!!
Padma.