Green Breakfast Smoothie Recipe | Spinach Detox Smoothie For Weight Loss | Detox Green Smoothie Recipe – Green Smoothie Cleanse – Smoothie is a delicious way to flush your body of toxins, boost your immune system & helps in weight loss!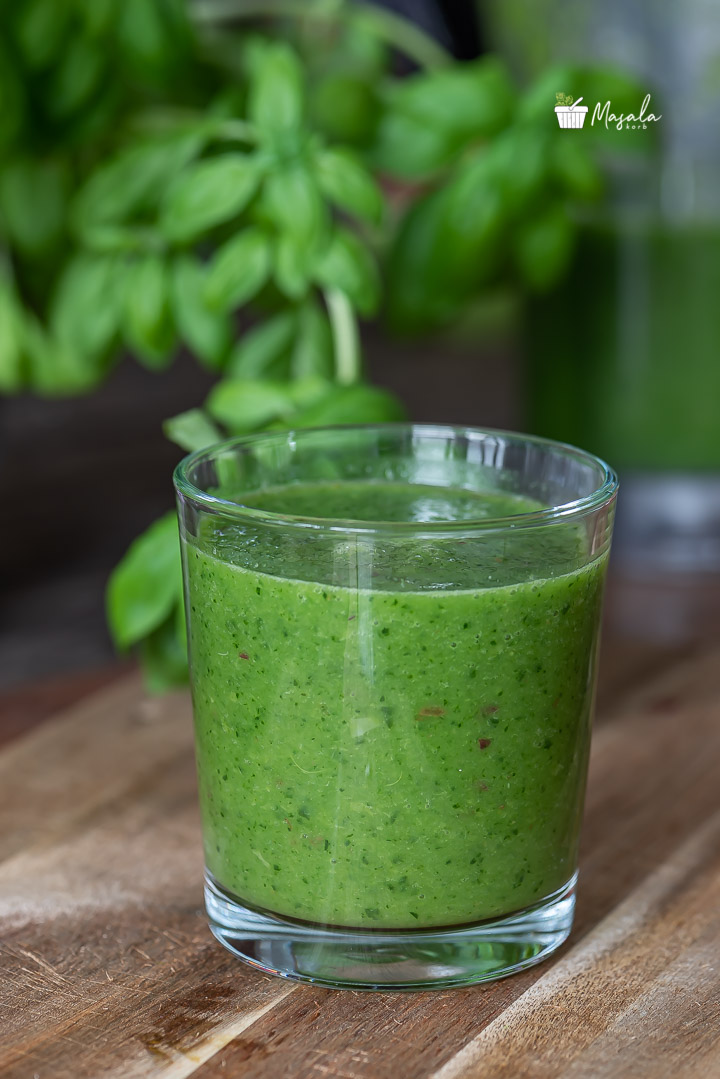 Today, I'm going to share my fool-proof way for making a delicious Green Breakfast Smoothie Recipe – Detox Green Smoothie. Whether you binged over the holidays, want to boost your immune system or lose some weight, or just want to eat a bit healthier, Smoothies are the easiest way to pack a lots of nutrition into your meal & a form of restrictive eating. You can make a smoothie in less than 10 minutes. And the best part is, you don't even need to turn on the stove! They usually contain fresh vegetables and fruit, and can be made with an ordinary kitchen blender or a fancy & powerful blender like Vitamix machine.
CRITERIA FOR A GREAT DETOX SMOOTHIE
This is what I look for when I make a smoothie:
It needs to look gorgeous: We eat first with our eyes, and nobody wants to drink anything that doesn't look appealing.
Definitely needs to be delicious: Life is too short to eat food that isn't scrumptious.
It should be loaded with nutrients with your favourite ingredients.
Start your day with a smoothie and if you follow the above criteria, trust me, they can be enjoyed everyday. However, I recommend mixing things up so you don't overdo it on any one ingredient. Rotate the ingredients to include a variety of fresh fruits, fresh vegetables and greens, herbs, and spices.
The typical weight loss smoothie recipe is full of vitamins, antioxidants, fibre, and other healthful nutrients giving your body a detoxifying flush. They also contain large amounts of water, which helps to hydrate your body and boost metabolism. I strongly recommend you use fresh ingredients, but you can also use frozen fruits and vegetables if fresh isn't available. Just be sure to get organic produce both in frozen and fresh. You're cleansing your body you don't want to be adding in pesticides while you do it!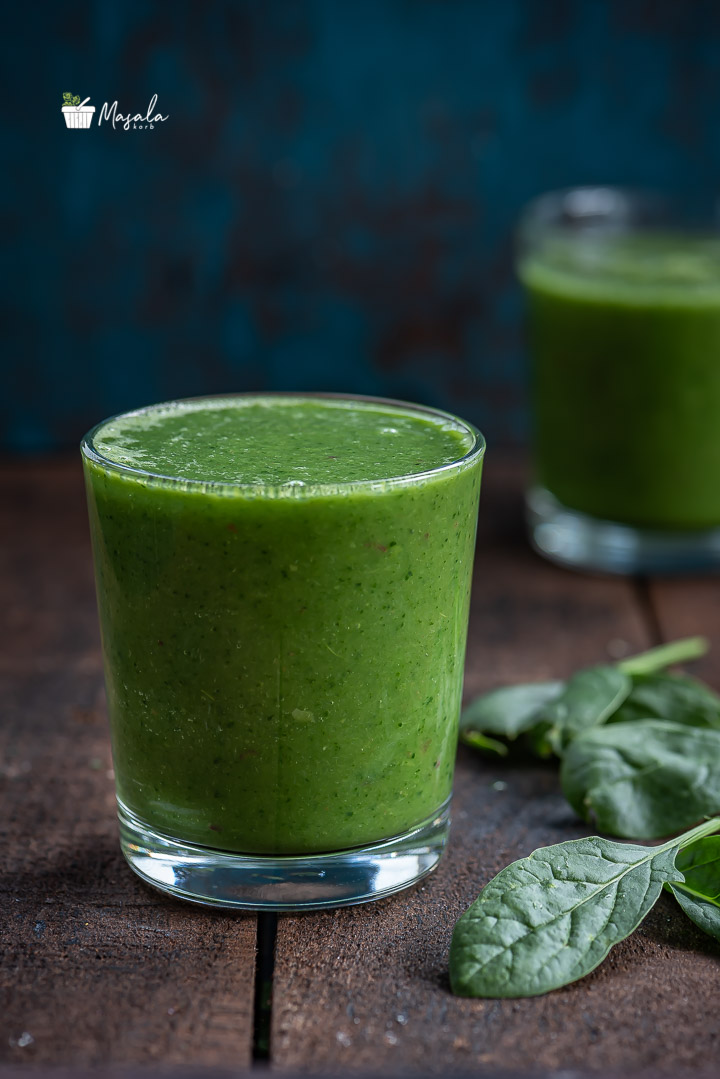 WHAT DO YOU NEED TO MAKE A DETOX SMOOTHIE
A base liquid: You can use unsweetened almond milk, oats milk or hemp milk, fresh fruit juice, tender coconut water or just use plain water.
Choose your base ingredients: Add fresh or frozen fruits or veggies of your choice like apple, orange, berries, grapes, beets, cucumber, pineapple, mango, kiwi etc.
Add some creaminess: Banana, avocado, tender coconut meat, unsweetened natural yogurts, almond butter…anything that adds richness and creaminess to smoothies.
Add some greens: Next add some greens like spinach, kale, radish greens etc. Try starting with baby spinach in all your weight loss smoothies, it has no flavour and will naturally boost your metabolism. You won't even know it's in your smoothie, all you will taste is the fruit. Once you get used to spinach try swapping half of it for kale, add more of the new greens and less of the spinach until your taste buds start to enjoy your new food….Just experiment!
Boost the nutrients: Add a tablespoon of chia, hemp or flax seeds.
Finally, add some magic with your favourite spices: Add some flavour with fresh ginger, a pinch of turmeric or 1/4 to 1 teaspoon of ground cinnamon. You could also try adding some fresh herbs like coriander, basil or mint. Lift the pungency of earthy root veggies or leafy greens with a squeeze of lemon or lime juice, and a dash of lemon or lime zest.
How to Make Green Breakfast Smoothie Recipe – Detox Smoothie
Detox smoothie recipes are really easy to make:
Add all ingredients to blender.
Blend until smooth & enjoy!
If you want to make the weight loss smoothie cold, you have two options:
Freeze the fruit or buy frozen fruit.
Add 1/2 a cup of ice.
What if I can't drink the smoothie right away?
We're all busy and it's not always possible to drink your smoothie right away. If you're making a smoothie in the morning to drink later in the day or the night before to drink in the morning, you can still get a lot of goodness from your ingredients. Seal the smoothie in a jar right after making and store it in the refrigerator. Shake it up again before enjoying.
But, remember, fruits and vegetables begin to oxidise the minute you cut them open. So it's always best to enjoy the smoothie immediately to minimise the degradation of nutrients.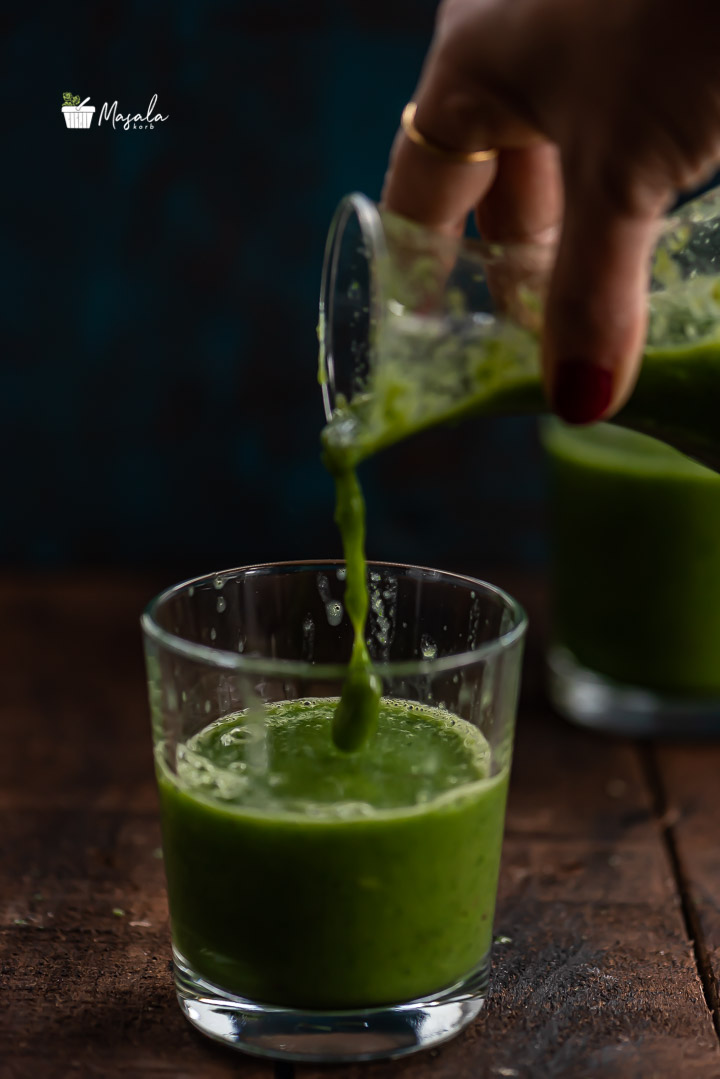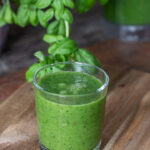 Print Recipe
Green Breakfast Smoothie is a delicious way to flush your body of toxins, boost your immune system & helps in weight loss!
Ingredients
1

Cup

Almond Milk

Unsweetened

½

Cup

Coconut Water

or Plain Water

4

Pitted Dates

A Small Ginger Piece

1

Medium Frozen Banana

6

Green Grapes

Seedless

1

Small Apple

Cubed

1/2

Cucumber

1

Cup

Spinach

Packed

A Squeeze of Lemon
Instructions
Peel and dice the apple and cucumber if not bio. Roughly chop the dates.

Place all the ingredients in a blender and process until smooth.
Notes
The amounts and ingredients in this recipe can be adjusted to your liking. Feel free to swap out, or add in, any other ingredients you like! Just pick your ingredients, blend, and enjoy!

You can keep the skins of apple and cucumber on If you own a powerful blender & if they are organic produce.

Make sure you wash the fruit and veggies before using them.

Almond milk can be substituted with regular milk or any other milk of your choice.

If your dates are hard, soak them in hot water for a few minutes especially if your blender is not very powerful.

You can also include some fat-burning foods to attain quicker weight loss.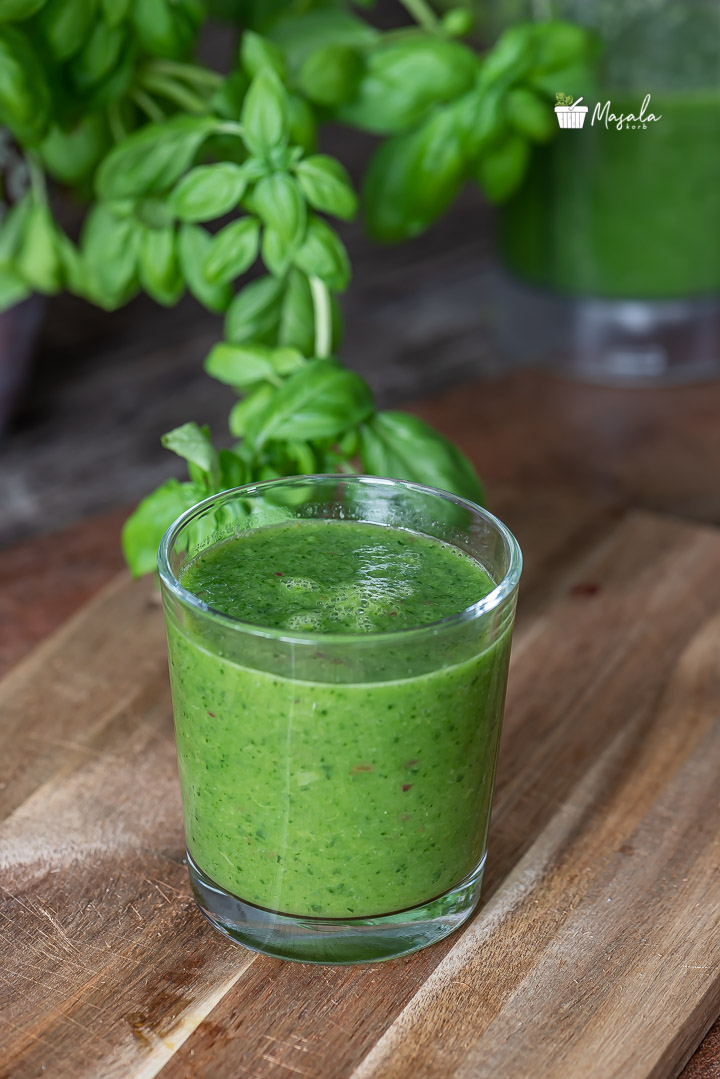 Many more to come!!…..STAY TUNED!!
Hungry for more? Never miss a recipe!!…Subscribe to MasalaKorb and have posts delivered straight to your inbox! And connect with me on Facebook, Google, Twitter, Instagram and Pinterest  for all of the latest updates.
Do subscribe to my YouTube Channel  for latest video alerts!! 
If you cook this dish, be sure to tag your photo with this hashtag:  #masalakorb
Happy Cooking 
Cheers!!
Padma.