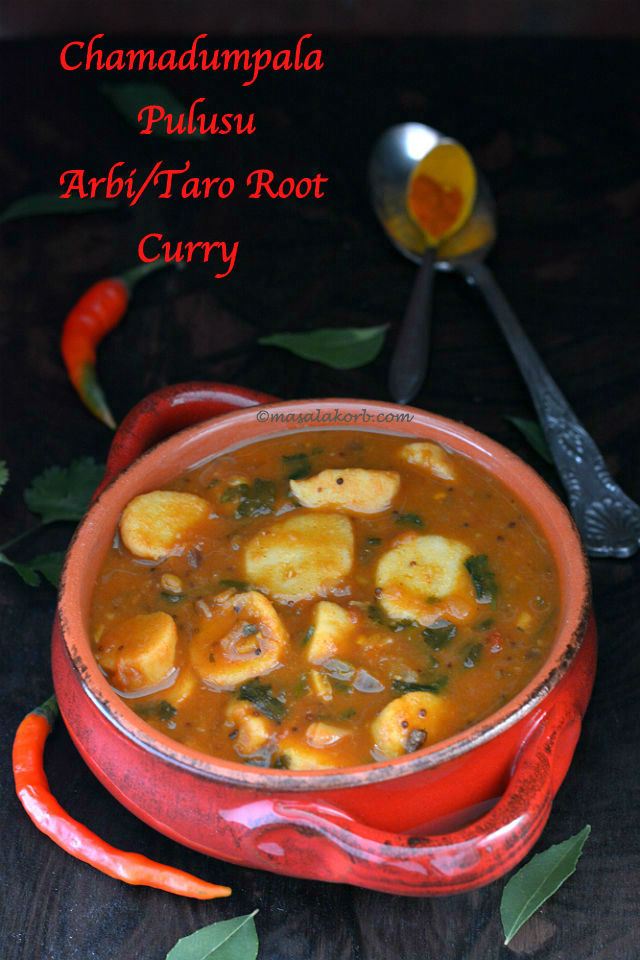 If you ask me to name one dish that can bring back life to your dead taste buds, then it has to be any form of PULUSU, a tamarind based gravy. I guess I mentioned my craze for pulusu in my Fish curry post. Once your taste buds get used to this taste, there is really no stopping! Which vegetable goes into the gravy doesn't really matter, it just tastes out of the world. If you are looking for something soothing to your tongue with proper Andhra flavours, then definitely this is a must to try. Today I'm going to share Chamadumpala Pulusu Recipe or Arbi cooked in tangy gravy that will seduce your taste buds!!
This knobbly, not so great looking starchy tuber cooked in tangy tamarind gravy is one of my most favourite curries. The stir-fry version Chmadumpala fry or Arbi fry is also a super hit at home.
Arbi recipe here is a liquid based gravy curry cooked in a tamarind based sauce. Because of the acidity due to tamarind, Chamadumpala Pulusu stays good for 3 to 4 days.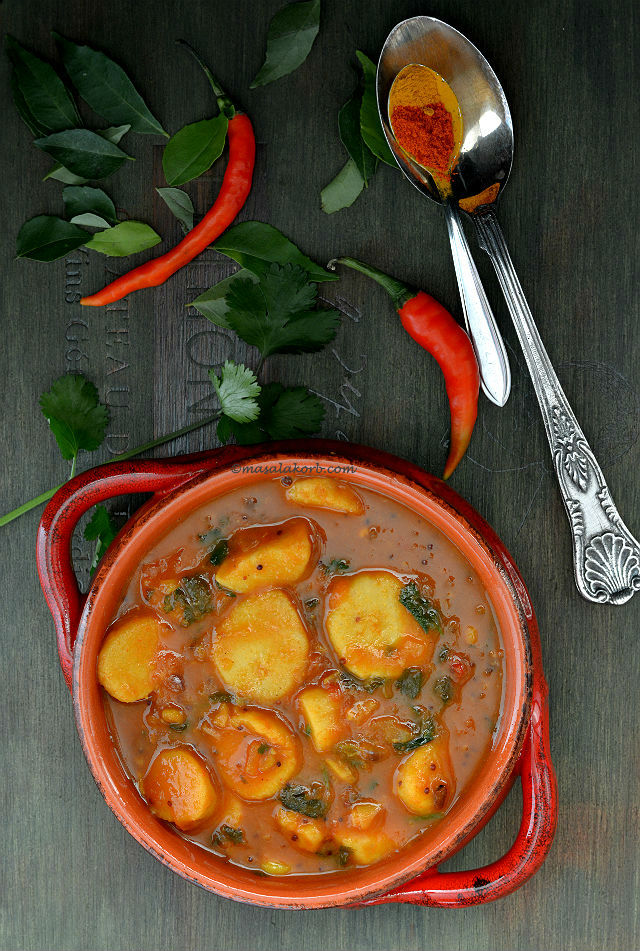 Arbi or arvi is commonly known as colocasia or taro root in english terminology and chamadumpa in Telugu. Taro roots can be used as an alternative to potatoes. They do, however, have somewhat of a nut-like flavour when cooked. Common uses for taro roots include frying, baking, roasting, boiling, or steaming them as an accompaniment to meat dishes. It has gained in popularity for cooking purposes because its starch is easily digestible. Additionally, taro roots are extremely nutritious as they provide a good source of fibre, contain a high amount of protein, calcium, and phosphorus, and supply approximately 95 calories per adult serving. The leaves are a good source of vitamins A and C and contain more protein than the corms.
Arbi dishes in general are too tasty and yummy. We can make lot of varieties with arbi like fry, curry or chips. I enjoy preparing arbi as it amalgamates well with flavours absorbing into them giving explicit taste which makes our taste buds salivate and urge to eat more. I highly recommend you to try this Chamadumpala Pulusu Recipe at least once, because you will just fall in love with all the flavours happening in it.
Off to the recipe!!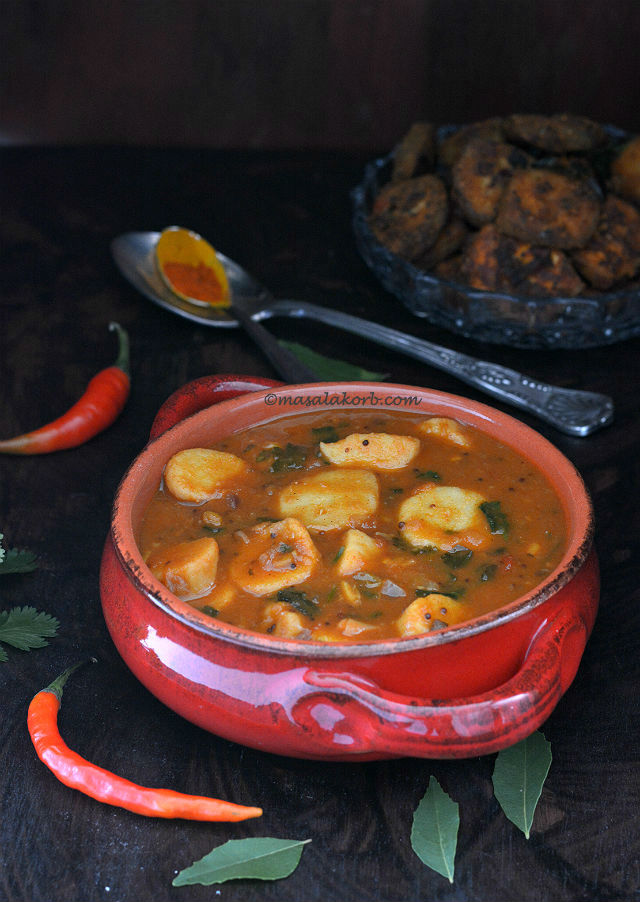 Step-by-Step process to make Chamadumpala Pulusu:
Wash arbi/chamadumpalu under running water to remove any dust.
Steam them in a pressure cooker up to 2 whistles. Make sure not to overcook.
Open the lid of the pressure cooker once the pressure subsides and when cooled remove the outer skins and cut them in to circular discs.
NOTE:
Alternatively you can also cook arbi on the stove top. For this, take a bowl with half of water and dip the arbis and boil it for 20 minutes till they become smooth.
Boiling or steaming is the best way to cook this vegetable, so that it is easy to peel the skin & helps to cook fast.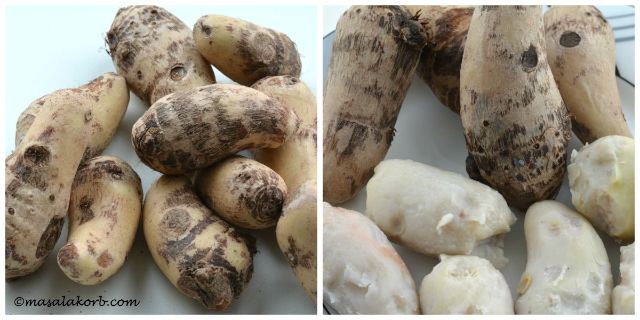 Add red chilli powder, turmeric and salt (under the section "To marinate" ) to the arbi pieces. Mix well and set aside.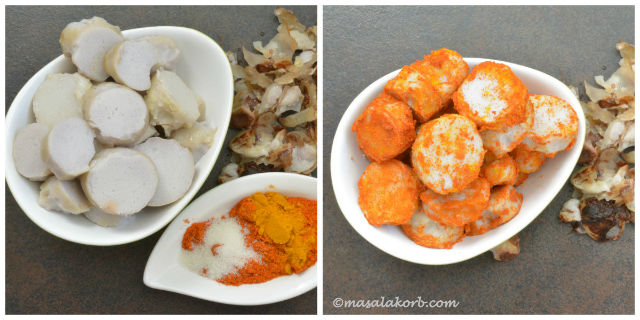 Chop onions, tomatoes and coriander. Slit green chillies lengthwise. Peel garlic pods and set aside.
Soak tamarind in 1 cup of water, microwave for a minute and extract juice discarding the residue.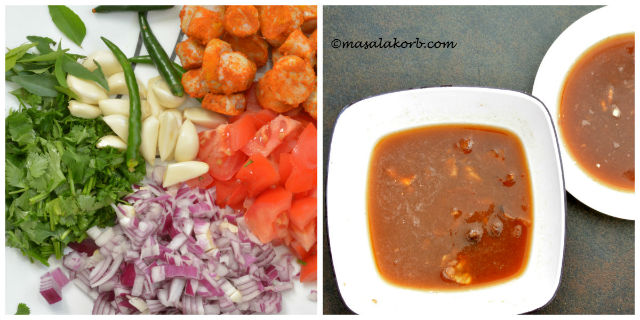 Heat oil in a pan over medium heat. Add mustard seeds and fenugreek seeds.
Once the mustard seeds pop, add curry leaves toss for a half a minute till the flavours come out and take care not to burn them. The fenugreek seeds should just turn brown.
Add chopped onions, slit green chillies, peeled garlic and sauté for a minute.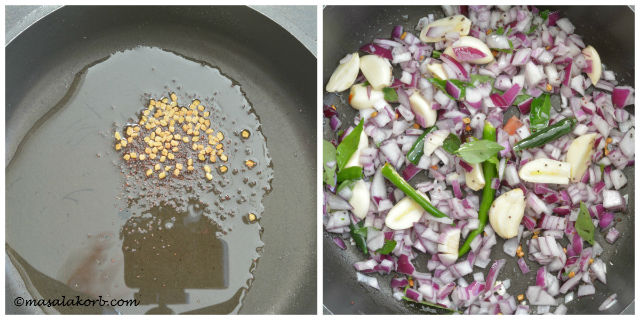 To this, add tomato pieces and a little salt. Cook till the tomatoes become mushy.
Now add vatha kuzhambu powder or sambar powder and mix well. Sauté and cook further for another 4 to 5 minutes.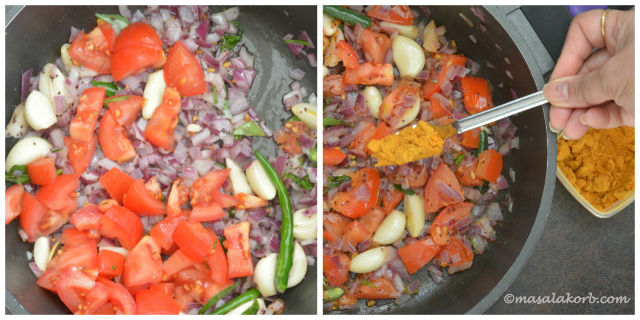 Optional step:
Now take half the quantity of this fried stuff in a blender and blend it to a coarse paste. This way your gravy gets a nice consistency and all the flavours blend well into the curry. But this is an optional step. If you don't have the patience or time to do this, you can skip this step and proceed.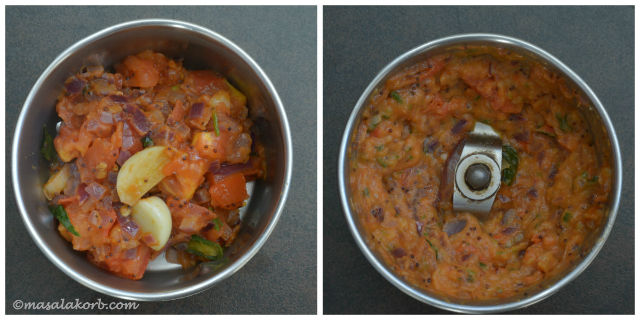 To the onion tomato mixture, add the Arbi pieces which you have boiled and kept aside.
Mix well so that the flavours of ingredients should absorb to the arbis.
Now add the paste blended in the above step. If you have skipped it then proceed to the next step.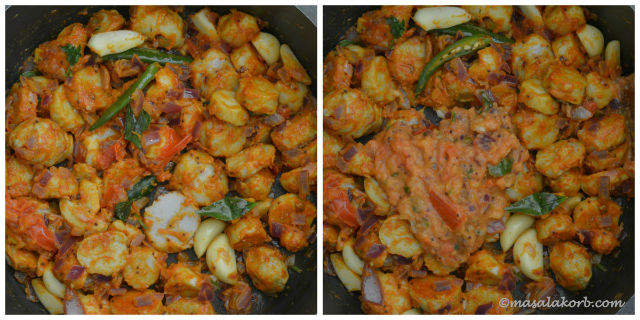 Add tamarind pulp along with approximately 2 cups of water (or as required for the desired consistency).
Add half of the chopped coriander for a nice aroma.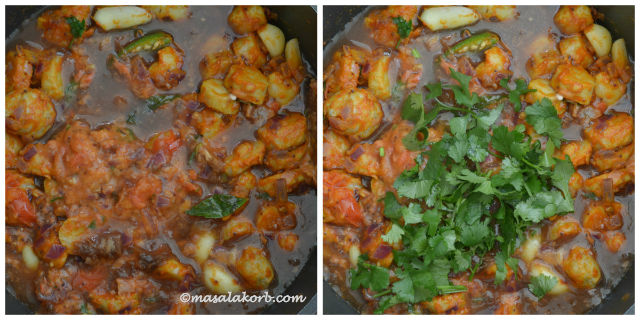 Add sugar or grated jaggery and bring to a boil. Simmer to a low heat, cover with lid and cook for 10 to 12 minutes or till the gravy thickens slightly.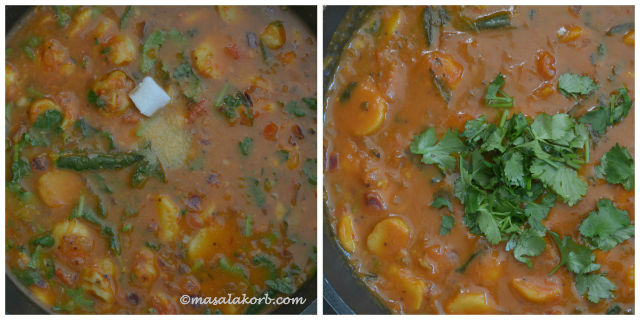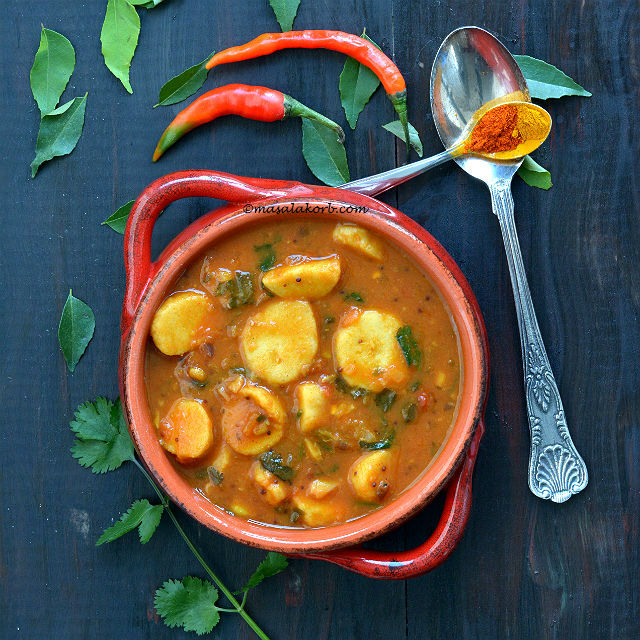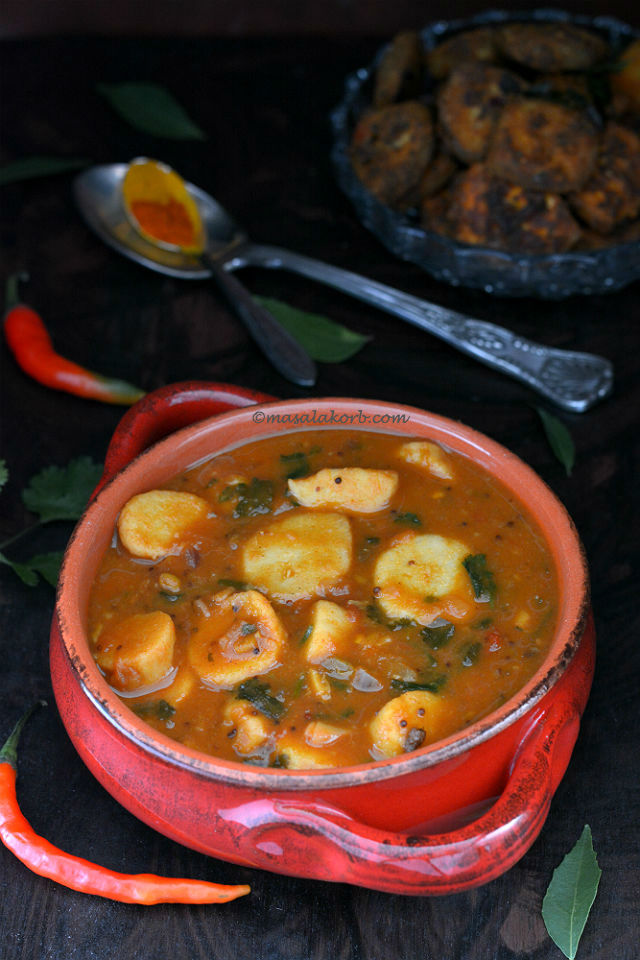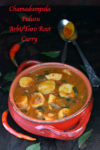 Print Recipe
Chamadumpala Pulusu is an easy South Indian recipe prepared with arbi (taro root) or chamadumpalu that is cooked in a tangy tamarind sauce.
Ingredients
250

grams

Arbi

boiled, peeled & cut into circular discs

To marinate:

1

teaspoons

Red chilli powder

½

teaspoon

Turmeric powder

Salt

Other Ingredients:

2

Tablespoons

oil

1

teaspoon

Mustard seeds

½

teaspoon

Fenugreek seeds

A sprig of Curry leaves

1

Large Onion

finely chopped

3 to 4

Green chillies

slit lengthwise

10

Garlic pods

peeled

1

Tomato

cut into small cubes

2

teaspoons

Vatha Kuzhambu powder or Sambar powder

Small lemon sized Tamarind

soaked in water & pulp extracted

1

teaspoon

sugar or powdered jaggery

½

Cup

finely chopped Coriander

divided
Instructions
Marinate arbi pieces with ingredients under the section "To marinate" & mix well.

Heat oil in a pan over medium heat. Add mustard seeds and fenugreek seeds.

Add onions, sgreen chillies, garlic, curry leaves and sauté for 2 minutes.

Add tomato pieces, a little salt & cook till the tomatoes become mushy.

Now add vatha kuzhambu powder or sambar powder and cook further for another 4 to 5 minutes.

Optionally you can blend half this fried mixture and add it to get a good consistency of the gravy.

To the onion tomato mixture, add Arbi pieces, mix and add the blended paste.

Add tamarind pulp along with 2 cups of water & some coriander.

Add sugar or jaggery and bring to a boil.

Cover with lid, simmer and cook for 10 to12 minutes till the gravy thickens slightly. Turn off the heat.

Garnish with coriander leaves and serve hot with steamed

rice

.
Notes
1. Adjust spice and tang to your taste.
2. Substitute arbi with okra, drumstick or brinjal for a variation.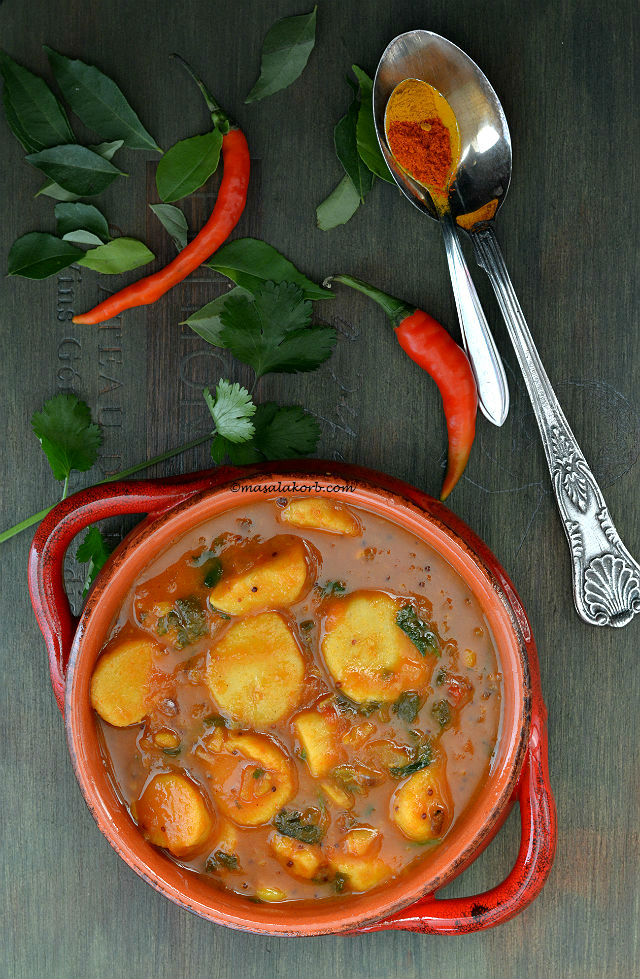 Happy Cooking 🙂
Cheers!!
Padma.