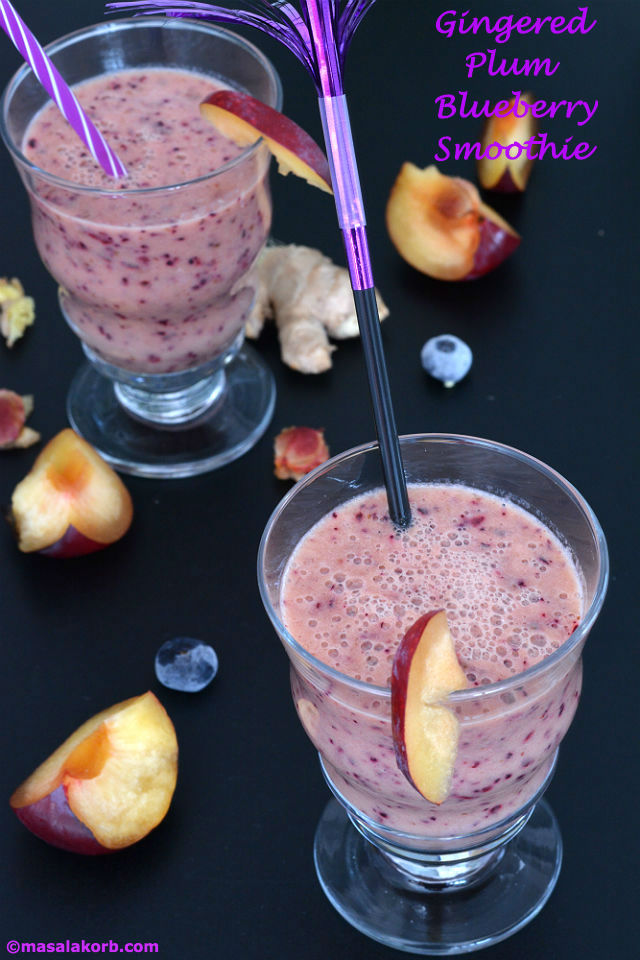 What I love about smoothies is how quick they are to whip up. Just throw everything into a blender and you're basically done. Smoothies are a perfect solution for various reasons.  Whether they are enjoyed for breakfast, lunch, or as an afternoon snack, they can be healthy, simple to make, and perfect for taking on the go. If you have a picky eater in your house, smoothies can be a great way to pack in some of the extra nutrition in addition to the regular meals. It is also a convenient way to ensure that your child is consuming the recommended daily amount of fruits and vegetables. Today I'm going to share Gingered Plum Blueberry Smoothie, which is extra special with a bit of warming ginger, which gives it a real kick.
Did you know that plums matched or exceeded blueberries in antioxidants and phytonutrients, which help prevent disease. They are now considered super foods by scientist. So, with plums and blueberries you are drinking one of the most nutritious and healthiest smoothies you can make. Yogurt to the smoothie is an added bonus, as it is good for your body and pleasant for your taste buds with the kick of ginger. I also included orange juice as a liquid base to the smoothie and I felt all the ingredients harmonised well. To balance out any sourness in the smoothie, I used dates as a sweetening agent.
When you use fresh fruit in your favourite yogurt smoothie recipe, you add more than just great flavour to your sweet treat. If your taste buds do not convince you to indulge in a yogurt smoothie, then listen to your heart. A yogurt smoothie with fresh fruit reduces the risk of heart disease and lowers your high cholesterol

.
Once your smoothie is ready, drink it right away when it's fresh and tastes best. Smoothies will begin to oxidise and lose valuable nutrients the longer they stand. They also tend to separate if left for too long (but a quick shake will fix that problem).
Are you ready to get a health kick? Start your blender and off you go!
Off to the recipe for Gingered Plum Blueberry smoothie!!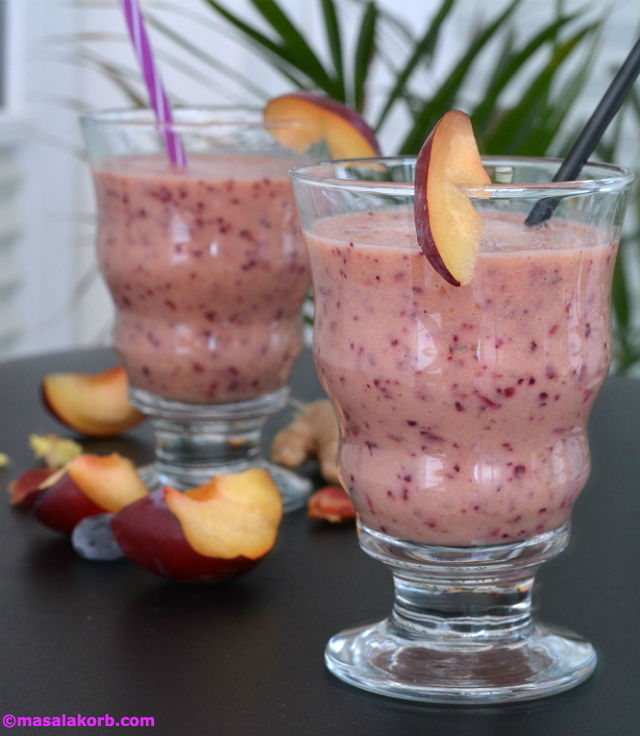 Step-by-Step Process in making Gingered Plum Blueberry smoothie:
Grab all the required ingredients.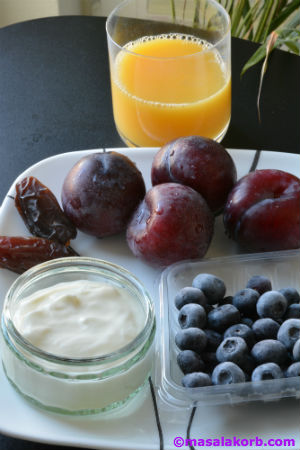 You can either use frozen or fresh plums and blueberries.
Today I'm using fresh plums and frozen blueberries.
How to pit a plum?
Slice the diameter of the plum. Then slice through the middle of the side with the pit. Twist the plum apart in opposite directions and slice it one more time. One final twist, and you're done. Separate the two halves and pop the stone out. You have a perfectly pitted plum that still looks good.
Chop pitted plum it into small pieces.
Freshly press an orange to get juice (I already had some, so using that).
Deseed the dates and chop into small pieces.
 Take all the ingredients in a blender.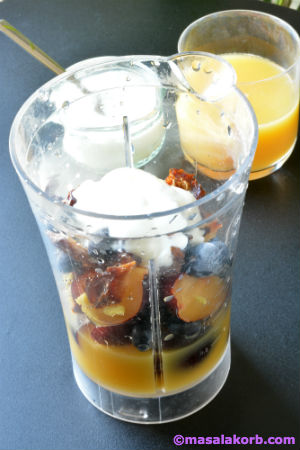 Give a toss to all the ingredients together in a blender till smooth…!!
All the ingredients should be blended well without chunks remaining at the bottom.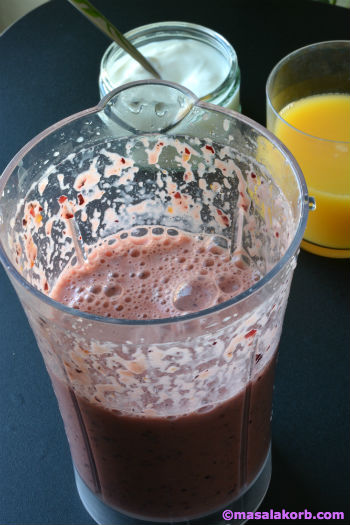 Pour into a glass and enjoy this healthy gingered plum blueberry smoothie.
Wasn't that Simple!!!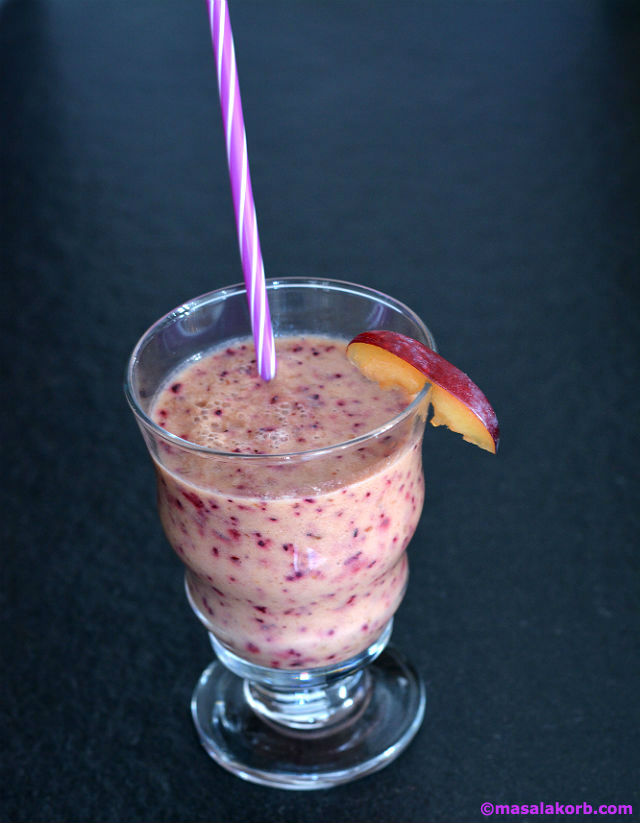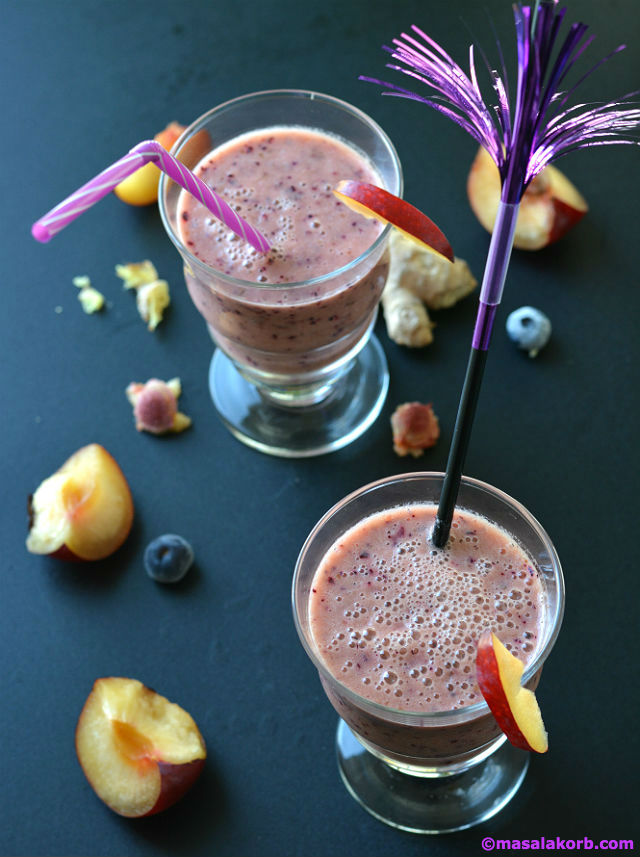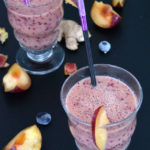 Print Recipe
Gingered Plum Blueberry smoothie is a quick whip of plums, blueberries, orange juice, yoghurt, dates with an extra kick with ginger.
Ingredients
3

Ripe Plums

frozen or fresh, pitted but not peeled

½

cup

freshly pressed orange juice

¼

cup

Blueberries

frozen or fresh

½

cup

Plain

unsweetened low fat yoghurt

2

dates

deseeded

1

teaspoon

grated ginger
Instructions
Give a toss to all the ingredients together in a blender till smooth.

All the ingredients should be blended well without chunks remaining at the bottom.

Pour into a glass and enjoy.
Notes
1. If you want a sweeter smoothie, try adding a tablespoon of agave nectar, honey or maple syrup.
2. Frozen fruits help keep the smoothie cool without any ice and always add a smooth, creamy consistency.
3. You can also include oatmeal, which will add fiber, thicken your smoothie and will be filling. Perfect for a breakfast.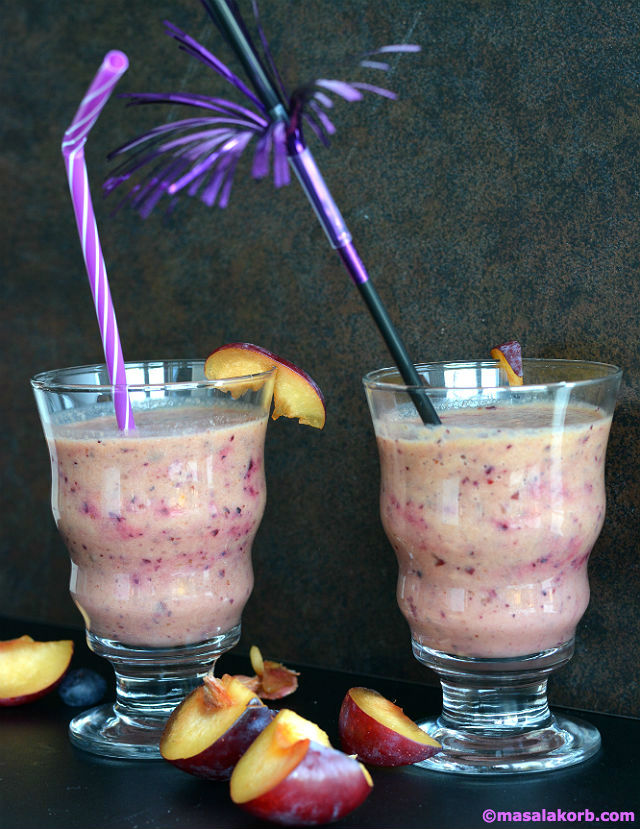 In this recipe, for me ginger was the highlight!!…Feel free to mix and match any other ingredients and come up with a new smoothie recipe.
What's your favourite way to eat plums? Comments always put a smile on my face, so please take a minute to say hello below.  Many thanks.
Happy Cooking 🙂
Padma