Easy to follow recipe for Methi Dosa Recipe | Vedhaya Dosa | Fenugreek Dosa | Menthya Dosa | Menthulu Dosa – Soft Spongy Dosa Recipe. This super soft & spongy healthy breakfast recipe with fenugreek seeds as the key ingredient gives a unique flavour to the dosa.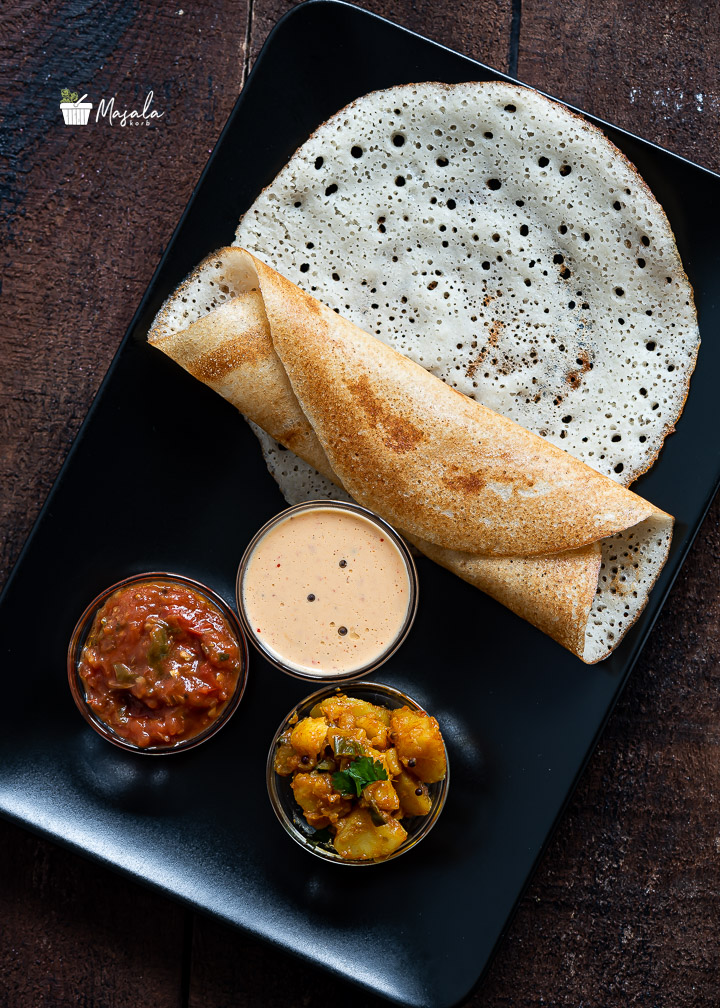 Methi dosa or vendhaya dosa is a very healthy dosa prepared with rice, fenugreek seeds, a little urad dal & poha or flattened rice. As the name suggests, methi or fenugreek seeds are the star ingredients of this dosa giving a unique flavour to it. This tastes very different when compared to the traditional dosa. It has a savoury and slightly bitter taste (you really can't make out though)…. Trust me they won't taste bitter!!
There are many variations to this dosa by changing the combination & quantity of ingredients. Every variation tastes great. This dosa is packed with a powerhouse of nutrients and they also keep the body cool. So, this is the perfect dosa especially during summer days.
You can prepare the batter using a wet grinder or mixer grinder. The only requirement is that the batter should be well fermented, if not the dosas will turn bitter.
The ideal pairing for this dosa is to serve with a spicy and savoury chutney or curry. You can make these dosas thick like utappam (how I prefer ) or thin crispy dosas. It tastes great either way….super soft, spongy & delicious. Now, let's see how to make methi dosa/vendhaya dosa following this easy recipe with VIDEO.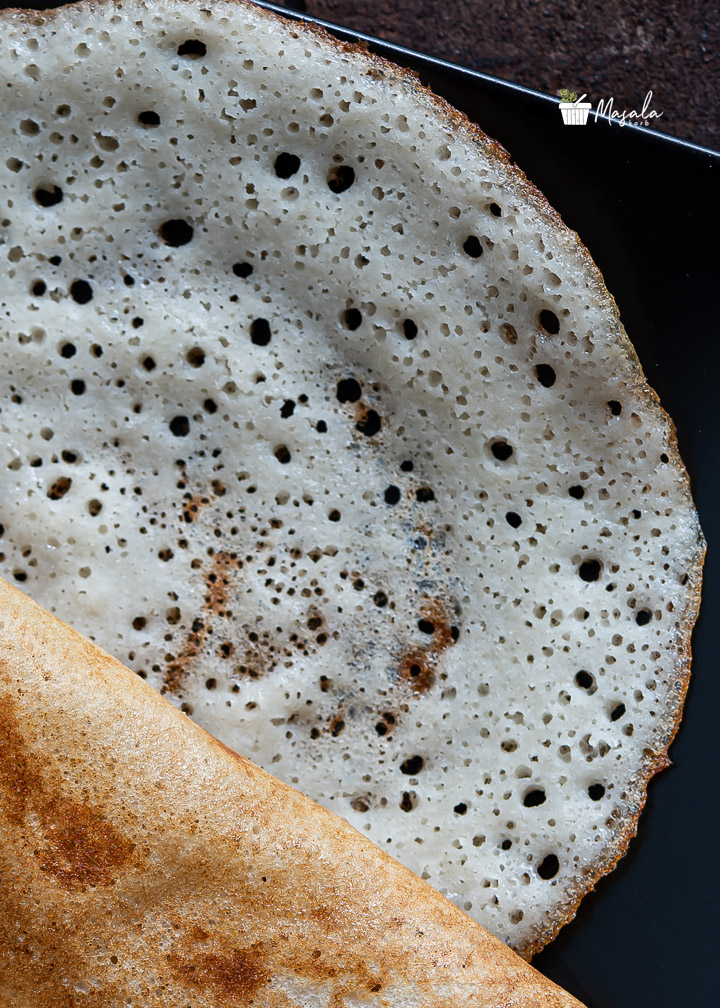 Methi Dosa Recipe – Vendhaya Dosa
Menthya Dosa
Let's Prepare the batter for Methi Dosa:
How to make dosa: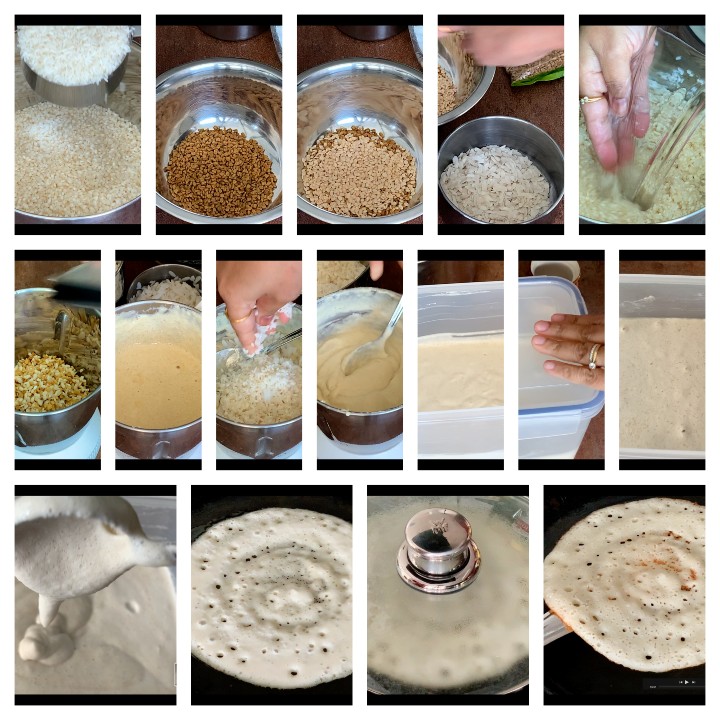 Serving Suggestions: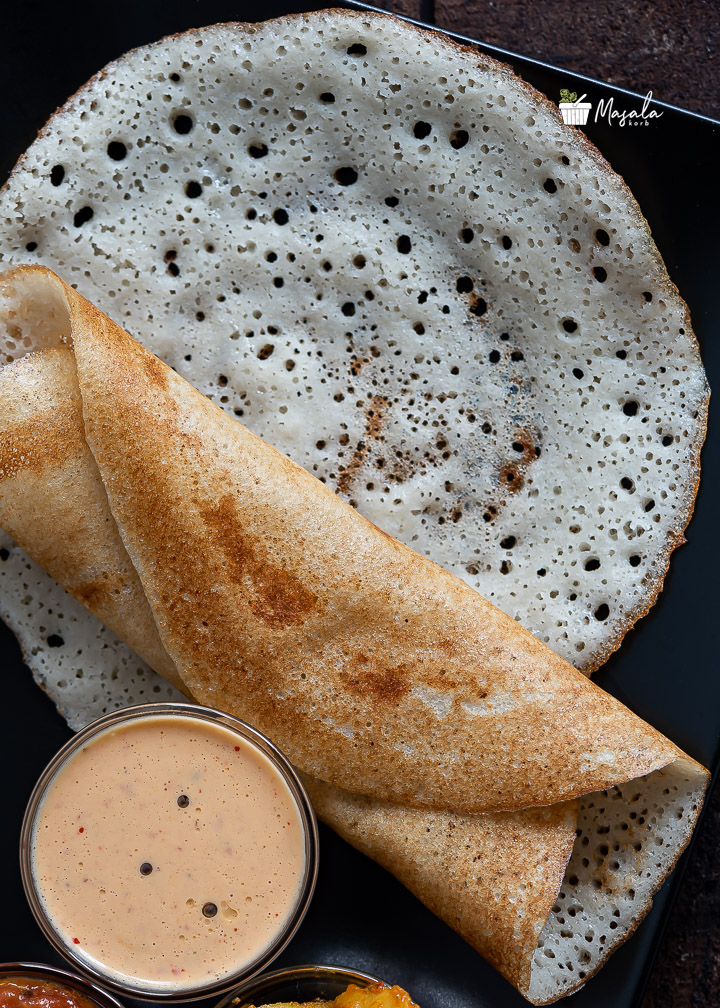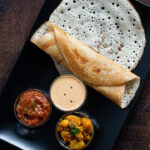 Print Recipe
Methi Dosa, a super soft & spongy healthy breakfast recipe with fenugreek seeds as the key ingredient gives the unique flavour to Methi Dosa or vendhaya dosa.
Ingredients
1 1/2

Cup

Parboiled Rice

1/2

Cup

Raw Rice

1/4

Cup

Fenugreek Seeds

2

tbsp

Urad Dal

1/4

Cup

Poha

Salt to taste

Oil for making dosas
Instructions
Prepare the batter
Rinse all the ingredients well (except poha). Then soak rice for 6 hours. Soak methi seeds & Urad dal separately for 6 hours. Soak poha half an hour before grinding. Once it's soaked well, drain the water. Use a high-power blender or stone grinder to grind.

First grind methi & urad dal mixture to a smooth batter & then to this add poha & rice. Blend to a smooth batter in batches. Include water as required for grinding. Ensure the batter is not very thin.

Transfer batter to a large container. Add required salt & mix well until combined. If you live in a warm place, add salt after fermentation.

Keep the batter overnight for fermentation (preferably in a warm place).
How to make dosa
Heat the dosa griddle with a little oil, pour a ladleful of batter on hot tawa, and spread gently. Make it thick or thin dosa as you wish. Drizzle few drops of oil or ghee around it. Cover and cook on medium heat for about 1-2 mins. You can flip over or just cook on one side.

Super soft and healthy methi dosa/fenugreek dosa is ready. Enjoy methi dosa with your favourite chutney.
Notes
Fenugreek seeds must be soaked well for at least 5 hours (longer the better). It should have turned little soft. You can also soak them in buttermilk for best fermentation.

This dosa batter takes little more time to ferment than the normal batters.The batter must have well fermented. Else they will have tinge of bitterness.

Adjust the consistency of batter as the batter thickens due to methi.

This dosa is good when it's made thick as we do not want crisp but the spongy like texture.

Tip for beginners - To check doneness, touch the dosa with wet fingers and check, if the batter sticks to your finger, cook for a few more minutes.

This dosa will be super soft & spongy because of extra quantity fenugreek seeds & poha. In case your dosas are sticky or having problem from taking off from the griddle, add some rice flour to the batter and mix well.
variations :
You can also make idli with the same batter.

To the fermented batter you an add chopped onions or veggies and make dosa.

To the fermented batter, you can add jaggery and make sweet fenugreek dosa.
Tips for fermenting during cold weather : During cold weather, the batters wont ferment / raise well. In that case:
Keep the batter container closed inside an oven with lights on. Or preheat the oven, and keep the batter container inside it with lights on.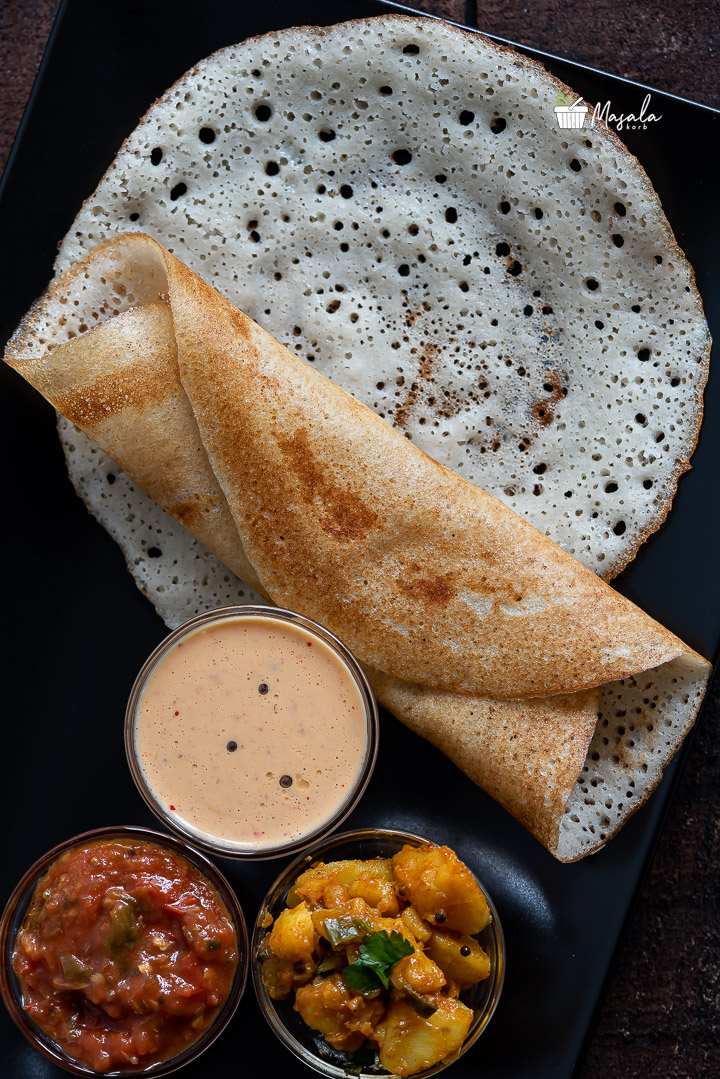 Check out other Breakfast Recipes from blog!!
MOST POPULAR BREAKFAST RECIPES ON BLOG:
Many more to come!!…..STAY TUNED!!
Hungry for more? Never miss a recipe!!…Subscribe to MasalaKorb and have posts delivered straight to your inbox! And connect with me on Facebook, Twitter, Instagram and Pinterest for all of the latest updates.
Did you make a recipe? Make sure to tag your photo with this hashtag:  #masalakorb
Happy Cooking 
Cheers!!
Padma.