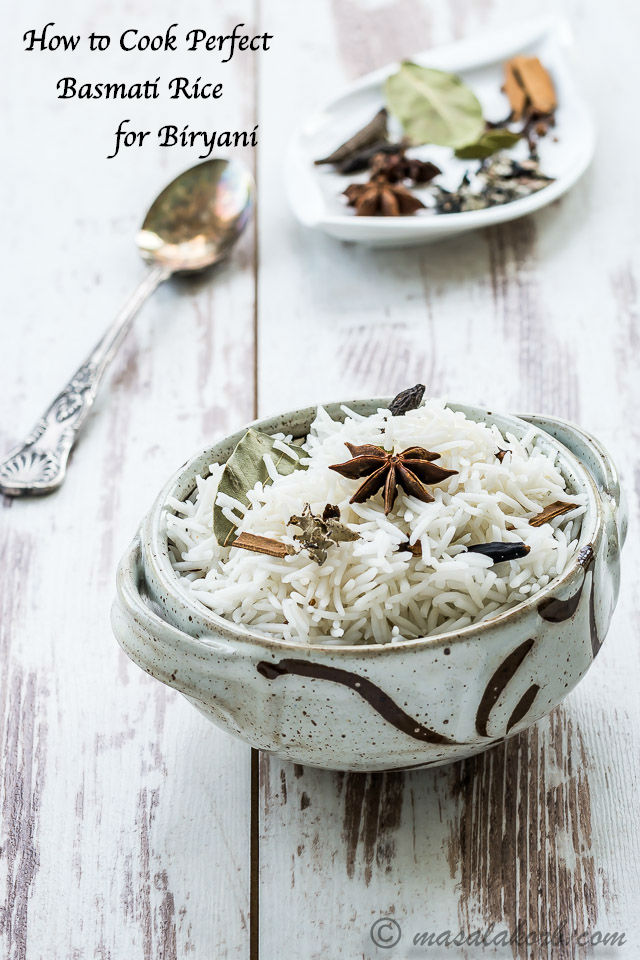 Are you someone who complains that your biryani rice is either too mushy or too grainy? Then, you have come to the right place. Today, I'm going to share with you How to Cook Perfect Basmati Rice for Biryani along with a few Basmati Rice Cooking Tips.
First and foremost, DECIDE….Are you making kacchi or pakki biryani?
In Pakki biryani, the meat or vegetable is cooked before you layer on the rice. So, this needs less time for the assembled biryani layers to cook. So, the rice can be cooked from the 6-7 minute mark.
Kacchi biryani starts with uncooked meat at the bottom. So, this will obviously take longer to cook and needs really almost uncooked rice from the 2 minute mark. In either case, if you pinch the grains, they break into 2-3 pieces, rice is ready, cook no more.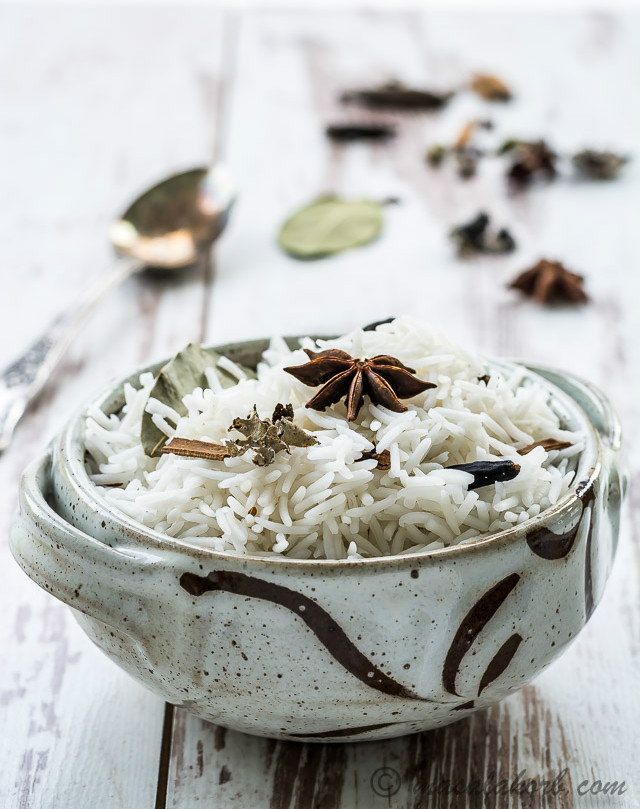 It may sound simple but this is an important basic recipe one must know. The success of any biryani depends not only on the taste but partly on how you cook the rice to get the perfect fluffy texture with long grains that makes the dish a visual treat!! 
Many of us like Dum Biryani a lot and I'm no exception…..I'm a BIRYANI FREAK :). So, we want to get the texture right every time we make biryani….no compromise on that!!
This recipe with all the tips will help you master the art of cooking basmati rice for biryani and you will never complain about the texture of your biryani. Don't miss out the tips and tricks I share in the post!!
Let's learn How to Cook Perfect Basmati Rice for Biryani !!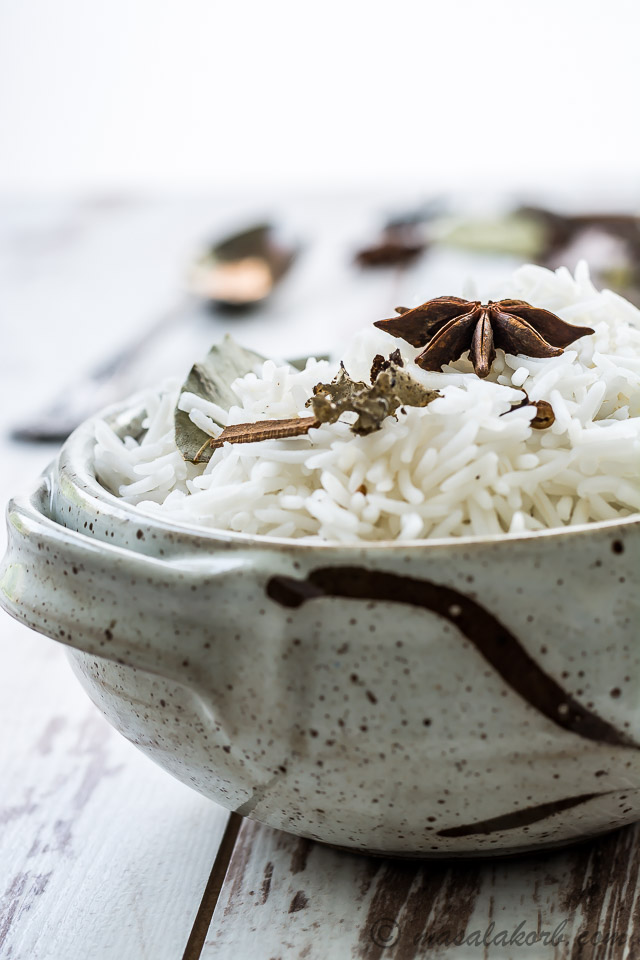 Learn How to Cook Perfect Basmati Rice for Biryani:
Click HERE to directly go to the video!! But, I advice you to go through detailed recipe for a few tips !!
Clean and wash basmati rice. Soak rice with enough water for a minimum 30 minutes.

Drain and keep the rice aside.

Heat water (a minimum of 1:3 ratio of rice to water respectively) in a heavy bottomed pan/vessel over high heat and bring it to a boil.
NOTE:
Maintain a minimum of 1:3 ratio of rice to water respectively.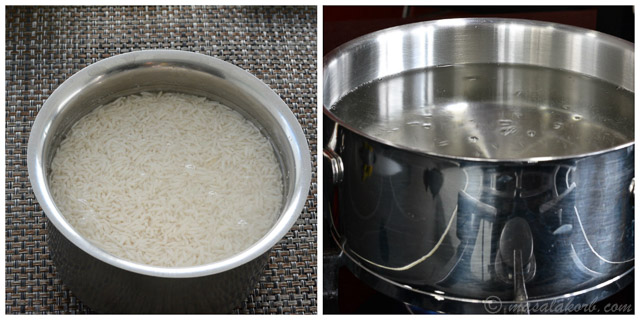 Add in a tablespoon of ghee/oil and salt (1 1/2-2 Tablespoons) accordingly.

Now, add in the well drained soaked rice and stir well. 

Cook on high heat for 2-3 minutes (for kacchi biryani) 6- 7 minutes (for pakki biryani) with occasional stirring.

When you break the rice grain there should be a tiny white dot in the centre. When you hold a grain, it should be hard enough, but at the same time you should be able to mash when you press. About 50% for kacchi & 70% for pakki of the rice should be cooked. Remember that you are going to cook the rice again on dum!!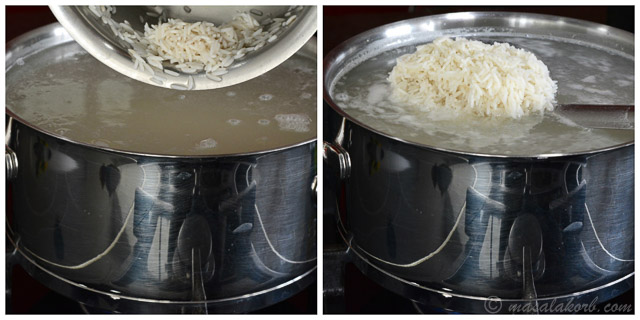 Drain Rice:
Now, turn off the heat and drain out all the water immediately. Otherwise, the rice gets cooked completely and you finally end up overcooking the rice when you make layers for biryani. 

Add in whole spices, mix and leave the rice for about 10 minutes to cool.
Use this rice as required for any kind of biryani you wish to make.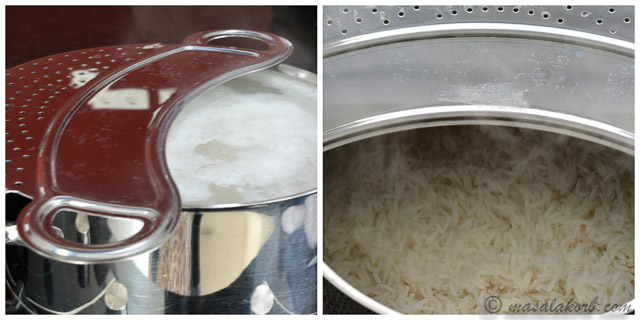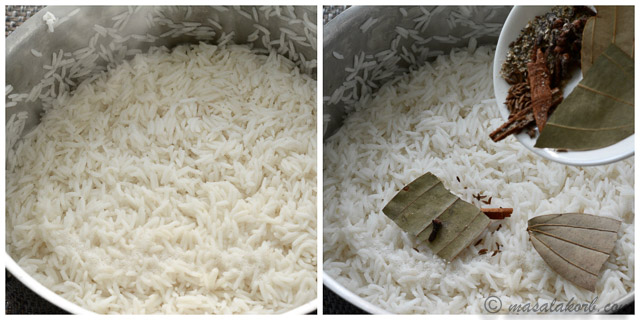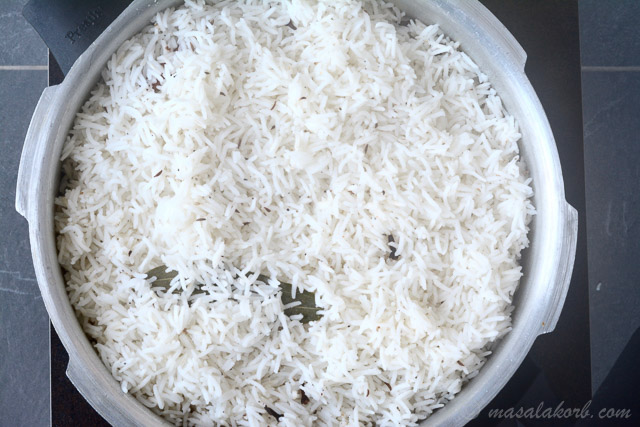 Optional Steps:
You can layer the biryani with any meat or vegetables.
Add saffron, fried onions, lemon juice, some butter/ghee and cook on dum, low heat!!
Dum is a slow cooking process on low heat, when the dish cooks slowly in its own steam (dum) and locks the scents of the spices in the cooking pot.
Flavourful biryani is ready!!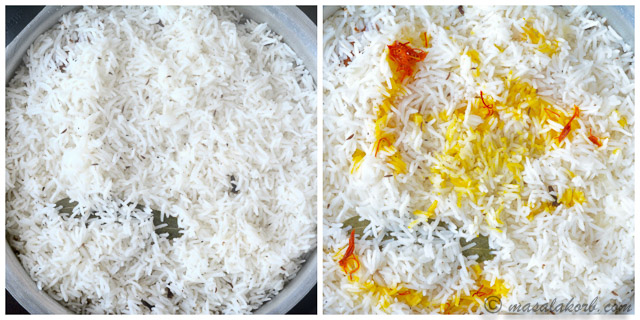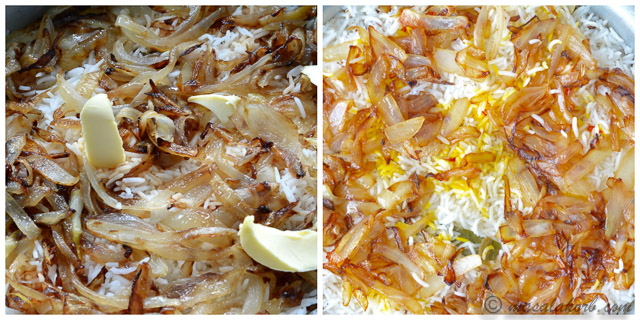 But today, our aim is just to learn How to Cook Perfect Basmati Rice for Biryani or Plain Basmati Rice Recipe along with Basmati Rice Cooking Tips!!
TIPS & TRICKS:
Soaking rice:
Basmati rice requires a minimum of 30 minutes soaking time. This reduces cooking time and allows the rice grains to expand to give a soft and fluffy texture after cooking. Moisture makes the rice grain elongate and brighter once cooked. Soaked rice when cooked will give you bright white non-sticky rice, where each grain separates from the other.
When to add whole spices?
Most of them add whole spices to the cooking water when the rice is being cooked. I feel some of the aroma of spices is lost since we discard the water. So, I like to add my spices later to the drained out rice when it is still hot. This retains the aroma and flavour the rice grains better. The aroma continues to infuse in the rice later when you cook on dum. But, follow whichever method you feel is good…just a tip from my side!! 
You can also add the whole spices in potli form (spice bag or stainless tea ball) and later discard them. This keeps the mystery of the flavour combination of the spices used well concealed. 
Add Lemon juice: 
Adding lemon juice after layering biryani keeps the rice grains separated and also keeps the white colour of rice.
Air drying:
Air drying soaked rice after draining will make it slightly firm up and it will not break while cooking.
Season rice:
We also add excess to salt to the cooking water. Salty cooking water helps to season the rice well before using it in any recipe. This makes the rice to be flavourful on its own and not bland.
Quantity of cooking water:
should be at least three times the quantity of the rice. The pot used for cooking rice must be large enough to hold twice the quantity of water added. This gives the rice enough room to cook. This way the rice does not break while cooking and the grains have enough room to increase in size.
Draining water:
out all the water from the rice before and after cooking. Keeping the drained cooked rice aside for 10 minutes will not let it break while layering.
Addition of Ghee:
The ghee in the water makes the rice to be grainy. It won't allow the grains to stick together and this is what we need for biryani. But, you can also skip ghee…..Click here to learn how to make zero oil Dum Biryani.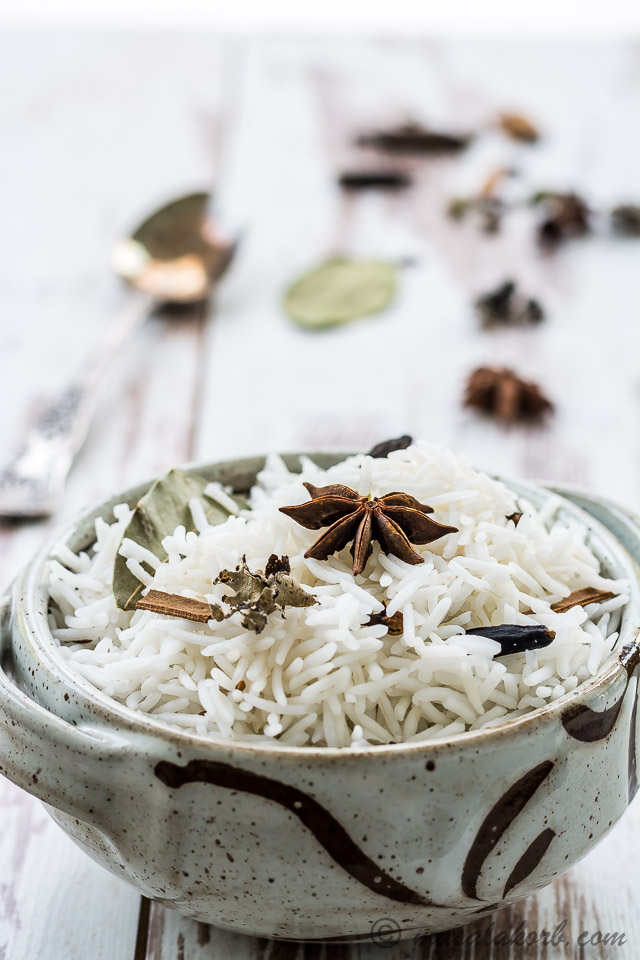 Check out How to Cook Basmati Rice for Dum Biryani Video:
A Quick Summary: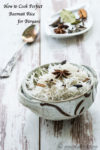 Print Recipe
Learn How to Cook Perfect Basmati Rice for Biryani with stepwise pictorial guide. This basic recipe will give that fluffy & grainy texture to your dum biry
Ingredients
3

Cups

Basmati Rice

Good Quality

10

Cups

water

2

Tablespoons

Salt

1

tablespoon

Ghee/Oil
Whole Spices:
3

inch

Cinnamon sticks

10

Cloves

1

teaspoon

Cardamom powder

1

teaspoon

shahjeera

caraway seeds

2

bay leaves

2

Star anise

3

kapok buds

Few Kalpasi

black stone flower
Instructions
Clean and wash basmati rice. Soak rice with enough water for a minimum 30 minutes.

Drain the rice and keep the rice aside.

In a large pan, bring about 10 cups or surplus amount water to a boil over high heat.

Add salt and ghee/oil to the water.

Add rice once water starts boiling.

Turn off the heat once the rice is half cooked. It may just take about 5 to 6 minutes.

Now drain the water completely from the rice.

Add in the whole spices and cool for 10 minutes.

Use as required to prepare any type of biryani.
My Notes:
I have covered most important points above…Check out Tips & tricks!!
Use good quality basmati rice for best results.

Make sure you add lots of salt to the rice while cooking as this makes the rice flavourful in the biryani. 

The rice takes very less time to cook, so keep an eye…..don't move away!!

Use a fine mesh colander (or like the one I have used) for straining the rice.

Add good amount of spices to the rice.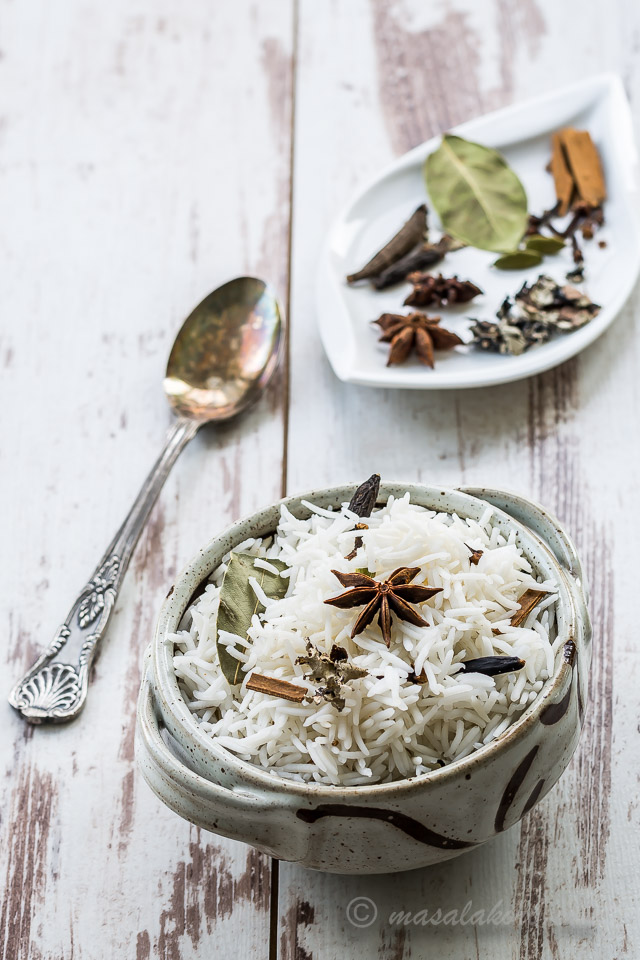 .
Do you have any more tips on How to Cook Perfect Basmati Rice for Biryani?…..Share them in the comment section!!
Check out HOW TO COOK PLAIN RICE, other BIRYANI RECIPES , ONE POT MEALS & my special CHICKEN DUM BIRYANI RECIPE WITH ZERO OIL.
Many more to come!!…..STAY TUNED!!
Hungry for more? Never miss a recipe!!…Subscribe to MasalaKorb and have posts delivered straight to your inbox! And connect with me on Facebook, Google, Twitter, Instagram and Pinterest for all of the latest updates.
Liking my videos?? Then, please do subscribe to my YouTube Channel !! 
Happy Cooking 🙂
Cheers!!
Padma.