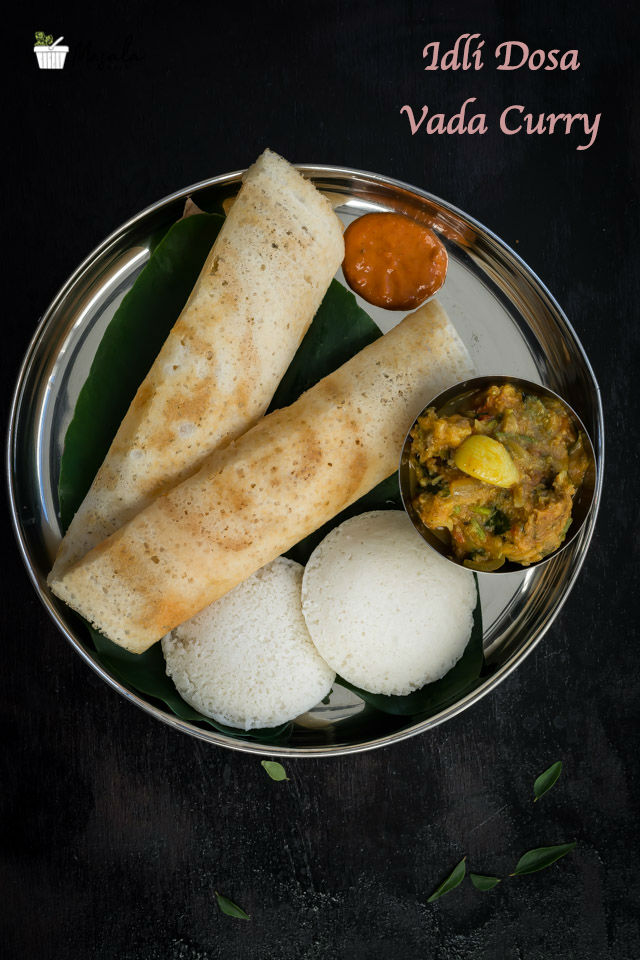 There is no denying the fact that breakfast is the most important meal of the day. It provides your body the fuel that charges you up and keeps you going for the rest of the day to carry out various chores. But, who wants to have the same breakfast everyday. We all want variety in whatever we do….right?….otherwise life gets boring!! A tinge of variation in your everyday breakfast will definitely make your family enjoy the mornings together. I have been thinking for sometime to start a Breakfast Menu Series like the Lunch/Dinner Menu ideas. Idli Vada Dosa Breakfast Menu 1 is my first attempt in this series.
I will be linking each recipe if it's already on the blog, else I will try to share the recipe asap. A few days back, I made a this special breakfast menu on a Sunday morning to make the weekend special….Ok, I'm lying….it's also planned for my blog

 . 
Don't you just love a lazy Sunday morning?..Who doesn't?.. Sleeping in till at least ten, we'd wake up to assemble cold cereal or fruits…or sometimes even skip breakfast, which is mostly the case. An hour or two later you start getting hungry, but you want something different, something special!! Unfortunately, laziness has won out over my weekend breakfast ambitions many times.
But, with delicacies like idli, dosa, and aloo parathas, it is no wonder that we Indians like to eat a hot breakfast rather than cold cereal or fruit. Idli Vada Dosa Breakfast Menu 1 has dishes that are light on the stomach, filling and give you enough proteins, carbs and fats to jump start your day in a great way. The recipes are a mix of rice & lentils and served with spicy, tangy sides like Vada curry and tomato chutney. A little effort goes a long way in terms of sustenance and time spent with your family…Isn't it??
This is definitely not my routine for every weekend though

.
Off to Idli Vada Dosa Breakfast Menu 1 !!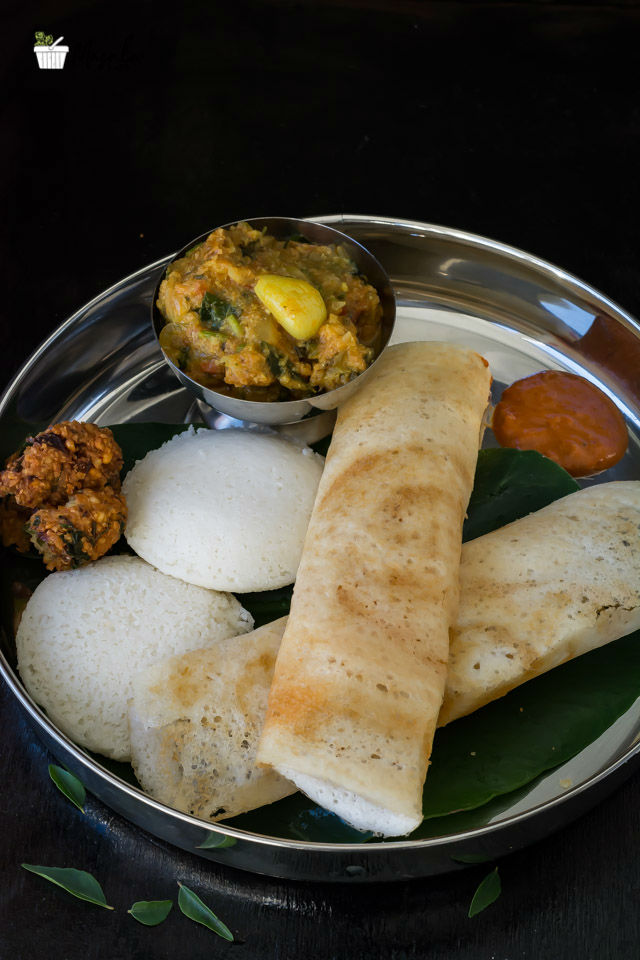 Idli Vada Dosa Breakfast Menu 1 :
Click HERE to get the exact measurements for the recipe to grind the perfect idli-Dosa batter. Click HERE watch the video.
Today's breakfast menu includes:
Filter Coffee, Coming soon!! 
You can call it brunch or heavy breakfast or what ever you like to name it. 
Now, let's see how I managed to prepare this breakfast menu?
Organising and pre planning a day before makes life so much easier. So, soak and grind to make the idli-dosa batter and leave it overnight for fermentation.
The next day, wake up and soak channa dal for vada curry (for a minimum of 3 hrs). But, I had some vadas left from Saturday and that's how I ended up planning for the vada curry instead of the regular sambar.
After 3 hours, grind and steam for vada curry.  You can steam vadas if you are only making the curry. But, if you want to also serve vada as one of the items in the menu, then deep fry following this recipe here. Steaming or deep fry method is fine, do it as per your convenience. But, I love the concept of steaming as it's low in calories.
While it's steaming do the rest of the prep work for the curry and chutney.
get ready with all the garnishing ingredients like coriander and curry leaves.
Prepare tomato chutney.
Next, prepare the vada curry. Meanwhile, you can also steam idlis.
Once vada curry is ready and when ever your family is ready for breakfast, make hot dosas and serve.
For me, breakfast is incomplete without filter coffee or tea, but it's purely optional.
Serving masala vada in the breakfast platter is optional.
Enjoy your simple yet special Idli Vada Dosa Breakfast Menu 1 🙂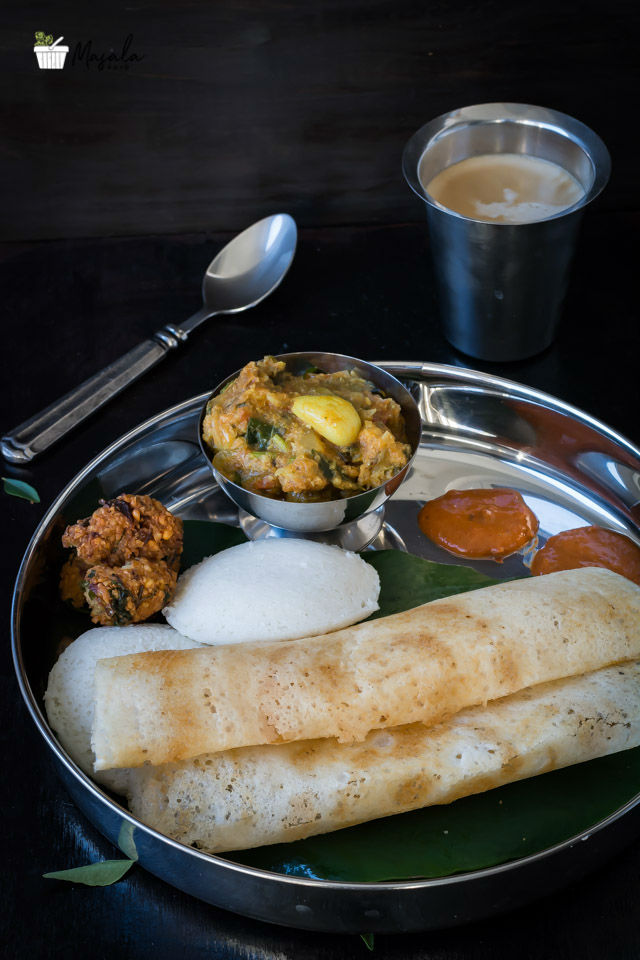 .
Check out other BREAKFAST RECIPES on blog….ENJOY 🙂
Many more to come in this series!!…..STAY TUNED!!
Hungry for more? Never miss a recipe!!…Subscribe to MasalaKorb and have posts delivered straight to your inbox! And connect with me on Facebook, Google, Twitter, Instagram and Pinterest for all of the latest updates.
Do subscribe to my YouTube Channel for latest video alerts!! 
Happy Cooking 🙂
Cheers!!
Padma.