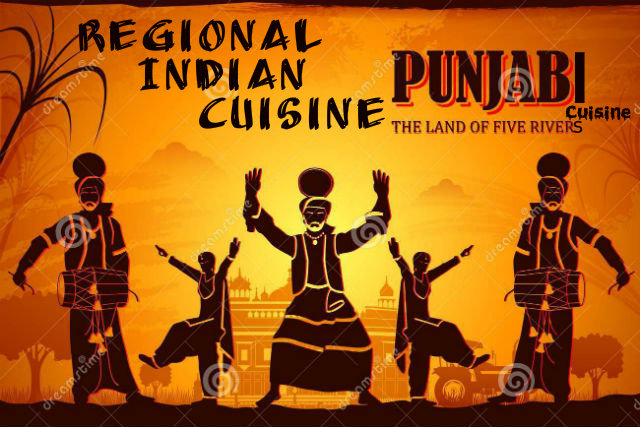 Welcome to the Tandoori Grill Party from Regional Indian Cuisine-Punjabi Cuisine and a sneak peek into my Rose Lavender Garden !!
As the Blog Hop theme was decided as "REGIONAL INDIAN CUISINE", I was so excited and a lot of cuisines popped up in my mind but the first one that flashed was "PUNJABI CUISINE". There is a reason for that because the food we get in the restaurants here in Germany is mostly North Indian cuisine cooked to German taste buds. It is widely popular, however there is some ignorance in Western Cultures that Punjabi is cuisine is completely curry based. Foreigners often identify Indian cuisine with Punjabi food, thanks to the the big Punjabi diaspora and the mouth-watering cuisine of the state. This is an attempt to prove that there is something beyond curry.
Home cooked and restaurant Punjabi cuisine can vary significantly, with restaurant style using large amounts of clarified butter, known locally as desi ghee, with liberal amounts of butter and cream. Homestyle cooking mainly concentrates on healthy ways to bring out the flavours in a dish. So REGIONAL INDIAN CUISINE – PUNJABI CUISINE is my honest attempt to introduce some wonderful punjabi dishes to my beloved readers, so that anyone can recreate them in their own kitchen and enjoy. This way I also get to add up some recipes to my blog's recipe list. 

Though the main emphasis would be on punjabi cuisine, let me aatempt to give an overview of it's culture. I have used Internet as a source, mainly wikipedia to get some info and put it as brief as possible!! Please excuse me if there are any mistakes:)…..I shall also make a list of recipes at the end of the post, Which I would be sharing for the blog hop, some archives and future posts. There will be add ons as and when I make any dish that belongs to Punjabi cuisine.
Image Source: Dreamstime
Let's begin our journey and take a sneak peak into Punjab:
The very thought of Punjab brings to mind myriad images of the swaying wheat fields, the farmers dancing bhangra, warm people whose robust rustic ways of camaraderie and bonhomie are very much a part of their heritage, the merry truck drivers, the valiant soldiers of the Sikh and Punjab regiment and of course how can one forget the delicious food varying from sarson da saag to tandoori chicken. Beyond its joyous people and carpet spreads of fertile fields, this 'Land of Milk and Honey' has a host of culinary treasures that it readily offers to the others too.
A man walking through the fields to begin his day at work: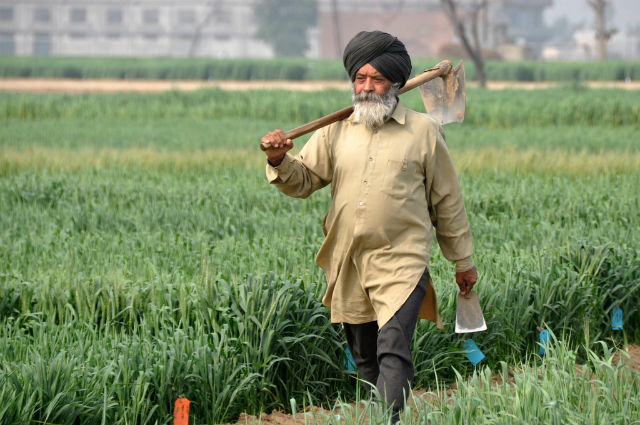 Image Source: Theelefunt
Punjab, the land of five rivers is known as the breadbasket of India. Punjabi culture is one of the oldest and richest cultures in world history.
The Golden Temple, located in Amritsar in the state of Punjab, India is the most sacred shrine of Sikhism. Sikh devotees, for whom the Temple is a symbol of freedom and spiritual independence, come to the Temple from all over the world to enjoy its environs and offer their prayers. The official name of the Temple is Harmandir Sahib which means literally "The Temple of God" (from Hari: God and Mandir: temple).
This is the majestic Golden Temple, which I am still waiting to visit: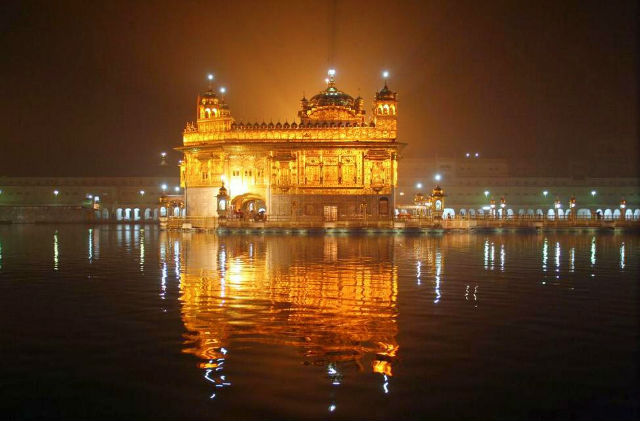 Image Source: Wikimedia
Baisakhi is a major festival of Sikhs and is celebrated with lot of enthusiasm and gaiety the festival falls on April 13th or April 14th and marks the beginning of the solar year. People of North India, particularly Punjab thank God for good harvest. Visit to Gurudwaras, Baisakhi processions and traditional performances are the highlights of the day.
Bhangra- Traditional Punjabi Folk dance: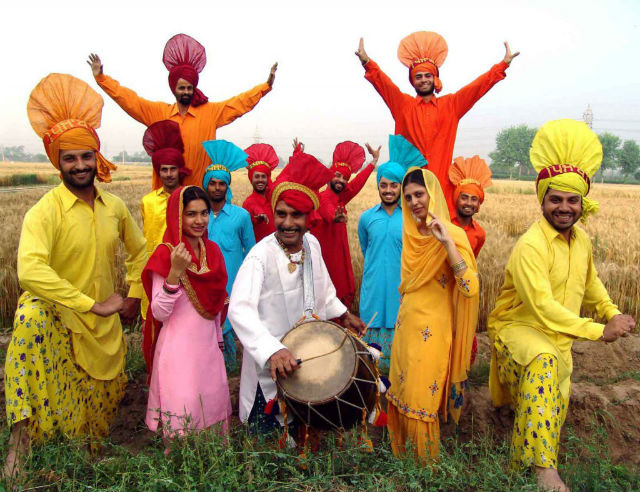 Image Source: Utsavpedia
Regional Indian Cuisine-Punjabi Cuisine:
Punjab is richly rural and has imbibed some aspects of its cuisine from external influences. Connoisseurs of the cuisine say that the gravy component of Punjabi cuisine like makhani and the slow cooking of dals reflect Mogul flavours, techniques and consistencies.
Wheat and maize are the staple food grains that the hardworking and food-loving people of Punjab depend on for their nourishment. Typical Punjabi cuisine is as simple as it can get and there is nothing subtle about it. All lentils, especially black gram and yellow gram, are a part of Punjabi cuisine and so are rotis, parathas and curd.
Beautiful View of the Wheat Fields: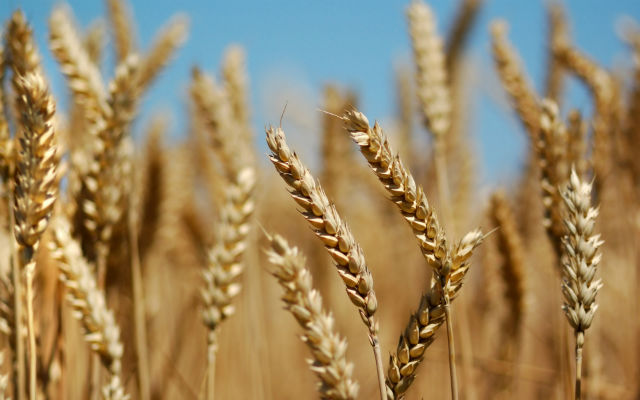 Image Source: hd2wallpapers
Striking feature of the cuisine of Punjabis lavish use of butter, cream, ghee and cheese. Pulses or dals, cooked on slow fire and flavoured with characteristic Punjabi tadka, constitute a major item of the meal.
Milk is synonymous with this land of five rivers and plays an important role in the Punjabi diet. Various milk products add to the variety and a part of the daily diet are milk products like dahi, lassi, paneer, cream and not to miss ghee and butter. Butter is also an important cooking medium apart from being consumed raw along with the food. No Punjabi meal is complete without a blob of white butter (makhan). The ample availability of milk and milk products like paneer, butter and ghee is a hallmark of the cuisine. Tall glasses of lassi (whisked yogurt) or chaas (buttermilk) are downed with every meal.
Punjabi food is wholesome and full of rustic flavour. The food is tailor-made for the Punjabi lifestyle in which most of the rural folks burn up a lot of calories while working in the fields. The punjabis make liberal use of spices like coriander, cumin, cloves, cinnamon, cardamom, black pepper, red chilli powder, turmeric and mustard are regularly used. The main masala gravy base in a Punjabi dish consists of onion, garlic and ginger. All this cooked in butter or ghee, when done, is served with a generous dollop of cream or white butter.
One of their main crops is mustard or sarson. Its leaves used to make sarson-ka-saag while its seeds are used for tempering and also for making mustard oil, which is widely used in Punjabi cuisine. In Punjabi homes makke di roti and sarson ka saag is something of a delicacy simply because of the time it takes to prepare the dish. Besides the long preparation time, these vitamin rich dishes also require a lot of time to cook. Almost all the preparations are cooked on a slow fire to coax out that perfectly robust taste. Sarson ka saag is cooked on a slow fire for hours with a minimum of spices so that the fresh taste can be retained. In fact, the longer it takes to cook the saag, the better it tastes.
A spectacular view of mustard fields!!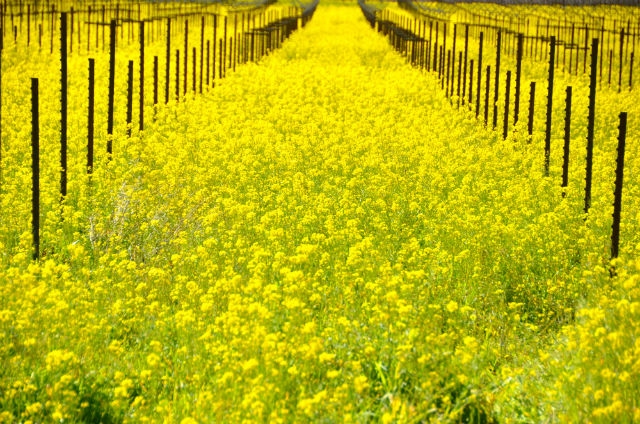 Image Source: kelleherwines
Rice is eaten only on special occasions and that too, long-grained basmati. A sweet dish made of rice and cooked in sugarcane juice is Rau ki Kheer or, when cooked with jaggery, known as gurwala chawal. Famous desserts include phirni, gulab jamuns, besan pinnis, jalebis and burfis.
Make sure you fast for a month before embarking on a journey to Punjab, for no matter how much you eat, you can't get enough of its ghee-laden delicacies!
Tandoori food is a Punjabi speciality especially for non-veg dishes. Traditional Punjabi food is cooked in earthen tandoors (ovens) which lend it a unique aroma. Tandoor is a vertical clay oven half-buried in the ground, is another characteristic of Punjabi cooking style. In the rural areas there are community ovens. The food is cooked over hot coals, in the tandoor, whilst rotis are cooked against the insides of the tandoor.
The food is simply delicious whether it is sarson da saag and makai di roti or tandoori murg (tandoori chicken). The last mentioned dish is perhaps one of the most famous of all Indian dishes the world over, a dish whosoever tastes keeps asking for more. For the vegetarian, paneer is cooked in the same way. Several delectable items are made out of this rather bland derivative of milk. Creations like the Tandoori paneer, Kadai Paneer, and Makhani Paneer are basically Punjabi but are well loved all over the country.
The most unique thing about cooking in a tandoor is the smoky flavour that the food gets making it tastier. Moreover it is a healthy way of cooking since minimum fat is required and the food generally gets cooked in its own juices thus retaining its natural flavours. Besides it is not only easy to digest, it is also very hygienic. In conclusion one can safely say that it is through tandoori cooking that Indian cuisine first got globally acknowledged.
Most Punjabi menus are made according to the season. The universal favourite is chole-bathure which is a round-the-year item and is available at every wayside dhaba anywhere in Northern India.
You can see below how rotis are made traditionall in a tandoor clay oven !!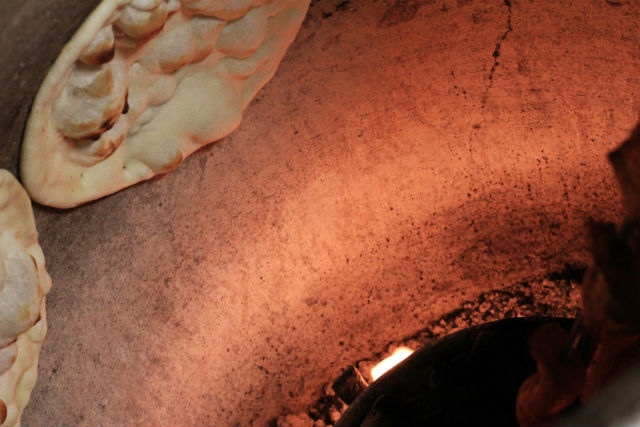 Image Source: kimchiconqueso
Making rotis at home without a tandoor !!….We have many modern ways too !!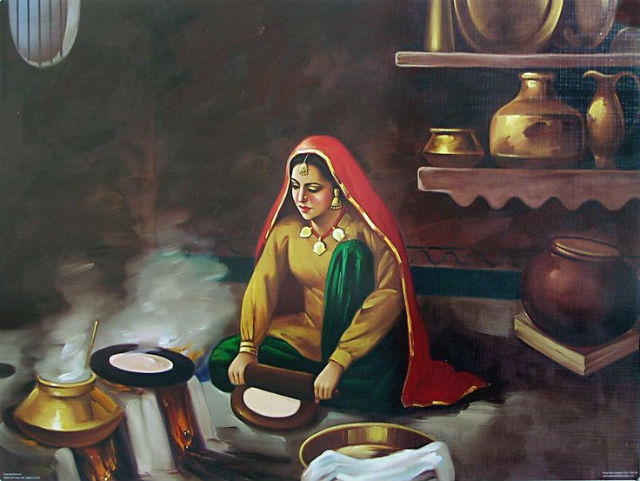 Image Source: dollsofindia
The dals are a specialty of Punjabi cuisine. Made of whole pulses like black gram, green gram and Bengal gram, they are cooked on a slow fire, often simmered for hours till they turn creamy and then are flavoured with spices and rounded off with malai for that rich finish. The basic gravy used for vegetables and meat dishes is onion-tomato-garlic-ginger.
Punjab's other grand contribution is the dhaba – the roadside eatery that has become a prominent feature on the national and state highways. Earlier frequented only by truck drivers, today it is in vogue to eat at a dhaba-urban or roadside. It has also become very modern and introduced in shopping malls.
Roadside dhaba !!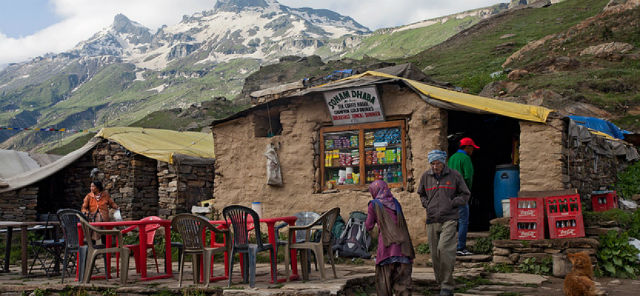 Image Source: Cravebits
A modern dhaba in a shopping mall !!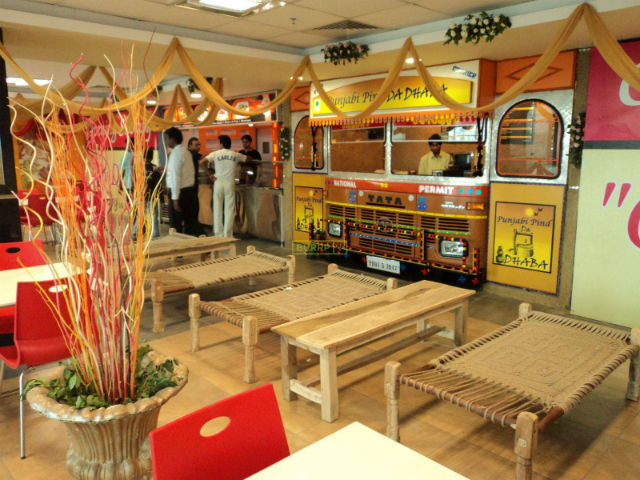 Image Source: Burp
Hope you liked the short trip to punjab!!…..I can go on and on but the post is getting lengthy…:)…Now coming to the blog hop theme Regional Indian Cuisine-Punjabi Cuisine, today I'm going to share a Tandoori platter with Chaas and ending with  Kheer for dessert.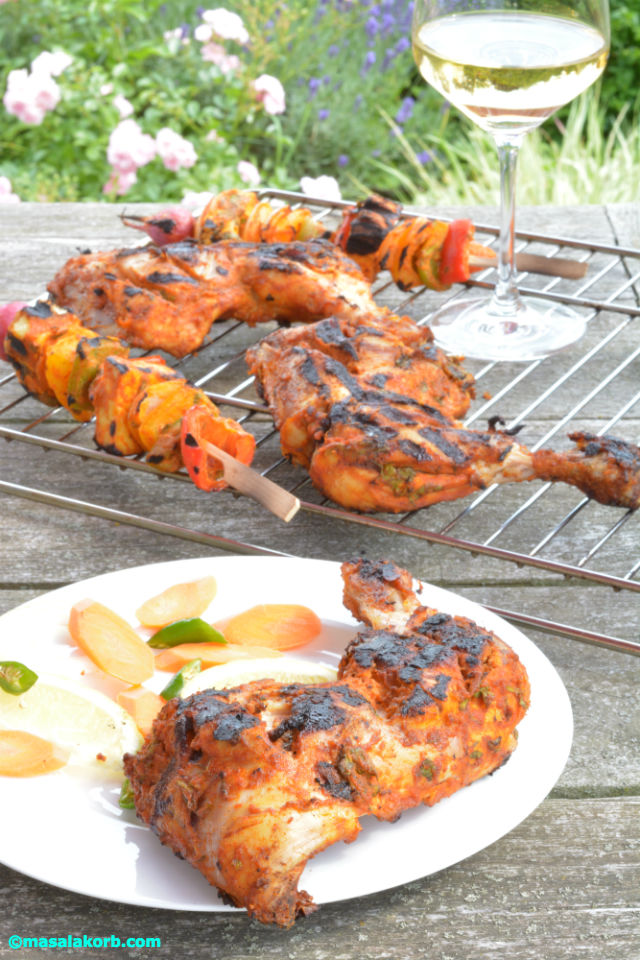 3. You can enjoy tandoori platter as it is or you can have with any Indian bread like Roti or Paratha.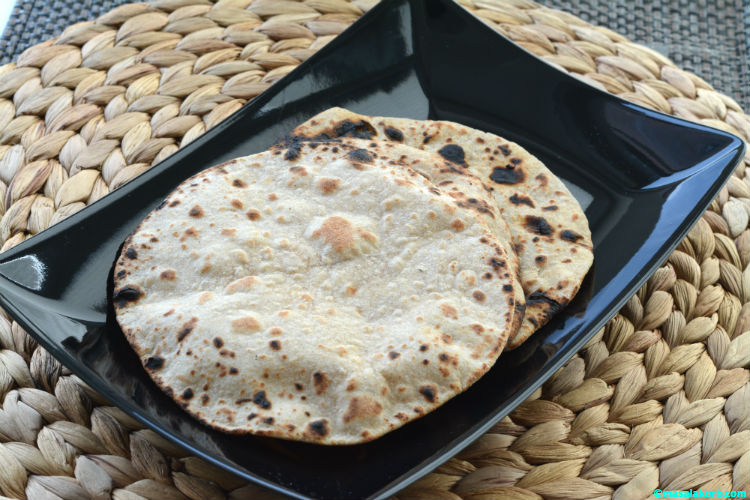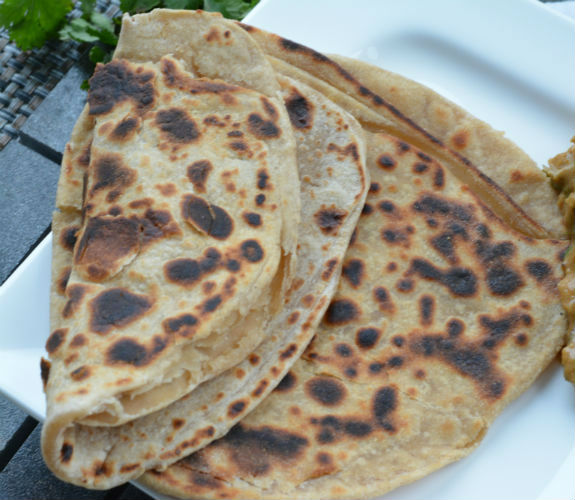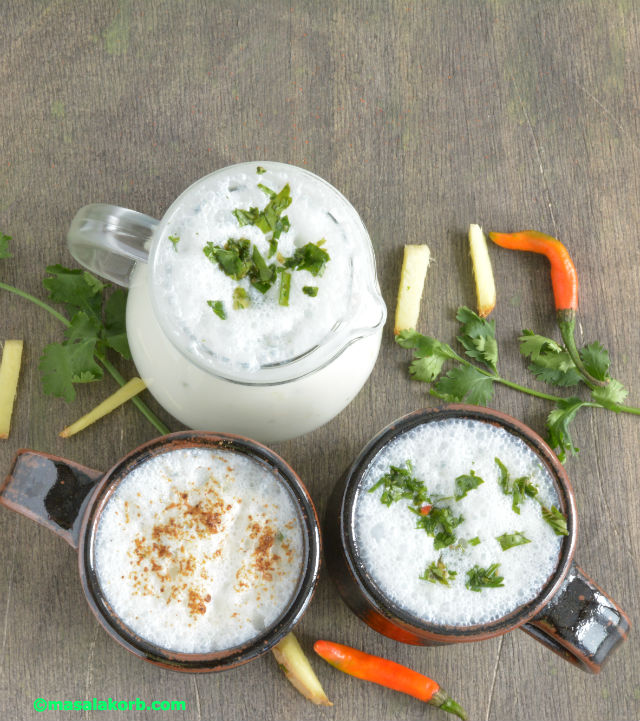 4.Finally  Rice Kheer for dessert.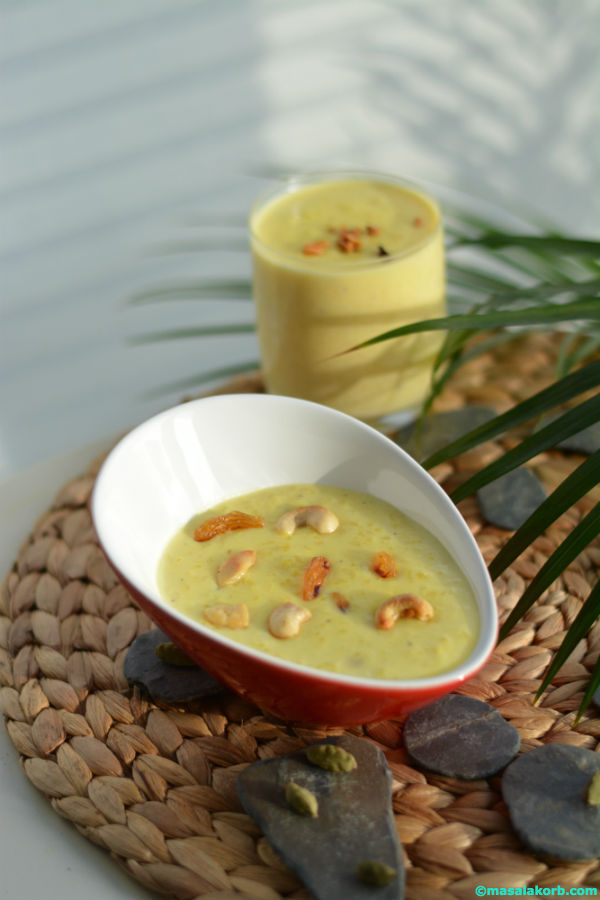 Here are some archives and some upcoming recipes related to Punjabi Cuisine….Of course there will be add ons as and when I make any dish that belongs to the cuisine.
Kadai Paneer
Dal Makhani
Naan
Garlic Naan
Makki di Roti
Jalebi
And many more to come!!….STAY TUNED!!
Do check out recipes from the other talented members of the BLOG HOP group "Culinary Hoppers"
Happy Cooking 🙂
Cheers!!
Padma