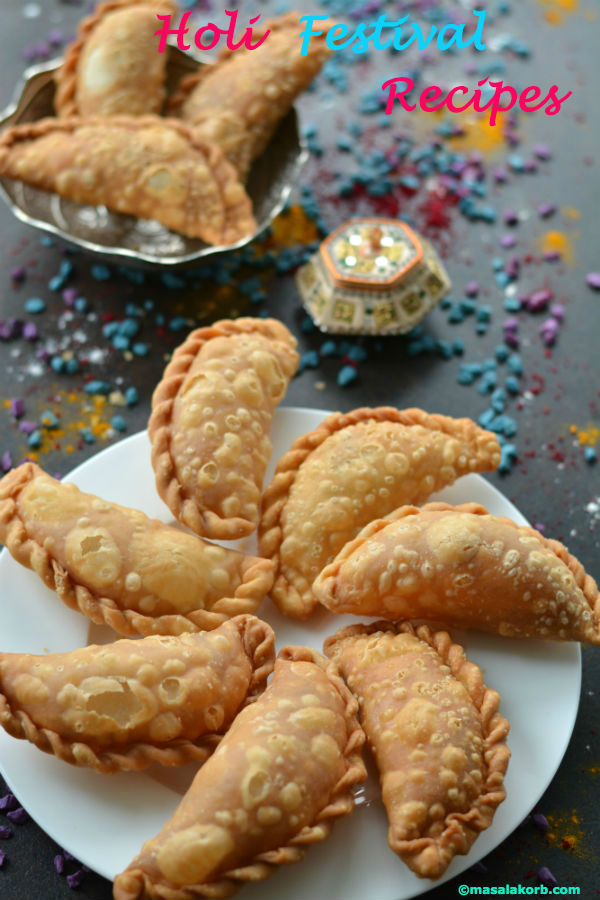 With HOLI at the doorstep, I'm here today to quickly share my collection of Holi Festival Recipes that can be prepared to add more fun to your HOLI party.
But before we get into Holi Festival Recipes, a little intro about HOLI for those who don't know about this Indian festival.
HOLI is one of the most vibrant festivals that is celebrated with immense fervour in the whole of India. It is celebrated as a mark of the arrival of spring season and therefore is a festival of gaiety that is celebrated with colours. The gloom of the winter goes as HOLI promises of bright summer days. Nature too seems to rejoice the arrival of HOLI. Fields get filled with crops promising a good harvest to the farmers and flowers are in full bloom, filling the air with their fragrance.
HOLI festival may be celebrated with various names and people of different states might be following different traditions. But, what makes HOLI so unique and special is the spirit of it, which remains the same throughout the country and even across the globe, wherever it is celebrated.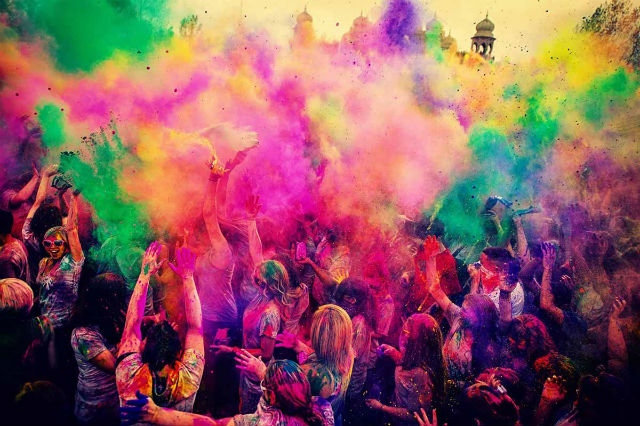 IMAGE SOURCE: HOLIFESTIVAL.COM
How is Holi Celebrated?
On the eve of HOLI, called Chhoti or Small HOLI people gather at important crossroads and light huge bonfires, the ceremony is called Holika Dahan. To render gratefulness to Agni, god of Fire, gram and stalks from the harvest are also offered to Agni with all humility. Ash left from this bonfire is also considered sacred and people apply it on their foreheads. People believe that the ash protects them from evil forces.
Like most other Indian festivals, HOLI also has its origin in ancient Indian mythology and is inseparably associated to the legends. There are at least three legends that are directly associated with the festival of colours- the Holika-Hiranyakashipu-Prahlad episode, Lord Shiva's killing of Kamadeva, and the story of the ogress Dhundhi. You read more about HOLI in wikipedia.
Great excitement can be seen in people on the next day when it is actually the time for the play of colours. Playing HOLI the Indian way means getting blasted with colours from all angles. But when those chemically loaded bombs come in contact with your skin, they tend to react adversely and leave behind major damage. That's no reason to keep away from this fun and lively festival though, right? So opt for homemade gulal and organic colours that are natural and safe! You can make the colours yourself at home or buy them to enjoy HOLI.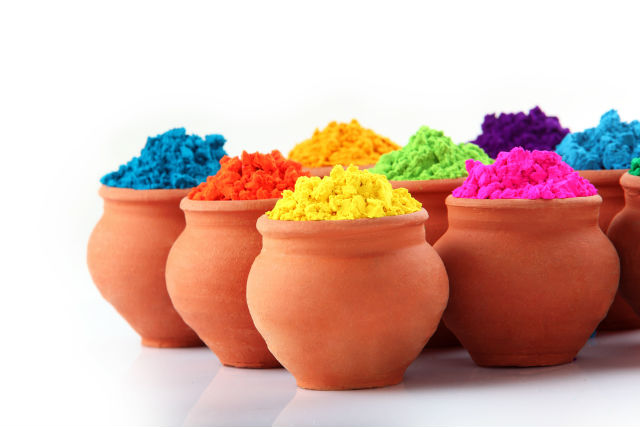 IMAGE SOURCE: BUZZINTOWN
No Indian festival is really complete without food….and HOLI is no exception. There are quite a few delicacies that are associated with this merry festival. Here is my compilation of some of my Holi Festival Recipes…I hope you will enjoy them as much as I do!!
List of Holi Festival Recipes:
HOLI SNACK RECIPES
1.SPICY SHANKARPALI / NAMAK PARE
Click here for PURI RECIPE FOR PANI PURI
8.RICE CRACKERS / CHAWAL PAPDI
HOLI SWEET RECIPES
Hope you enjoyed Holi Festival Recipes…Click here for more DESSERT RECIPES and SNACK RECIPES.
Have a colourful, joyful and safe HOLI….Will be back with Strawberry Coconut Burfi recipe for Holi.
Many more to come!!…..Stay Tuned!!
Happy Cooking 🙂
Cheers!!
Padma.
Related articles