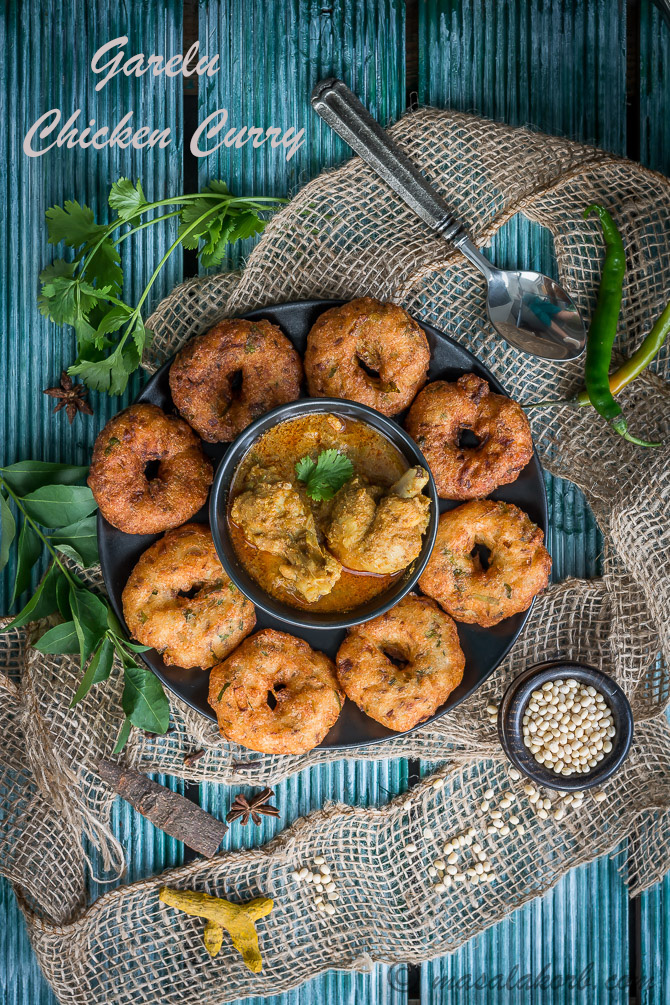 Garelu Chicken Curry is a delectable combination of the very famous South Indian Medu Vada and  Classic Andhra Style Chicken Curry.
No festive meal is complete without the classic dish "GARELU". While most people choose to have medu vada in the morning, many of us love to binge on it as snacks in the evening. We all know that this soul satisfying crispy vada along with piping hot sambar and coconut chutney makes it all the more irresistible. But, did you ever imagine to pair it up with chicken curry??
Garelu Chicken Curry is a very famous dish from the Southern states of Andhra Pradesh and Telangana. This dish is specially prepared on Kanuma, the third and last day of 3 day Sankranti festival, which comes in the month of January. You don't need to wait till Sankranthi,  you can also prepare this on a special Sunday. This is a favourite at my home!! Why don't you give it a shot?
Off to Garelu Chicken Curry!!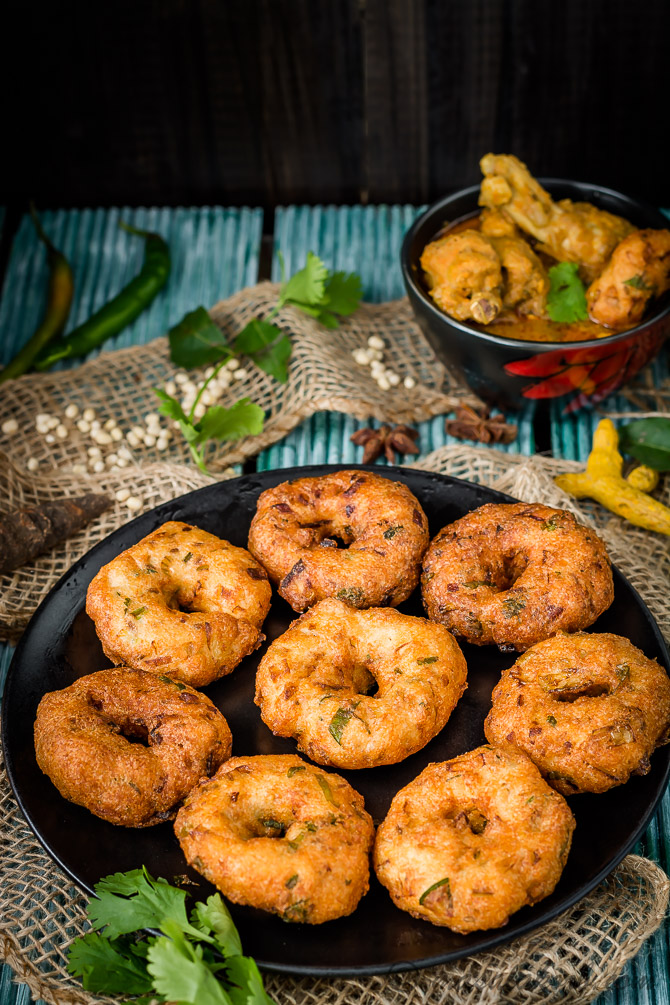 Easy steps to follow for
Garelu Chicken Curry
For this, we need to make Garelu/Vada and the Classic Andhra Chicken Curry. Let's go through one by one in short!!
Preparation of Garelu/Vada
Wash and soak the lentils / Urad Dal for at least 3 hours.
Drain the water, wash the lentils and then grind the lentils along with rice and ginger.
Grind lentils in a mixer or stone grinder to a thick paste.
Season the batter with chopped onions, green chillies, curry leaves, coriander, cumin seeds and salt. Mix well.
Deep Frying Garelu/Vada:
Heat oil in a heavy bottomed pan over medium heat.
Wet your hands and make small balls out of batter. Flatten the ball and make a hole at the centre and gently slide it into the oil.
Alternatively you can take the ball of batter on a plastic cover by wetting your hands occasionally and form a disc shape. Place a hole in the center and drop them into hot oil for deep-frying.
Drop the garelu/vadas carefully into hot oil and deep-fry them on both sides till they turn golden brown.
Transfer Garelu/Vadas on to an absorbent tissue paper to remove excess oil.
Hot ] crispy Garelu are ready!
For a detailed stepwise pictorial guide and the exact ingredient list for Garelu/Vada, get the recipe here!!

Preparation of Chicken Curry / Kodi Koora
Clean chicken and marinate the with red chilli powder, turmeric and salt. Set aside for about 20 minutes.
Grind ginger, garlic, cinnamon, cloves, poppy seeds and desiccated coconut in a blender to a fine paste. This is the key to perfect chicken curry. Click here to get the exact ingredients and quantities.
Heat oil in a large skillet over medium heat. Season with cinnamon, cloves, cardamom and bay leaves. Stir for a minute till you can smell the aroma of the spices.
To this add chopped onions, green chillies and sauté till they are slightly brown in colour. Add curry leaves and stir for a minute.
Now, add marinated chicken and sauté for 2 min.
Add the ground masala paste, required red chilli powder (adjust to suit your spice levels) and turmeric powder. Fry till the raw smell goes off. This will take about 5 minutes.
Now add required water till the chicken immerses. You can adjust the consistency of the gravy to suit your requirement.
Close the lid of the pan and cook over medium heat for 10 to 15 minutes with occasional stirring. Then simmer and cook for 5 minutes till the chicken is fully cooked, soft and tender. When the oil starts to separate, turn off the heat.
Yu can also cook this in a pressure cooker for about 3 whistles following the same process.
Finally sprinkle garam masala powder and garnish with coriander.
Serve chicken curry with garelu, a definite treat to the palates!!
Alternatively, serve with vegetable pulao, coconut milk rice, roti, paratha, idli, dosa, vada or just with plain rice accompanied with rasam.
For a detailed stepwise pictorial guide and the exact ingredient list for Andhra Chicken Curry, get the recipe HERE!!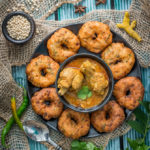 Print Recipe
Mouth-watering combination of Garelu/Vada with village style Chicken Curry.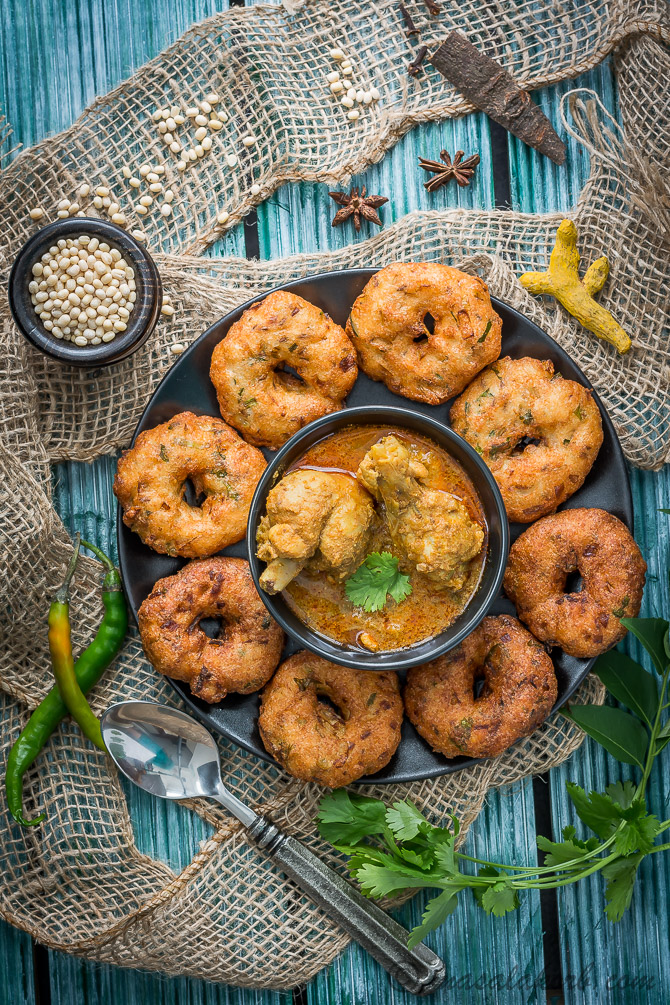 Check out other Non-Vegetarian Curries and Snacks form blog!!
Check out other Breakfast Recipes from blog!!
MOST POPULAR BREAKFAST RECIPES ON BLOG:
Many more to come!!…..STAY TUNED!!
Hungry for more? Never miss a recipe!!…Subscribe to MasalaKorb and have posts delivered straight to your inbox! And connect with me on Facebook, Twitter, Instagram and Pinterest for all of the latest updates.
Did you make a recipe? Make sure to tag your photo with this hashtag:  #masalakorb
Happy Cooking 
Cheers!!
Padma.