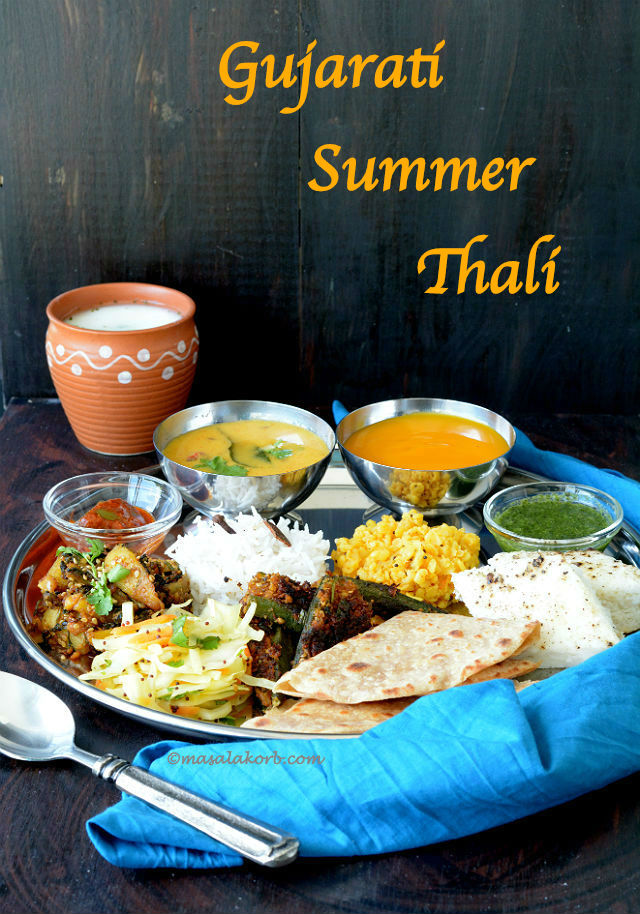 Indian culture is incredible and its cuisine is not an exception. India is the paradise for food, boasting of not one or two but a wide variety of regional and traditional cuisines. I believe food and language tell us who we are and where we come from. It opens doors to traditions, rituals, beliefs and life. Ever since I started my blogging journey, I have been excited to explore the cuisines from various other regions. Today I'm here to share Gujarati Summer Thali.
For quite sometime, I was thinking of starting a series, which will have recipes that can range from traditional thalis (Vegetarian, Non Vegetarian or a mix), everyday lunch and dinner ideas, comfort food menu, party meal planning, party snacks, teatime snacks, one pot meals, toddler recipes, cooking for guests…the list can go on. But it never took off but finally I made it happen!!
A few days back, I spoke to a good Gujarati friend of mine and decided to take a daring step to cook and present this Gujarati Summer Thali, which is also apt for the season. Thank you Mairali for all the suggestions. Apparently this also happens to be the blog hop cuisine of the month. I know what's running in your mind…. I obviously had to start this series with a thali from my home ground…..will definitely come up with that very soon!!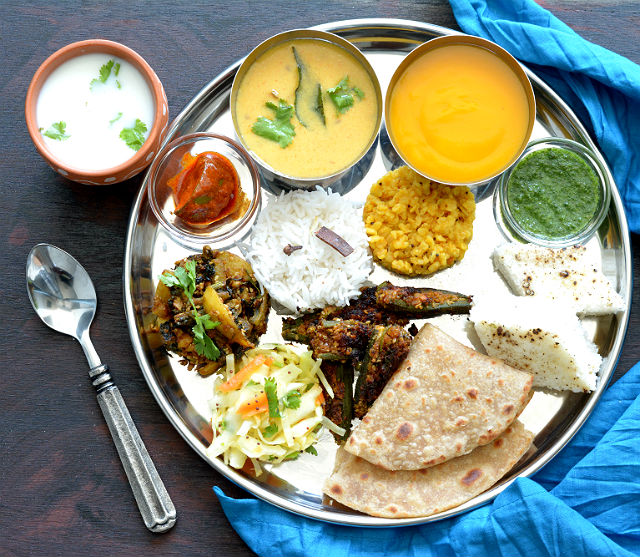 Food of India can be categorized into North Indian and South Indian for the purpose of simplicity. But that is a simplistic categorization because within every state in India one finds great culinary variation.
Gujarat, the home of Lord Krishna and Mahatma Gandhi is a state in western India. The state of Gujarat has been geographically divided into 4 regions – North and South Gujarat, Kathiawad and Kutch. Different regions come with slight variations in the cuisine and these variations come in the form of eating habits, preparation techniques and climatic differences. Each of Gujarat's regions bring their own style to Gujarati Cuisine, however the harmony of blending the sweet and salty dishes is what demarcates Gujarati Food from other Indian varieties.
Food is really the reflection of the culture. Sometimes you have to taste the food to experience the culture and learn about it's history. Gujarati cuisine is primarily a vegetarian cuisine, despite having an extensive coastline for seafood, due to the influence of Jain vegetarianism and traditional Hinduism. A Gujarati Thali is like the great big Indian wedding with lots of traditional Gujarati dishes. It satiates you but leaves you also looking for the first couch you can find, so that you can just put your feet up and relax. And if you are lucky probably even take a quick nap.

But an everyday menu would typically be daal bhaat (lentils with rice), rotli (flatbread) and shaak (vegetables).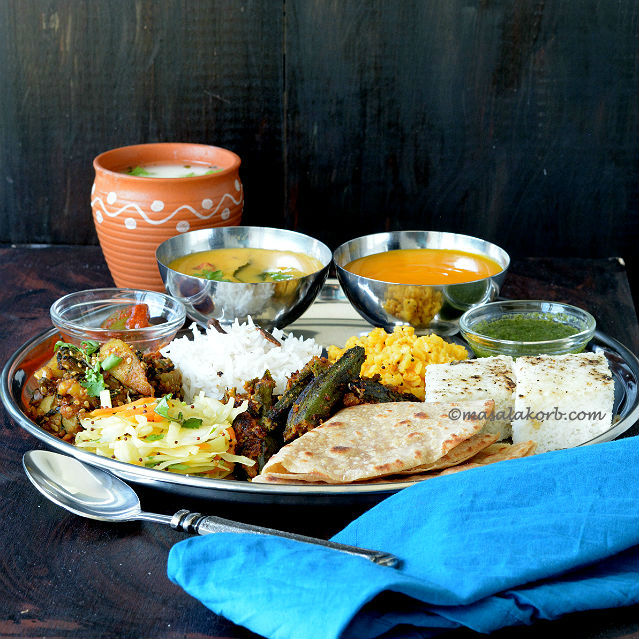 Gujaratis are also known for their craze for aamras aka mango pulp, which is often served during summer season. In summer, when mangoes are ripe and widely available in market, Keri no Ras (fresh mango pulp) is often an integral part of the meal and in winters undhiyu (a mixed vegetable dish) will be the main highlight of the meal. The spices used also change depending on the season. Garam masala and its constituent spices are used less in summer. Salt, sugar or jaggery and lemon are used to give the balancing effect to the dishes. The subtle blend of these flavours also prevents dehydration during the summer months.
After lots of discussions and brainstorming, I quickly exhausted my repertoire of favourite recipes. And finally the outcome? A satisfied guaranteed meal. Look at all the vibrant colours, varied textures and satisfying flavours! This is one simple, yet palatable and super delicious menu perfect to the palate and the season. MANGO is the star ingredient!! It may not be everyones favourite because of the sweet taste in some dishes but I hope this post can inspire you to give this Gujarati Summer Thali a try, and you will get back here to share your experiences.
I hope you get to make a Gujarati Summer Thali from these traditional Gujarati food recipes. The ideas listed here have hyper-linked recipes which you can click on the recipe name or the photo  to view the recipe. For the next couple of days/weeks, I will be updating the links as and when I post the remaining recipe in the thali.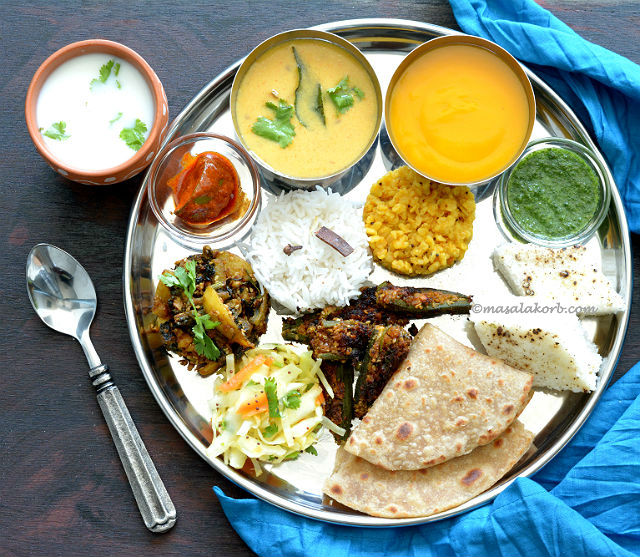 Recipe ideas for my take on Gujarati Summer Thali includes:
 Aamras or Mango Pulp 
Be Padi Rotli or Double layered roti
Bhindi Sambhariya or Gujarati style stuffed Okra
Let's go through each one of them in brief !!
1. Aamras or Mango Pulp: 
Aamras or Mango pulp is the pulp of the tropical fruit Mango. The pulp of a ripe fruit is extracted usually by hand and consumed along with puri or roti.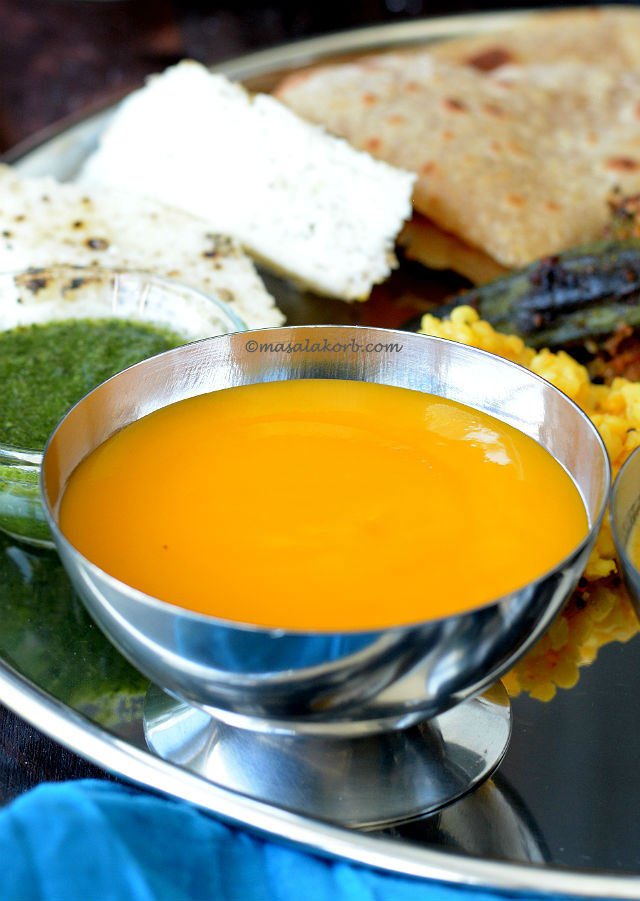 2.

Be Padi Rotli or Double layered roti

: 
Be padi Rotli is a double layered traditional Gujarati roti, which is prepared frequently during the mango season to enjoy with mango pulp or aamras.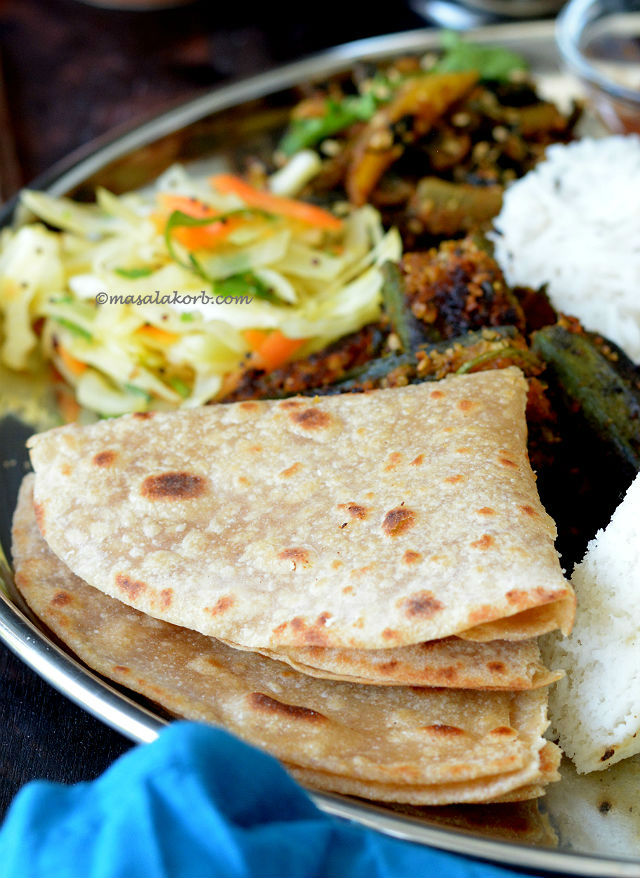 Khatta dhokla or White dhokla is one of the famous gujarati snacks. It is a deliciously soft and spongy idli like snack. It is spongy, airy textured with sour and mild spicy flavoured, steamed savoury cake made from rice and urad dal.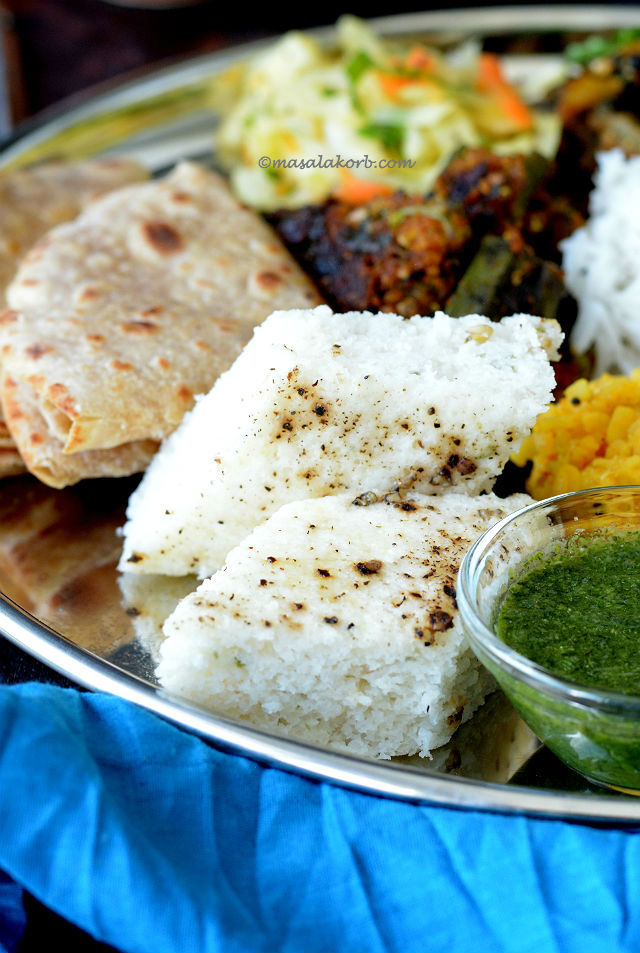 Green chutney or Coriander Mint Chutney is a versatile Indian condiment, that adds a zing to your snack or any chat. Serve hot dhoklas with green chutney.
                   and
Fajeto Recipe to make ripe mango kadhi, which is a sweet, sour & spicy yoghurt gravy prepared with mango pulp, yoghurt, chickpea flour & a few spices.
Mango pickle is not from this cuisine though, click here to view the recipe.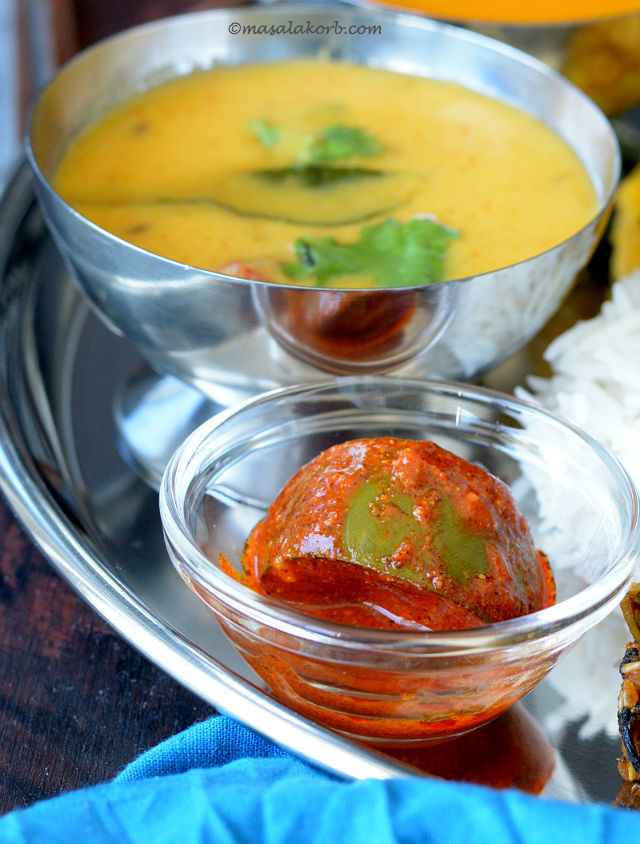 Rice is a staple grain that is served with almost all meals in India and it's impossible to imagine an Indian meal without rice. Plain boiled rice is made and served everyday in almost all Indian households. This bhaat uses basmati rice.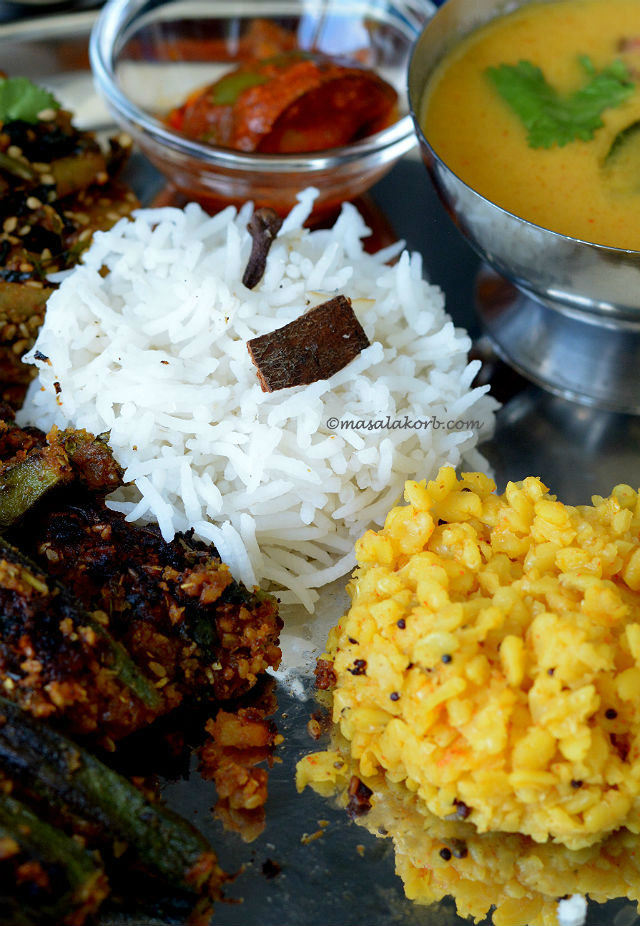 A delicious dry moong dal preparation served with aamras and poori. Moong Dal (Yellow Split Lentil) is very famous dal in indian kitchen.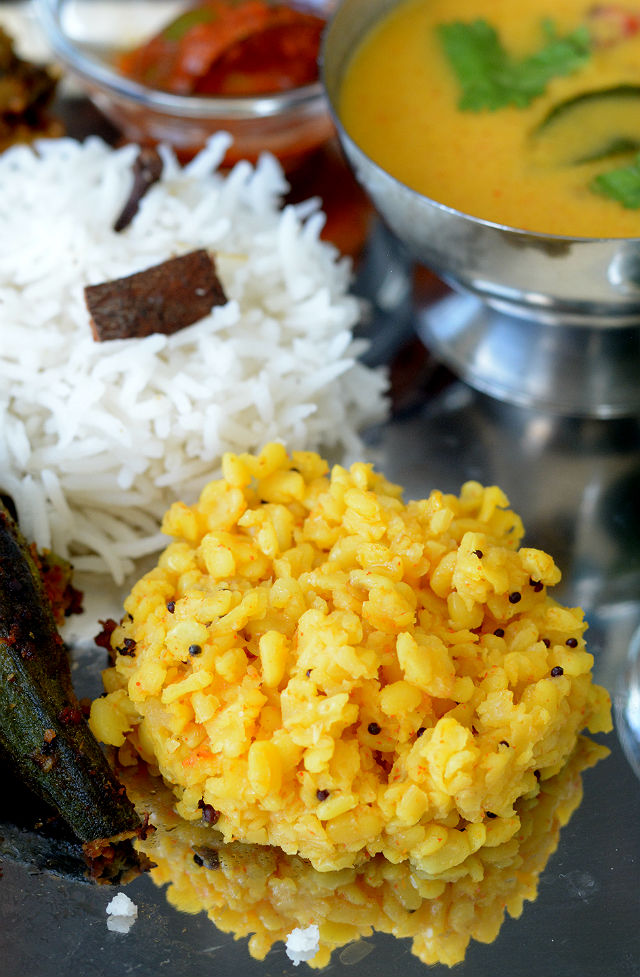 Karela batata nu shaak/Bitter gourd Curry is a simple yet delicious vegetable stir fry with bitter gourd, potatoes and a few spices.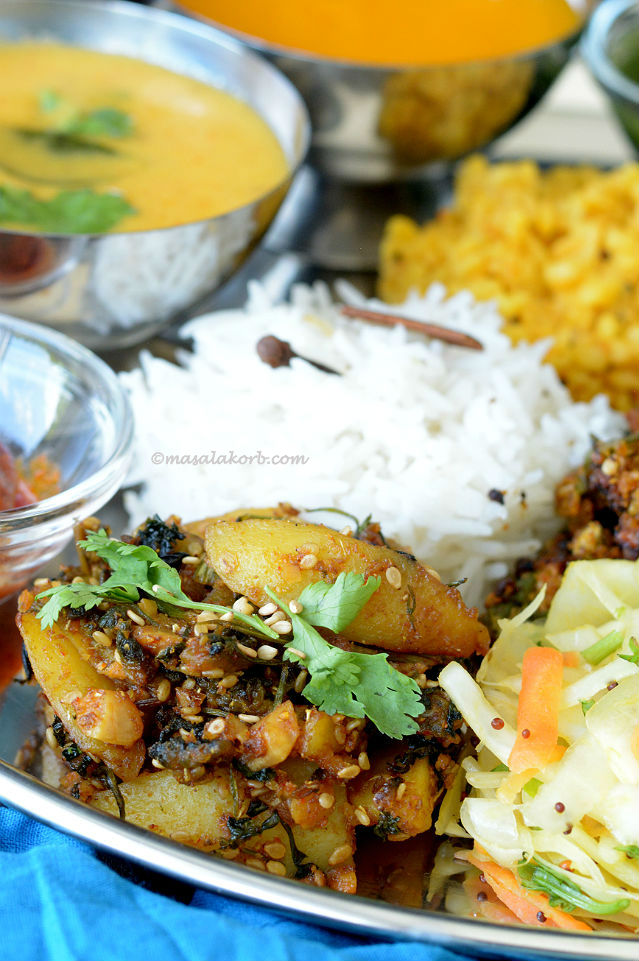 10. Bhindi sambhariya/gujarati style stuffed Okra:
Stuff tender okras (bhindi) with an aromatic masala of sesame, coconut and coriander, together with other spices and cook with a tempering of asafoetida.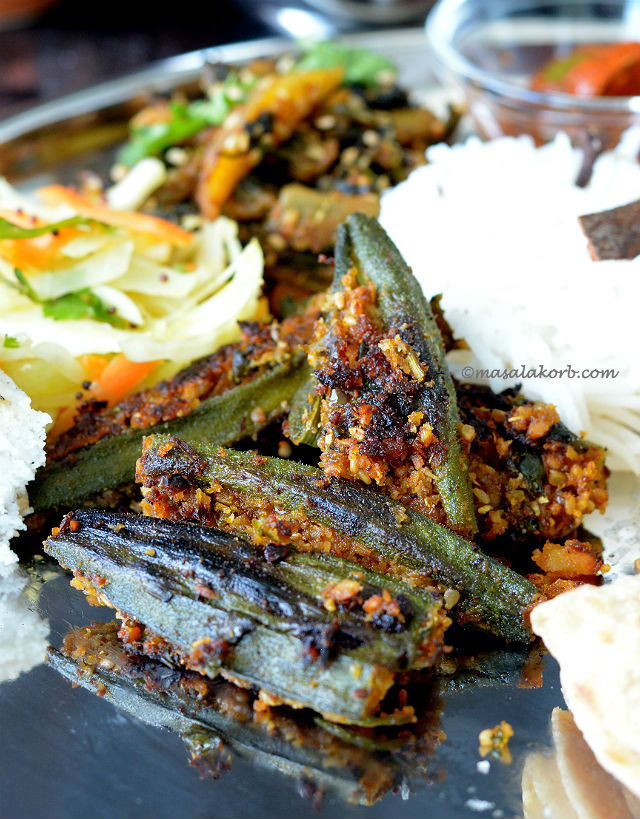 Cabbage sambharo is nothing but the Gujarati style warm cabbage salad. It is very quick to make and requires very few ingredients. The unique thing about this salad is to lightly stir fry the vegetables to retain the crush of the veggies.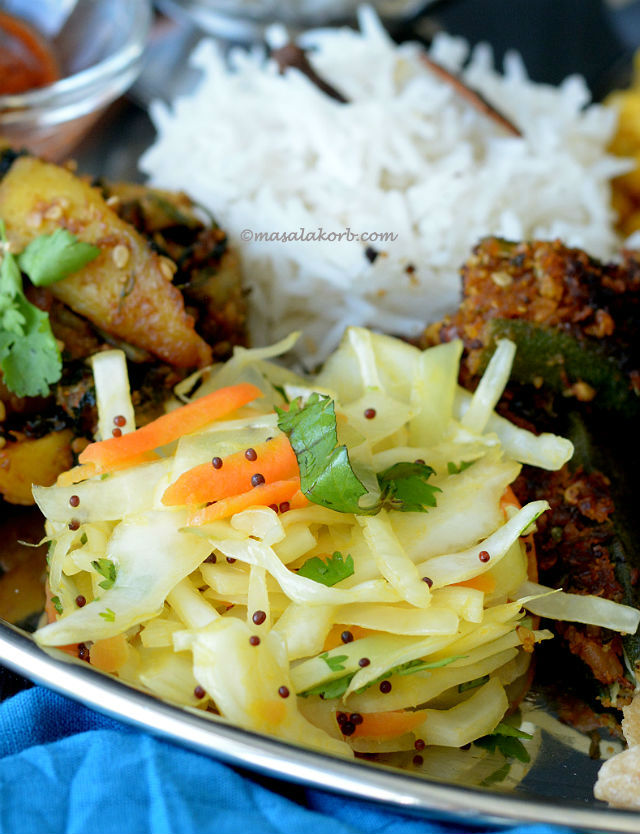 An indispensable part of the 'Gujarati Thali' is the Chaas or Butter Milk which is a must at the end of every meal to wash down the food and aid digestion.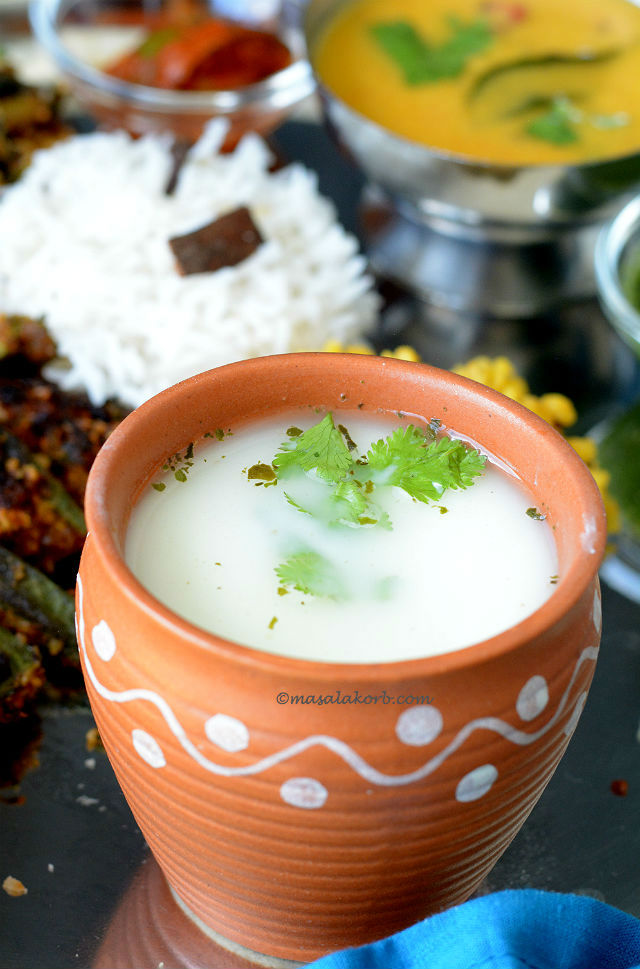 Suggested Combinations for the Gujarati Summer Thali: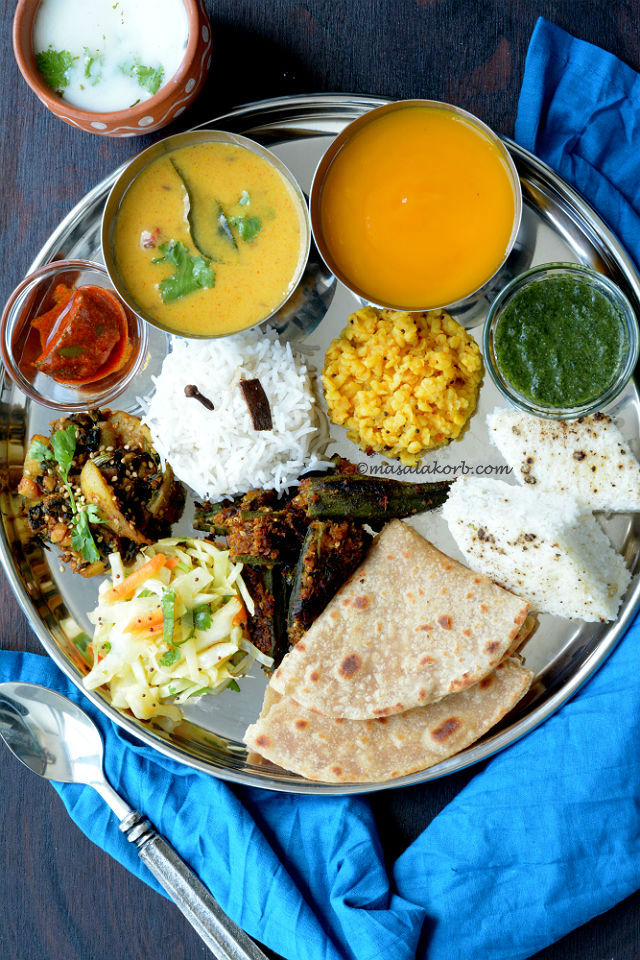 Hope you enjoyed this Gujarati Summer Thali !!… I'm not an expert in this cuisine, so please correct me if there is anything. Do not forget to come back to check out other Gujarati recipes.
Check out other Gujarati recipes from the culinary hoppers team members:
Many more to come!!…..STAY TUNED!!
Happy Cooking 🙂
Cheers!!
Padma.