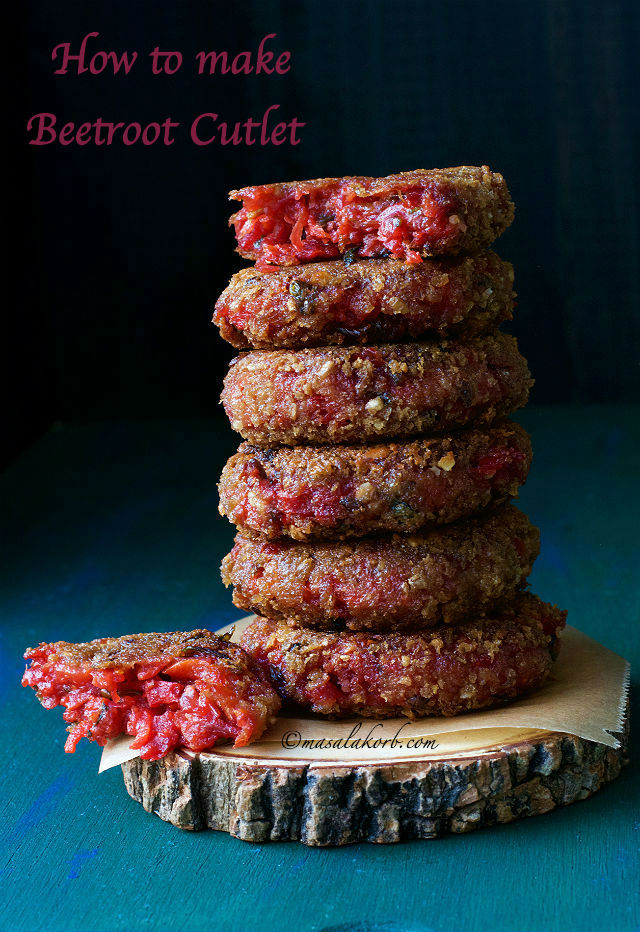 Hi friends!!..I'm back after a month long break…..a little more I guess

. I can't believe this is my first post in 2017. Though it's a bit too late, I would love to take this opportunity to wish all my beloved readers a belated happy and prosperous New Year. Coming to today's recipe, let's learn How to make Beetroot Cutlet as healthy as possible with all the goodness of fresh veggies and without the sin of deep frying.
Let me promise you that this is more than just a beetroot cutlet!! Are you a mother having the daunting task of making tasty yet healthy snacks for your kids? Though a little time consuming, this is the easiest way to incorporate veggies into a dish. I love the colour drama that Beetroots have. This crimson coloured cutlet is not only gorgeously healthy but delicious as well. It serves as a great side dish to add on to your party menu, especially when you might want items to pop up in form of both colour and presentation. All in all it is an appetizer which will be a treat for your eyes as well as your tummy.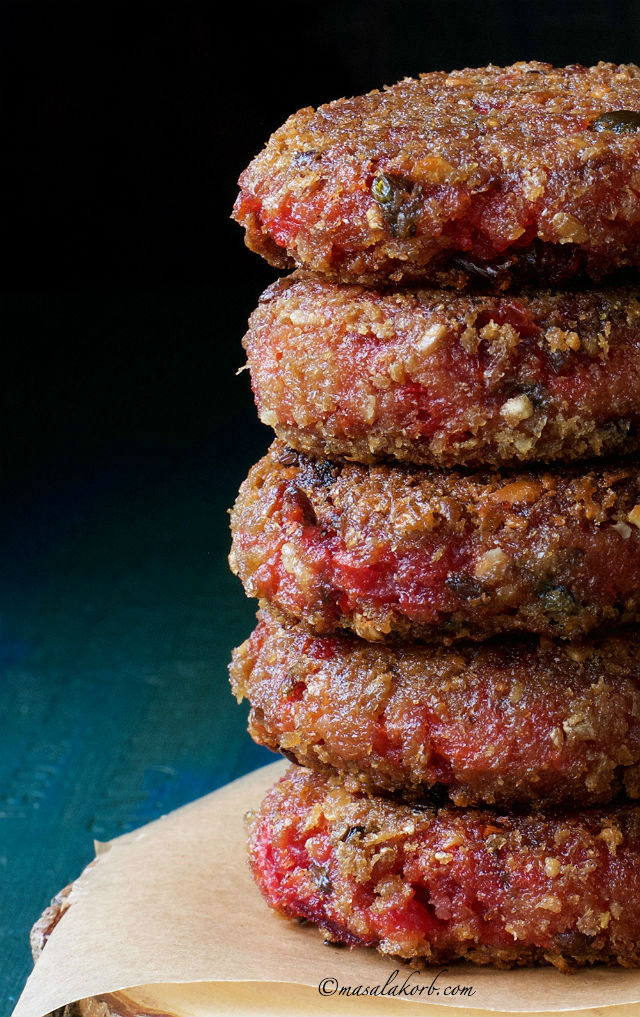 The humble beetroot is of exceptional nutritional value. Beetroot contains potassium, magnesium & iron as well as vitamins A, B6 & C and Folic Acid. It also contains carbohydrates, proteins, powerful antioxidants and soluble fibre. Beets are great for boosting stamina and making muscles work harder. They also help in reducing blood pressure as well as its associated risks such as heart attacks & strokes. Btw….do not throw away the green leafy tops to your beets, as these are among the healthiest part of the plant.
Beets are extremely versatile with their sweet and earthy flavour and can be cooked in multiple ways or eaten raw. Red beets can stain your hands, so you may want to wear gloves when working with them.
This beetroot cutlet is soft and juicy from the inside and slightly crisp on the outside with the layer of breadcrumbs. Love the fact that they freeze so well and are available to pull out of the freezer as and when needed. Do try out and enjoy these lovely bites of health.
Let's see How to make Beetroot Cutlet!!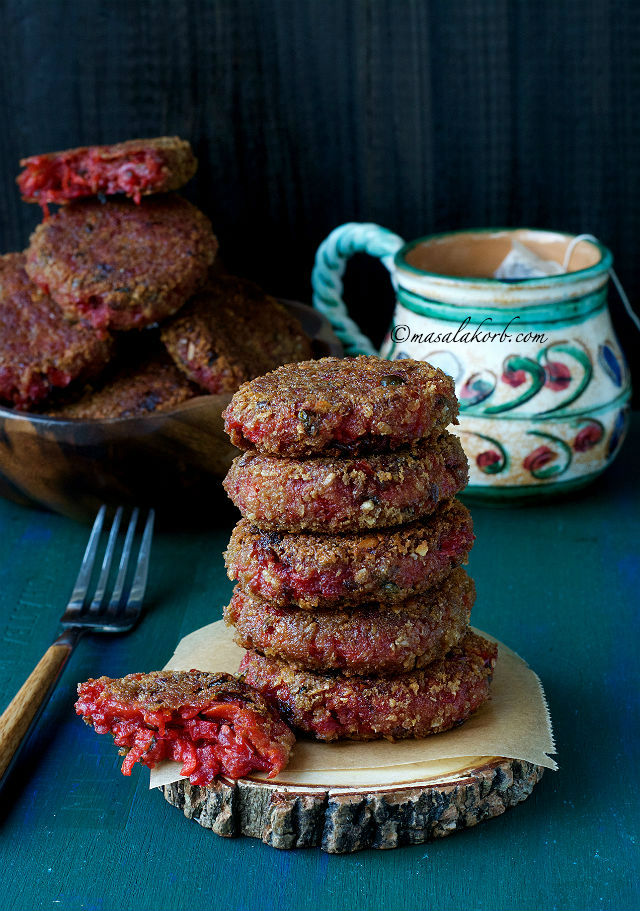 Let's learn How to make Beetroot Cutlet:
Chop/grate all the required veggies and set aside.
Boil potatoes, peel and mash them in a bowl.

Heat oil in a pan over medium heat and add finely chopped ginger, garlic and green chillies. Sauté for a minute and then add spring onions. Stir till translucent.

Now add finely chopped capsicum and stir for a minute.

Now add grated beetroot, pumpkin and carrot. Stir well until combined for 2 minutes.

Add all the dry spices (cumin powder, amchur powder & chaat masala) and mix well. Turn off the heat.


Now add this mixture to the mashed potatoes along with coriander and salt.

Add some breadcrumbs to bind the mixture.

Mix everything to a smooth and pliable mixture.

Adjust salt if needed and taste of the mixture before forming into patties.

Now take some mixture in your hands, shape them into even sized balls and set aside.
Prepare the flour batter. For this mix the flour, a pinch of salt and water to for a thin batter.

Take breadcrumbs in a plate.

Now dip each ball in the flour batter, roll over the breadcrumbs to coat the surface and gently tap with your fingers to flatten them.

Repeat the process for all the balls.

Now smear some oil in a non-stick griddle over medium heat and shallow fry all the patties/tikkis till golden brown and crisp on both sides.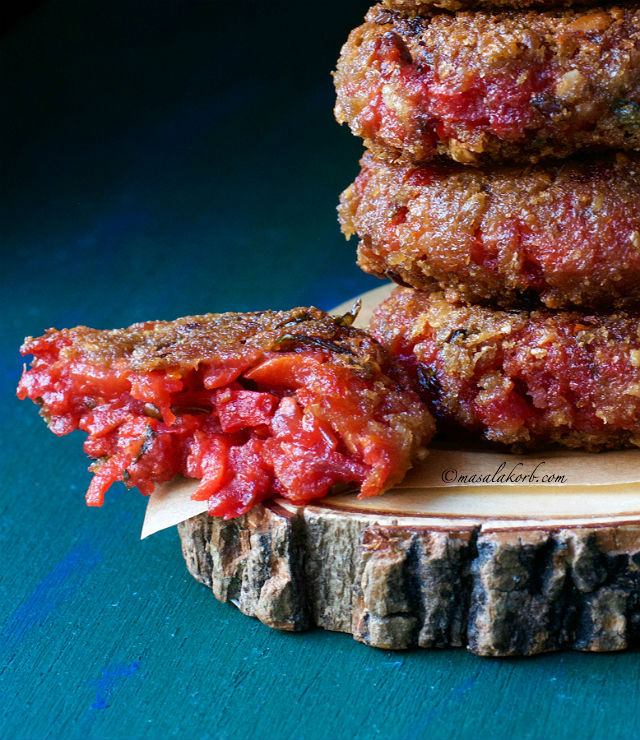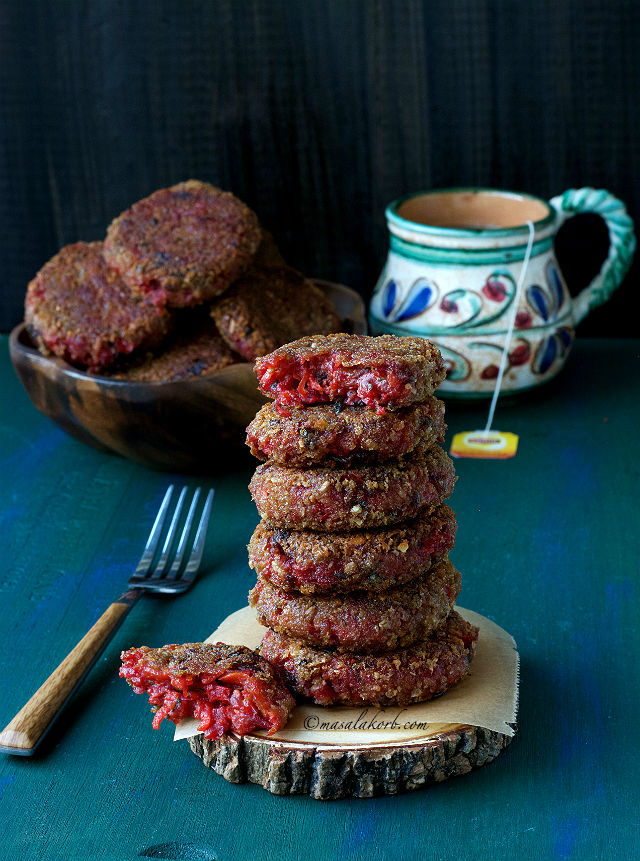 If you wish to bake them:
Arrange the cutlets on a baking sheet lined baking tray, brush with oil and bake in a preheated 

oven at 225C for 5 mins.

Flip the sides of all the cutlets and bake for another 5-7minutes or more until golden brown.

Allow the cutlets to cool slightly and serve with tomato sauce or chutney of your 

choice. They taste almost like the shallow or deep fried cutlets…you will not miss out the oil!!

A Quick Summary: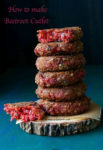 Print Recipe
Let's learn how to make Beetroot Cutlet, a delicious, colourful and healthy snack with all the goodness of fresh veggies.
Ingredients
1

Tablespoon

oil

Finely Chop:

1

" ginger

5

garlic pods

4

green chillies

½

cup

of spring onions

1

Red Capsicum

Grate:

2

Large Beetroots

1

Cup

Pumpkin grate

1

Large Carrot

Spice Powders:

1/2-1

teaspoon

of Cumin powder

Amchur powder & chaat masala

Other Ingredients:

2

Large Potatoes

boiled & mashed

½

cup

coriander

chopped

1/2

Cup

Breadcrumbs

Required salt

For Coating:

2

Tablespoons

maida diluted to form a batter in 1/4 cup water with a pinch of salt

1

cup

breadcrumbs

Required oil to shallow fry
Instructions
Heat oil in a pan over medium heat- Add chopped ginger, garlic, green chillies, spring onions, capsicum & sauté.for a minute.

Add grated veggies & Stir for 2 minutes.

Add spice powders, mix well. Turn off the heat.

Cool and add this mixture to the mashed potatoes along with coriander, salt, breadcrumbs and mix..

Shape into balls & dip each ball in the flour batter, roll over the breadcrumbs and flatten them.

Shallow fry tikkis till golden brown.
My Notes:
Adjust spice levels with green chillies. For an extra spice kick, you can also add half a teaspoon of red chilli powder and garam masala powder along with other spice powders.

Ginger and garlic quantities are purely personal choice, so feel free to use to suit your taste.

Shallow fry tikkis over medium heat to get a crispy outer crust.

If your hands become stained during preparation and cooking beetroot, rub some lemon juice over them to help remove the colour or just use hand gloves.

You can boil potatoes using any method, though I have used pressure cooker method.
In case the mixture becomes too soft and loose, you can add some more breadcrumbs or corn flour or gram flour and mix. This will remove excess moisture.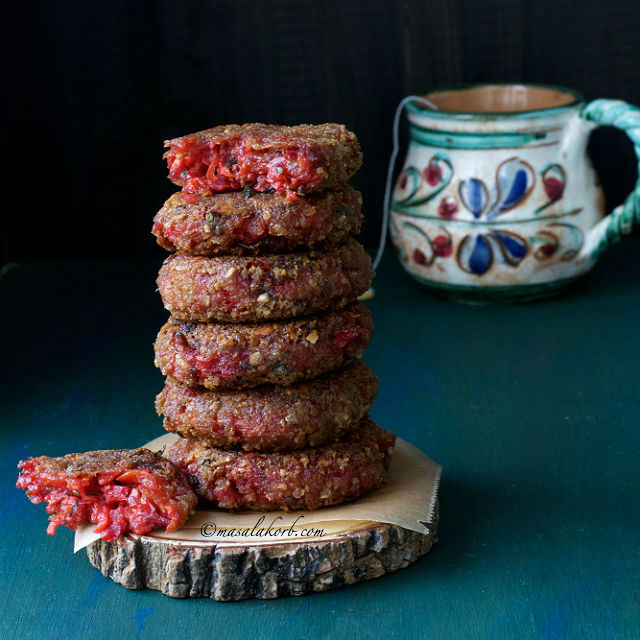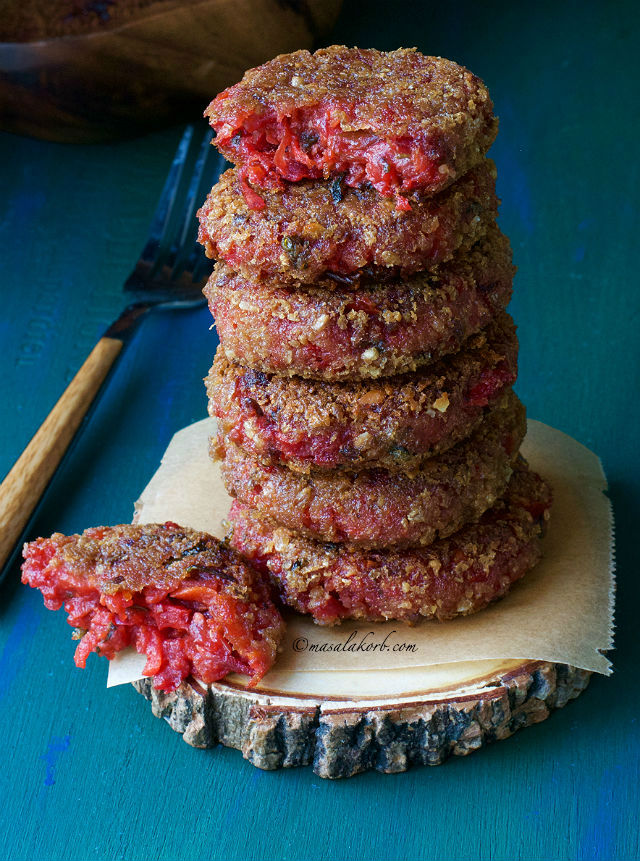 I have put up a few dishes using beetroot…like the Beetroot halwa, Beetroot Lemon Rasam, Beetroot poriyal and here comes the cutlet to add to the list. Of course, talking of cutlets, do check out Capsicum Aloo Paneer Tikki.
Many more to come!!…..STAY TUNED!!
Hungry for more? Never miss a recipe!!…Subscribe to MasalaKorb and have posts delivered straight to your inbox! And connect with me on Facebook, Google, Twitter and Pinterest for all of the latest updates.
Happy Cooking 🙂
Cheers!!
Padma.