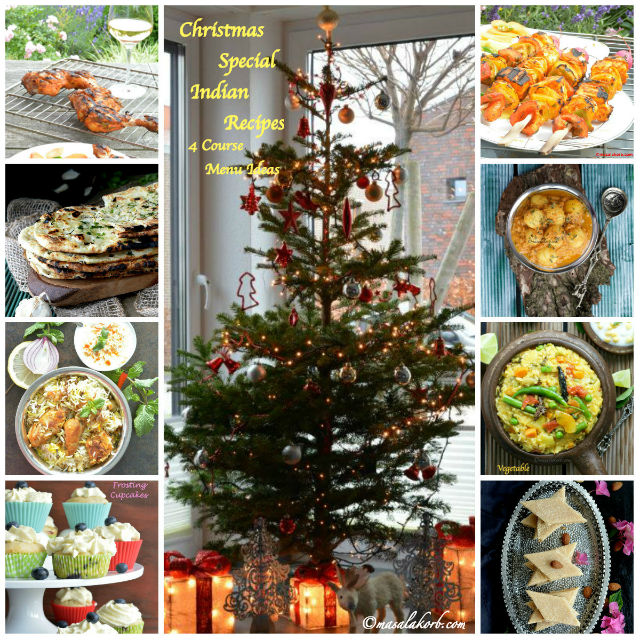 Christmas is at the door step and Christian families around the world celebrate Christmas Day with a family dinner. But the kind of Xmas meal eaten can be very different in various cultures around the globe. Well, here is a Christmas Special Indian Recipes, complied from my collection of recipes from blog. Hope it will be useful for deciding on your HomeMade Christmas Menu to throw a Christmas Party or for a Special Family Dinner for any occasion…..with an Indian touch!!
Before getting into the Christmas Special Indian Recipes, let's see how Christmas is celebrated here in Germany.
Christmas, or as the Germans call it – "Weihnachten", is a quiet time in Germany. Christmas in Germany is very traditional. German families prepare for Christmas throughout cold December. Town streets and business offices are decorated with Christmas lights and branches of pine-needle and fir-needle trees.
A big part of the Christmas celebrations in Germany is Advent. Advent means 'Coming' in Latin. This is the coming of Jesus into the world. Christians use the four Sundays and weeks of Advent to prepare and remember the real meaning of Christmas.
One of the most important symbols that Christmas is approaching are Advent calendars and wreaths. Four Sundays before Christmas, they make an Advent wreath of fir or pine branches with four coloured candles. Each Sunday another candle on the Advent wreath is lit so that by Christmas, all four are shining brightly. The children count the days until Christmas with an Advent calendar. Each day, they open a little numbered flap on the calendar to see the Christmas picture hidden there.
In the weeks leading up to Christmas, homes are filled with the delightful smells of baking loaves of sweet bread, cakes filled with candied fruits, and spicy cookies called lebkuchen. Bakery windows are filled with colourful displays of lovely marzipan confections in the shape of fruits and animals.
Best of all are the famous outdoor Christmas markets, known as Weihnachtsmärkte. The stalls overflow with all sorts of holiday toys, gifts, decorations, and delicacies. The town squares are lit up and buzzing with activity during this time. People gather together, listen to music, drink beer or hot mulled wine (Glühwein) or apple cider. They enjoy the hearty traditional fare of the region. Vendors peddle baked goods and other sweets. Christmas tree decorations, seasonal items, handcrafted articles and hand-blown glass ornaments are also sold. I totally love the atmosphere in these Christmas markets!!
Christmas tree decoration in a mall in Hannover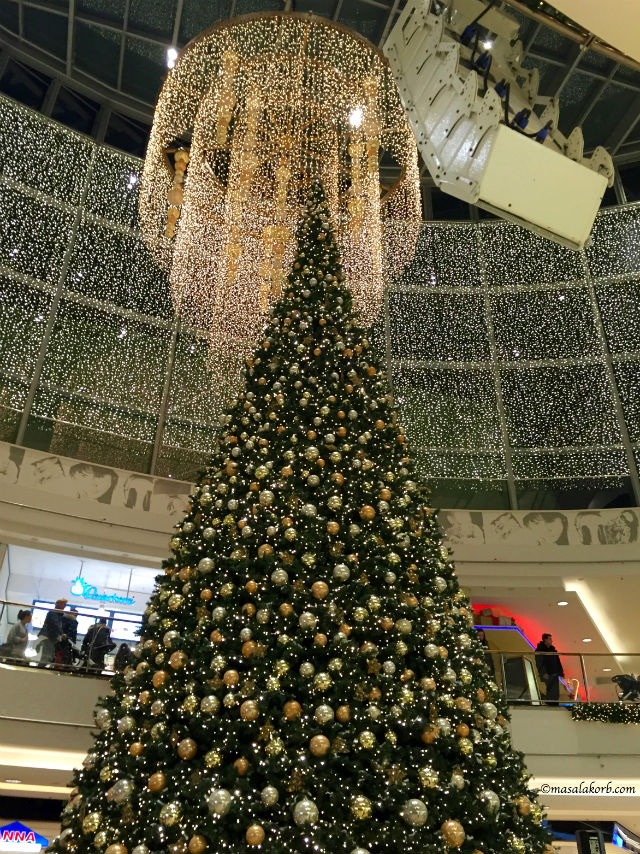 Christmas itself starts at Christmas Eve, 24th December. On this day shops are open until noon (to buy the last presents). Each family does it a little bit differently. Some families get together for a rich holiday dinner, sing Christmas songs and to wait for Santa ("Weihnachtsmann") who brings the presents that night. Basically families exchange their gifts on the night of the 24th. Other families wait for the first Christmas Day, 25th December, to exchange presents. The second Christmas Day (26th) is also a holiday in Germany….Everything is standstill on the roads. So you have three days of being together just with your family and eating, drinking, chit-chatting.
Source of info- Wikipedia, Germanculture.com and Whychristmas.com.
If you're having an annual Christmas dinner party to celebrate the festival of cheer and togetherness or a special family dinner, this menu might interest you. You'll find some inspiring ideas to cater to every need. Right from starters and appetisers to hearty mains and dessert too – this menu will delight you and your guests.
Moving on, let's see what choices you have for an Indian Feast for Christmas!! I have give below choices for a 4 Course Indian Christmas menu, including Vegetarian options. Choose as many or as few of the options from each section as you wish, to put together your own menu to enjoy a fantastic meal with your family!! Here we go – Christmas Special Indian Recipes!!
Christmas Special Indian Recipes:
FIRST COURSE:
NON VEGETARIAN
VEGETARIAN
SECOND COURSE:
CHOICE OF BREADS
CHOICE OF CURRIES
NON VEGETARIAN CURRIES:
VEGETARIAN CURRIES:
THIIRD COURSE
CHOICE OF BIRIYANIS SERVED WITH RAITA
NON VEGETARIAN:
Mutton Biriyani 

(

Coming soon)

Quick Chicken Biriyani in Pressure Cooker (

Coming soon)
VEGETARIAN:
FOURTH COURSE
DESSERTS
CAKES & COOKIES 

CHOICES
INDIAN DESSERTS
Hope you enjoyed the recipes!!
Do check Out other recipe compilations from blog!!
Many more to come!!…..STAY TUNED!!
Hungry for more? Never miss a recipe!!…Subscribe to MasalaKorb and have posts delivered straight to your inbox! And connect with me on Facebook, Google, Twitter and Pinterest for all of the latest updates.
Wish you all a Merry Xmas. May this Xmas bring you & your loved ones happiness, peace & joy!!  
Happy holidays!!
Happy Cooking 🙂
Cheers!!
Padma.