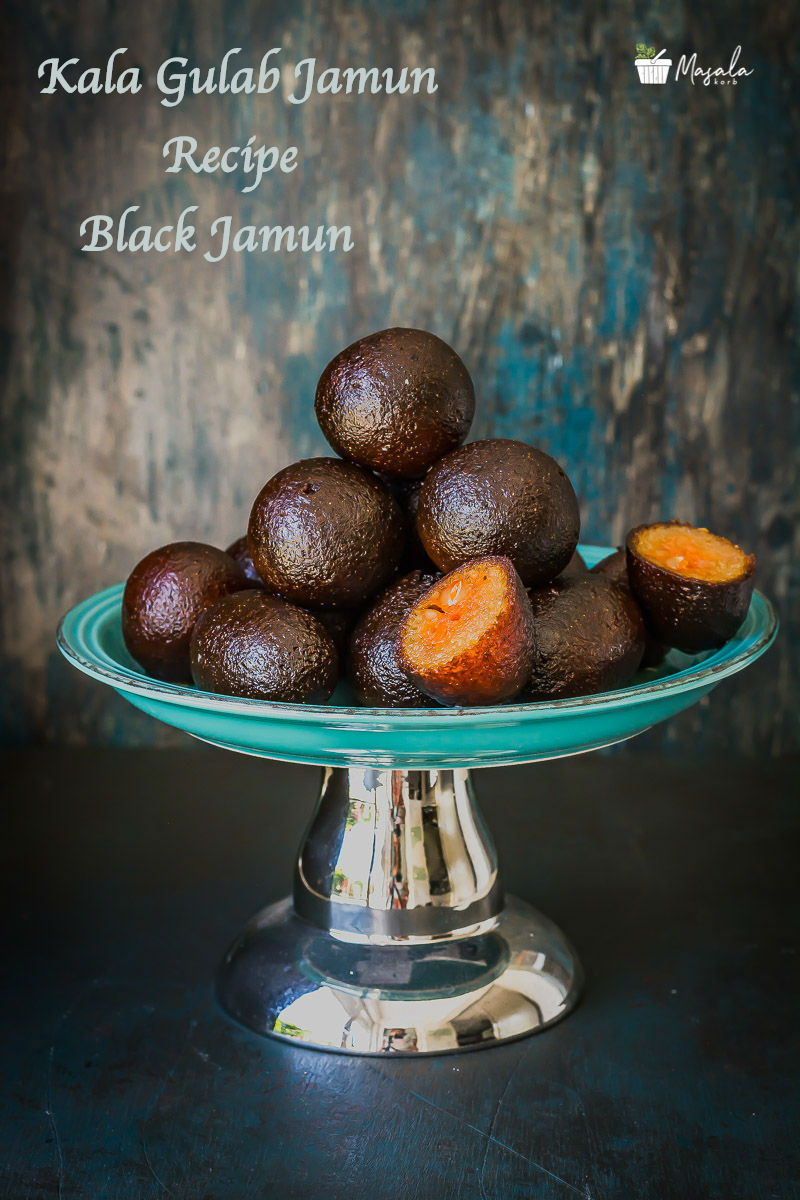 Continuing the fun, frolic and festive fervour, here is yet another lip-smacking dessert and a crowd pleaser. I had this Kala Gulab Jamun Recipe lying in my drafts for a while now….Was just waiting for the right time to share it with you guys and there can't be a better occasion than Diwali, as festival of lights can almost be called the festival of sweets….Right???  Oh, Btw….Did I mention that my last post on Rasmalai  was also from my drafts? I had made these 2 delicious treats when my sister's family had visited us a while ago 🙂 .
Now, what's the difference between Gulab Jamun and Kala Gulab Jamun? Why can't it just be called Gulab Jamun? As a kid, I often used to get confused and firmly believed that they were the same in all aspects except for the colour. It took me years to find out that they do have differences. Dry Kala Jamun is a variant of Gulab Jamun where it makes a use of khoya, chenna/paneer, semolina, flour, sugar and a  dash of dry fruit stuffed inside balls. These Stuffed Dry Jamuns are then fried and dipped in sugar syrup.
Also, the dessert differs with a slight variation with sugar in the dough. Basically, Gulab Jamun dough is not kneaded with sugar in khoya and flour, whereas for Kala Gulab Jamun Recipe, the dough is kneaded with a dash of SUGAR along with mentioned rest ingredients, which gives the dark colour to the jamuns on frying!! Also, Kala Jamun is deep fried for longer time on a low heat to give that dark colour but without burning them.
Off to Kala Gulab Jamun Recipe!!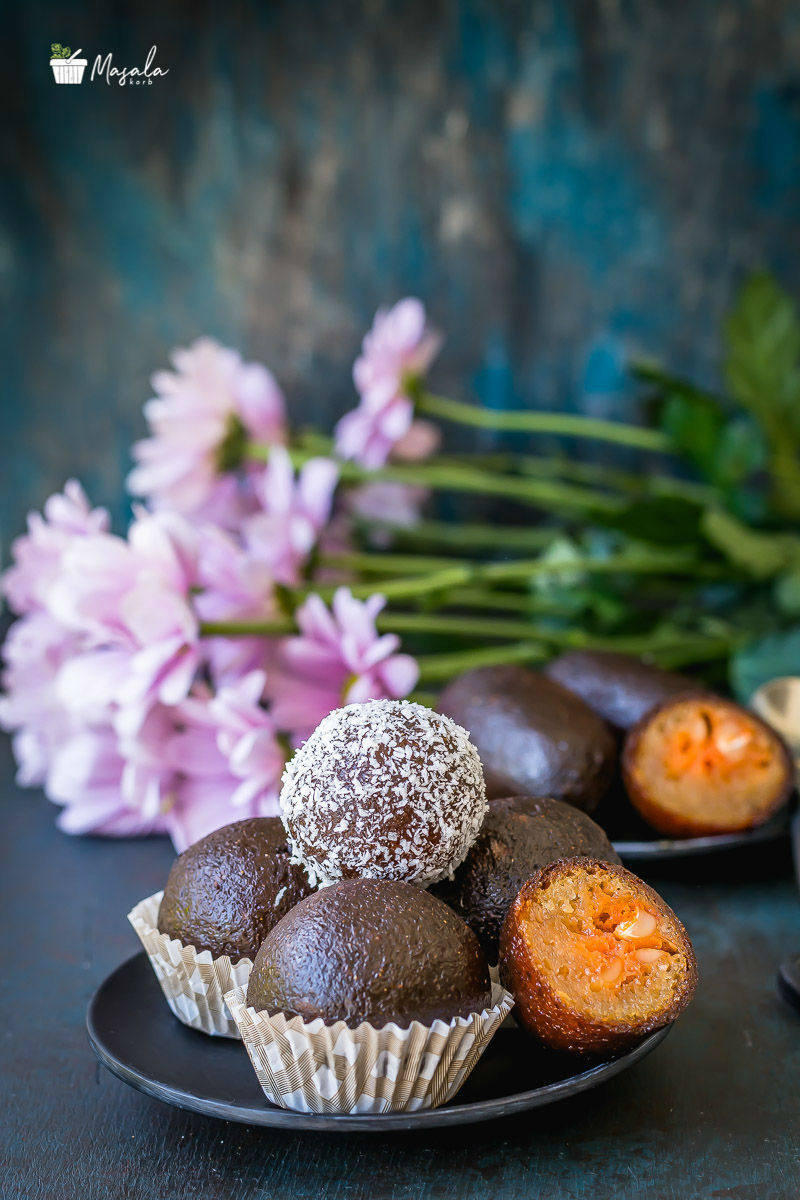 Steps to follow for Kala Gulab Jamun Recipe:
Making Khoya:
Click HERE  to get the recipe to make Khoya/Mawa at home or you can use store bought one too.
Making Paneer:
Click HERE  for the recipe to make your own Paneer or just buy it from the store….I try my best to use homemade stuff 🙂 .
Making Dough for 

Kala Gulab Jamun Recipe

:
Now, mash them together with the heel of your palm ensuring no lumps or grains remain.

To this mixture, add all purpose flour, semolina, a teaspoon of sugar and a pinch of cooking soda. Mix everything really well.

Add very little water or milk (only if needed) to form a soft dough. Do not knead the dough very hard. The dough should be firm but pliable and should not feel dry. 

Cover the dough and set aside for 10-15 minutes.

For the Stuffing:
Finely chop almonds, cashews and pistachios (or nuts of your choice).

In a small bowl, add chopped nuts, a teaspoon of saffron water (or food colour), some of the kneaded dough from above, and 

mix everything to form a paste. This is the stuffing we will be using later.

Shaping kala J

amun

:
After the dough has rested for 15 minutes, 

divide the dough into small balls. Adjust size of jamuns as desired. Do not make them too big as they will increase in size once they soak up in the sugar syrup.

Flatten the dough ball with your fingers and top it up with some stuffing and seal it.

Roll it out to form a smooth ball without any cracks and shape it oval/oblong or round…as per your liking. 

Cover them with a muslin cloth, let them sit for few minutes before frying.

Sugar Syrup for Kala Gulab Jamun Recipe:
While the dough balls are resting, prepare the sugar syrup.

For this, add sugar and water in a heavy bottomed pan.

Heat the sugar solution over medium heat. Once the sugar is completely dissolved, let it boil for some more time. It should not reach one string consistency, at the same time it should be slightly sticky like honey. Turn off the heat, add cardamom powder and mix.
NOTE:
You can add a teaspoon/few drops of lemon juice to avoid crystallisation of sugar.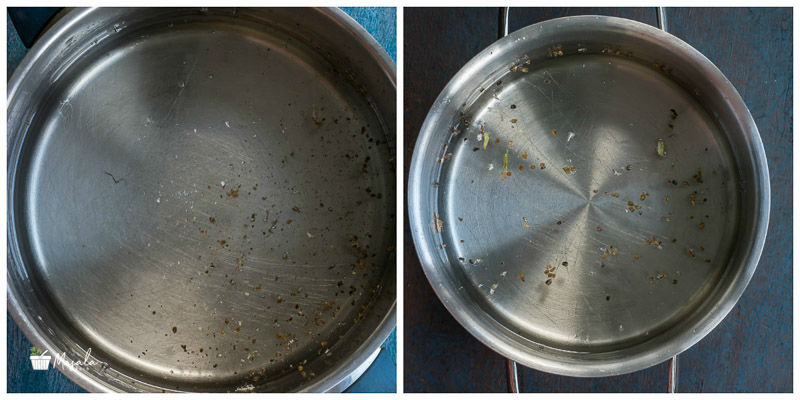 Deep Frying Kala Jamun:
Heat oil in a deep pan over medium heat. Now, lower the heat and gently slide the balls into the oil.

Add 6 to 8 jamuns (depending on the size of your pan) at a time so that they are evenly cooked.

Constantly roll the jamuns with a ladle for even cooking and browning.

On low heat, fry jamuns until you get a brown colour. Then, increase the heat and continue frying till they get dark brown in colour

 (between dark brown and black)….shouldn't totally blacken & burn them !! 
NOTE:
You can also use ghee  instead of oil to fry jamuns.
For regular gulab  jamuns, fry until they are golden brown in colour and remove.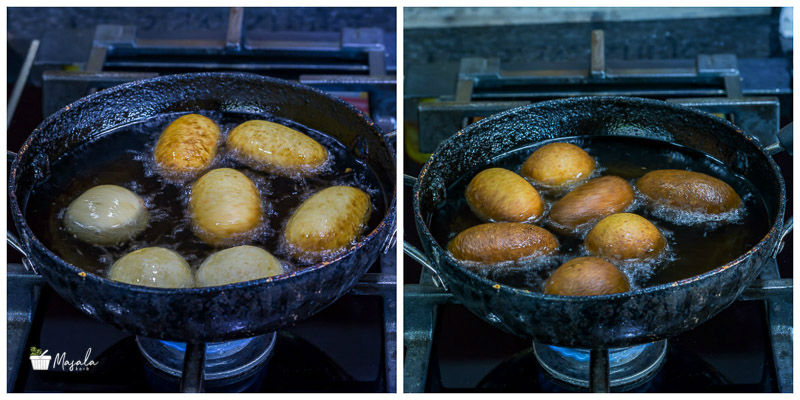 Drain jamuns out of the oil onto an absorbent tissue paper to remove excess oil.

Then, place the hot jamuns in the warm sugar syrup, not boiling or very hot. 

Similarly, prepare rest of the jamuns. It takes 8-10 minutes (depending on size) to fry gulab jamuns for every batch.

Cover and let it rest for 3-4 hours in the sugar syrup. This helps the jamuns to absorb the sugar syrup well. They also increase in size. These gulab jamuns are denser than the one you prepare with instant mix. They take a while to soak up the syrup to infuse flavours into it.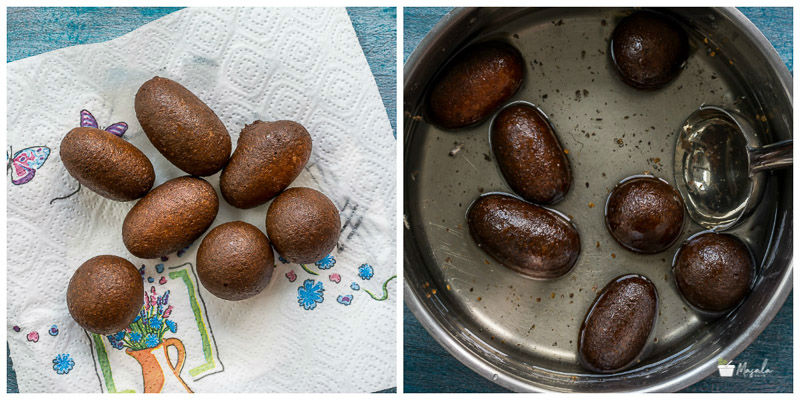 Serving Suggestions:
Serve these scrumptious and delicious kala jamuns piping hot or warm and relish eating. They will taste even better the second day when the jamuns absorb the syrup completely.

If you want to make it as dry kala jamun, then once the jamuns are soaked well in syrup, you can take them out of the syrup and store them in a container or serve.

You can also garnish with dry desiccated coconut or

 use edible silver leaf

and serve!!

You can refrigerate and store for about a week to 10 days.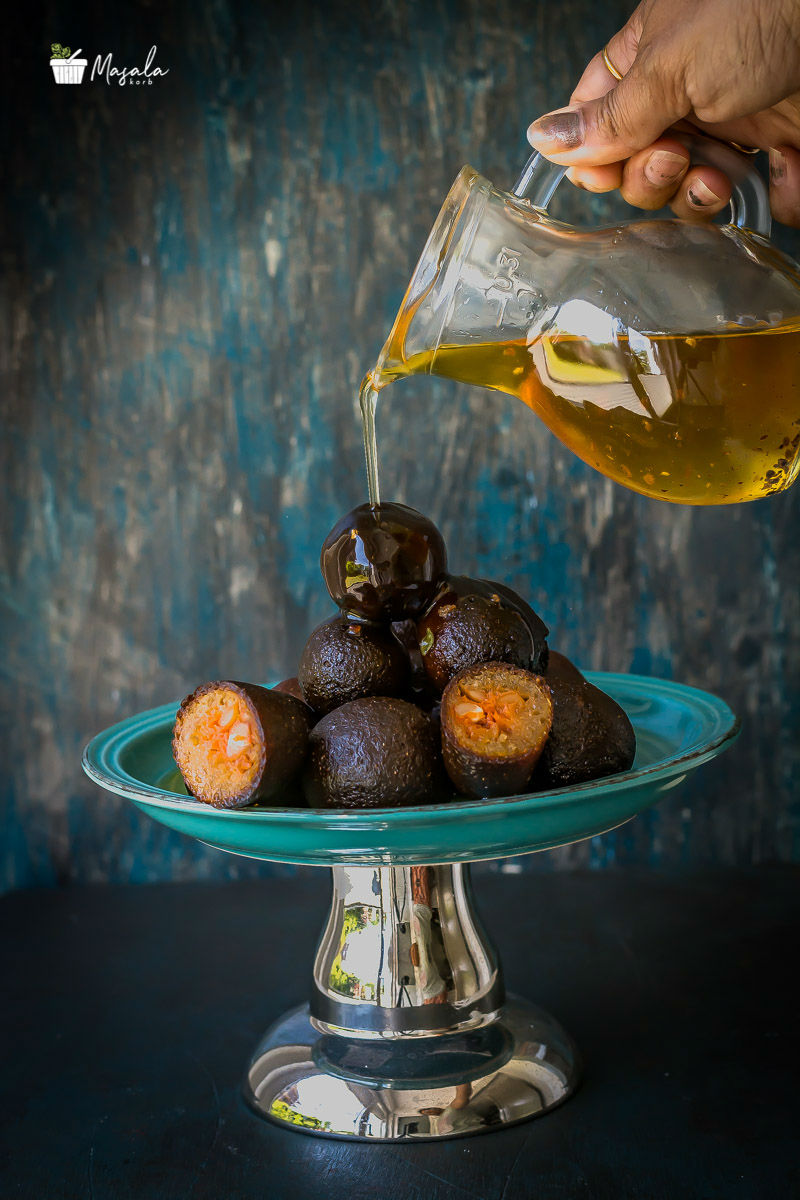 A Quick Summary: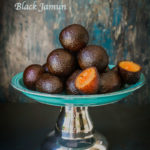 Print Recipe
Kala Gulab Jamun Recipe to prepare Kala Jamun/Black Jamun, another variant of gulab jamun.
Ingredients
Kala Jamun Dough:
Stuffing:
Mix of Almonds. Cashew & Pistachios

chopped

Lemon size of the above kneaded dough

1

teaspoon

Saffron water
Sugar Syrup:
2

Cups

Sugar

2

Cups

Water

1/2

teaspoon

Cardamom Powder
Instructions
Dough:
Cover & let it sit for few minutes.
Stuffing:
In a bowl, add chopped nuts, lemon sized kneaded dough, saffron water and mix.
Sugar Syrup:
Add sugar and water in a heavy bottomed pan.

Heat sugar solution over medium heat till sugar dissolves and boils. The syrup has to be sticky like honey. Turn off the heat and add cardamom powder.
Shaping & Deep-Frying:
Divide dough into small balls.

Flatten the dough ball, top it up with some stuffing and close. Roll out to form a smooth ball and shape as desired.

Heat oil in a deep pan over medium heat. Simmer and gently slide the balls into hot oil and fry them till dark brown.

Remove them onto a tissue paper, and fry the next lot.

Place the hot jamuns in warm sugar syrup.

Cover and let it rest for 2-3 hours before serving.
My Notes for:
Do not knead the dough too much. Just gently mix and form the balls. If the mixture is dry, sprinkle few drops of water or milk to make the dough soft and then form balls.

Roll the balls smoothly making sure there are no cracks.

If oil is not hot enough, the jamuns will get cracked and suck more oil.

Don't put too many jamuns in the oil at once. This will lower the temperature significantly and it might be oily & mushy.

If you fry jamuns on high heat, then they will turn brown immediately from outside but remain uncooked inside. So cook them on low to medium heat.

Keep turning the jamuns gently while frying to ensure even browning.

If you want richer taste, use ghee to fry, otherwise use oil. You can also use combination of both ghee and oil. 

Do not roll large size balls as the size will increase when fried and soaked in the sugar syrup.

You can skip the stuffing part if you wish.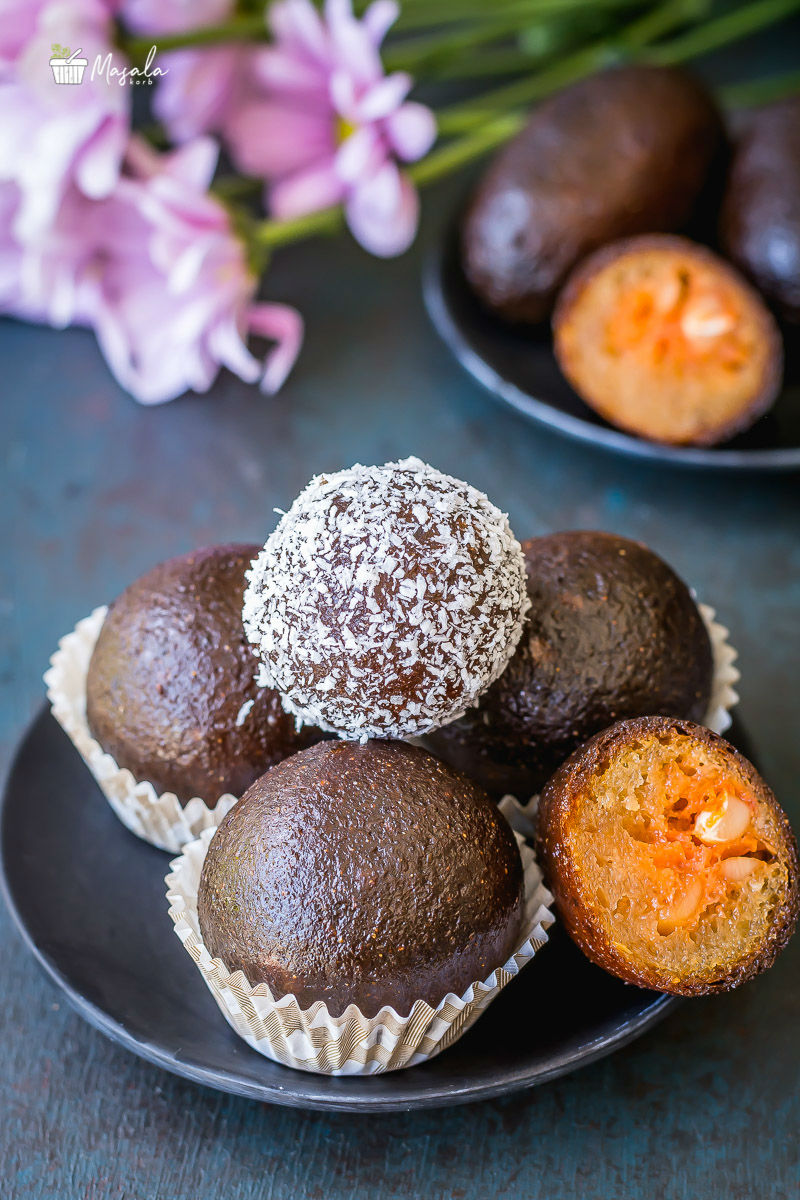 Hope you enjoyed Kala Gulab Jamun Recipe !!
Do check out other Dessert Recipes,  Diwali Sweets,  Diwali Snacks  and  Festival recipes  from blog!!
Similar recipes:
Many more to come!!…..STAY TUNED!!
Hungry for more? Never miss a recipe!!…Subscribe to MasalaKorb and have posts delivered straight to your inbox! And connect with me on Facebook, Google, Twitter, Instagram and Pinterest  for all of the latest updates.
Do subscribe to my YouTube Channel  for latest video alerts!! 
If you cook this dish, be sure to tag your photo with this hashtag:#masalakorb
Happy Cooking 
Cheers!!
Padma.