Soft Rasmalai Recipe – How to make Rasmalai at Home | Indian Sweet Rasmalai Preparation | Bengali Rasmalai Recipe Step by Step – Rasmalai, Soft and spongy flattened paneer (cottage cheese) balls soaked in thickened saffron flavoured milk & garnished with nuts.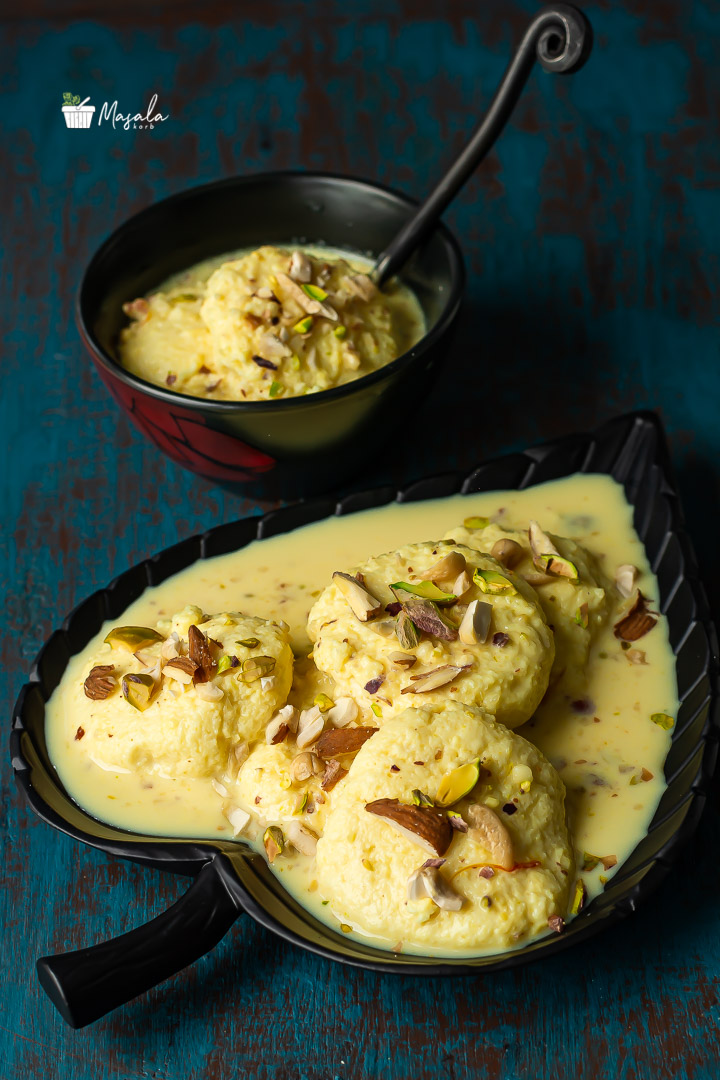 With the festive season reaching its peak with Diwali, India's most famed festival, all that we think is to celebrate and enjoy lip-smacking desserts. Let's begin the festive spirit with this delicious, tried & tested Soft Rasmalai Recipe. Soft and spongy flattened paneer (cottage cheese) balls are soaked in thickened cardamom-saffron flavoured milk and garnished with nuts. Together, it creates a luscious treat with an incredible melt-in-your-mouth texture that will only leave you craving for more!! Ras malai – Ras literally translates to "juice" and Malai to "cream". 
I tried my hand on making Rasmalai a couple of times and after a few trials, I finally succeeded. It isn't that difficult to prepare, but, there are few tips to keep in mind during it's preparation. In this post for Soft Rasmalai Recipe, I have tried my best to explain whatever I have learnt during my trials.
There is no hard evidence as to where the Rasmalai comes from, even though KC Das is claimed to have been the inventor of this dessert. But given that original Rasgulla comes from Odisha. I wouldn't be surprised to learn that the Rasmalai too has its roots there. I was doing some research and found that there is no agreement whether the sweet originated in Bengal or Orissa. Read more about it here. Whoever invented it, they did a great job introducing this amazing sweet to the world and this is one of my top favourite Indian dessert.
Off to Soft Rasmalai Recipe!!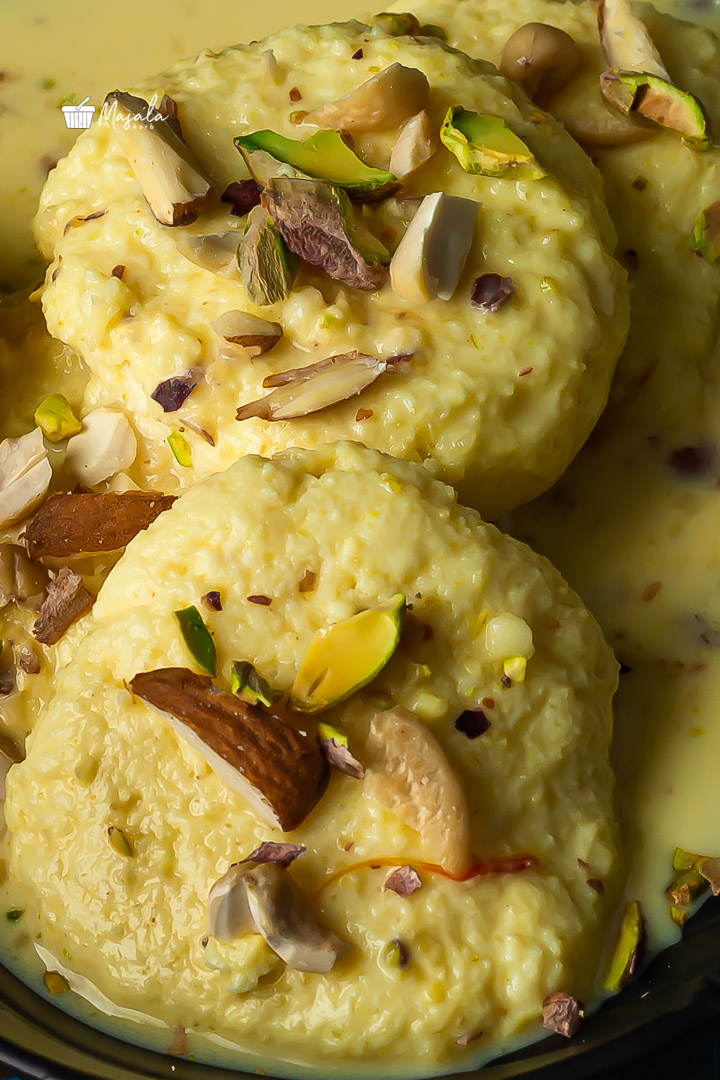 Steps to follow for
Soft Rasmalai Recipe
Soft Rasmalai Recipe involves 3 main steps.
Making flattened Paneer balls (Rasmalai balls) 

Making thickened Saffron Milk (Ras)

Assembling Rasmalai
Preparing Rasmalai Balls:
Prepare Paneer (Chenna) for Rasmalai: Click HERE  to learn how to make Paneer at home. 

Now, this is a crucial step where the correct amount of moisture is very important. Remember that excess water or moisture in the chenna will result in broken rasmalai balls while cooking. So, what I do is to squeeze out as much water as possible with hand and then hang chenna for about 30 minutes.

Once you have the Paneer/Chenna ready, t

ransfer it to a plate, add semolina and knead well  with the heel of your palm applying little pressure for about 10 minutes until smooth. S

top kneading when chenna starts releasing fat, you can see that from the greasiness on your hand.

Now, chenna forms a nice and smooth dough.

Pinch small portions from the chenna, roll them between your palms to a smooth round ball and flatten. Prepare all this way.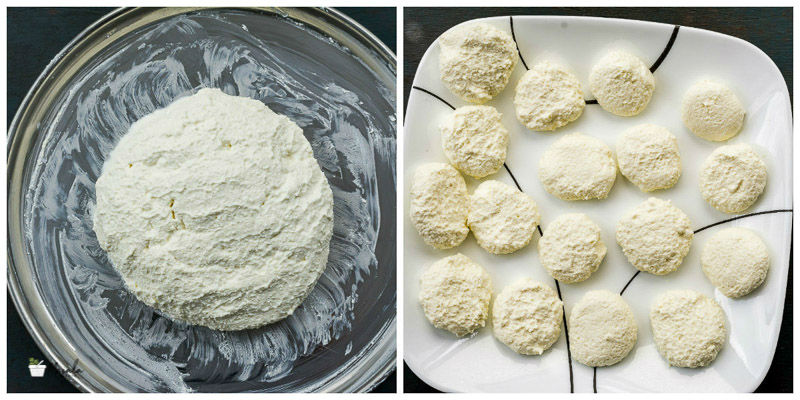 Sugar syrup to boil rasmalai balls:
Heat 1 cup of sugar with 4-5 cups of water (both works, but I prefer 1:5 Cups of sugar and water respectively) in a wide pan (or pressure cooker) and wait until it comes to full boil.

Slide the flattened balls into the sugar syrup and cook covered for 8-10 minutes (cooking time depends on their size) on moderately high heat to bind them together. 

The balls will double in size by then.

Strain the balls from the syrup and drop them in fresh water, if they sink in bottom they are cooked properly.

Take off the discs to a plate and cool them. 

Preparing thickened Saffron Milk or Rabri (Ras):
Pour 4 cups full fat milk to a heavy bottom pot and boil over medium heat with occasional stirring.

You can add chopped nuts at this stage or towards the end. (I like to to add the nuts now so that they blanch and become soft)

Add sugar and saffron when the milk starts boiling. 

Reduce the heat to medium low. Stir every 2 to 3 minutes to prevent 

the milk from scorching at the bottom.


When a layer of cream forms, just move it aside and continue to boil.

Boil until the milk thickens and reduces to 75 per cent or 

half the original quantity. You can adjust the thickness of the liquid to your liking. Some people like the ras to be thin and some prefer thick, I usually like to reduce to 75 per cent!!

Finally, add cardamom powder and set aside. 

Assembling Rasmalai:
Squeeze the paneer balls gently in between your palms to remove sugar syrup. This will help the balls to absorb the saffron milk later.

Finally, dunk them into the WARM thickened Saffron Milk or Rabri. Allow to rest for few hours before serving.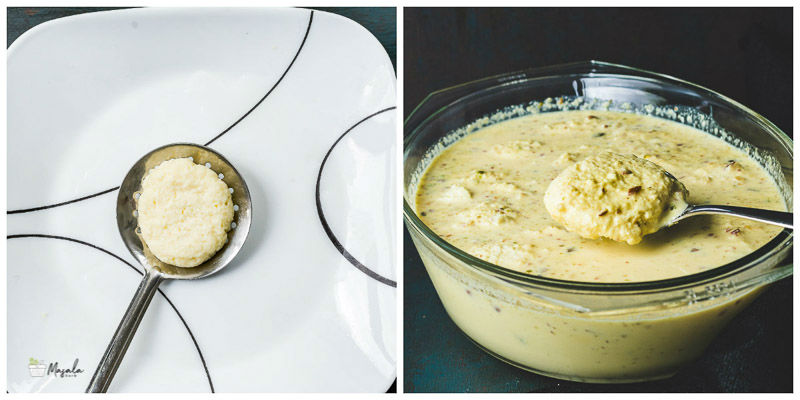 Garnish with sliced almonds & Pistachios or any nuts of your choice and serve chilled.
Do want a quicker version of this yummy dessert?….Then, check out Bread Rasmalai Recipe.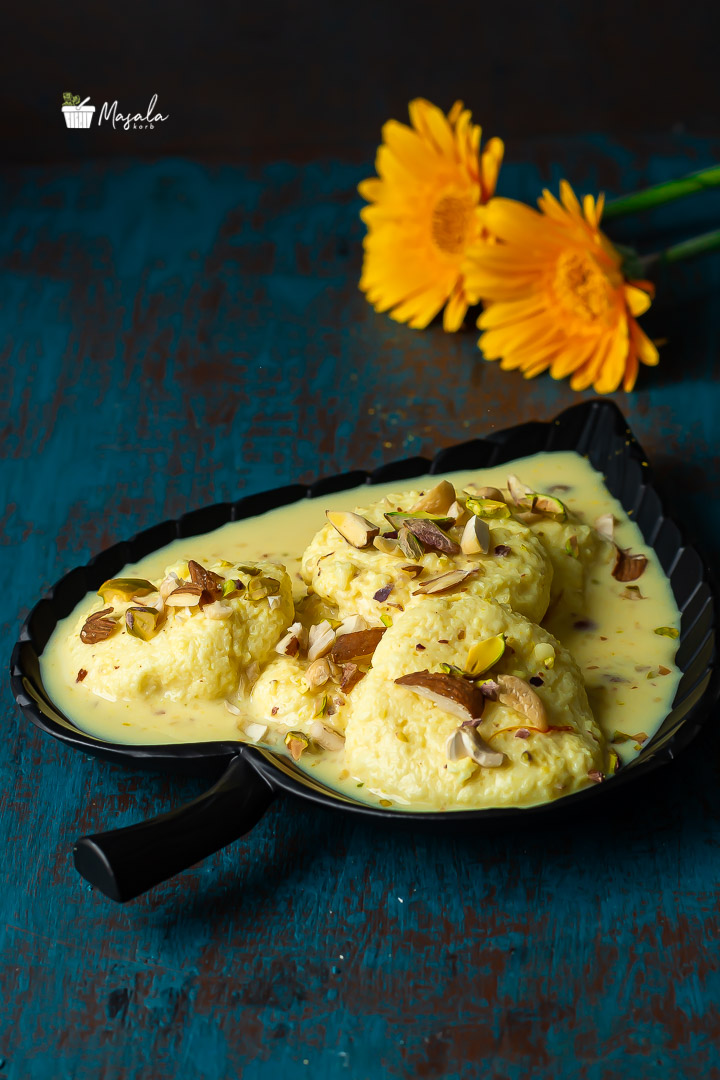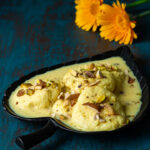 Print Recipe
Rasmalai, Soft and spongy flattened paneer (cottage cheese) balls soaked in thickened saffron flavoured milk and garnished with nuts.
Ingredients
Syrup to cook Paneer balls:
4-5

cups

water

1

cup

Sugar
For Rabri/Ras:
1

litre full fat milk

1/2

cup

sugar

Few Saffron strands

1/2

cup

thinly sliced Almonds or Pistachios

or both, divided

1

teaspoon

Cardamom powder
Instructions
Preparing Paneer balls:
Knead Paneer (How to make Paneer) with semolina in a platter till very smooth. Make into small balls and flatten slightly in the centre. Prepare all this way.

Mix 5 cups water and 1 cup of sugar in a pan and bring to a boil.

Simmer the boiling syrup and gently drop the Paneer balls.

Cook covered for 10 minutes. Turn off heat.

Strain the balls and cool them.
Preparing Rabri/Ras:
In a thick bottomed pan, boil the 1 litre of full fat milk.

Add chopped nuts, 1/2 cup of sugar and saffron strands once milk starts boiling.

Boil until milk thickens and reduces to 75 per cent of its original volume. Turn off the heat, add Cardamom powder and mix well. Set aside to cool.
Assembling Rasmalai:
Gently squeeze paneer balls between your palms and transfer to the thickened milk. Chill in refrigerator for few hours before serving.

Garnish with nuts and serve chilled.
Notes
For Ras/Rabri:
Use full cream/whole milk to make Rasmalai. Low fat or fat free will not give good results.

Also, do not over stir the milk while preparing rabdi as the cream will not form.
For Paneer/Chena balls:
Do not use store bought paneer to make this sweet. This recipe 

calls for homemade paneer. Click here for all the tips to get paneer right. 

Even though you have to squeeze out the water completely from the paneer, make sure that it's not completely dry. The chena should feel soft and moist even after you have squeezed out the water. If prepared chhena is too dry, rasmalai balls will turn hard and if it is too 

soft, they will break while cooking and not retain their shape after 

cooking. So, moisture content is the key to make good quality paneer

 balls.

You can add 2 teaspoons of semolina or 1 teaspoon cornflour to the paneer and mash. This helps in binding.

Mash paneer/ chena for at least 10 minutes. This is a crucial step, so don't try to cut down the time.
Cooking Paneer balls in Sugar Syrup:
Use a wide pan to cook the rasmalai balls. The balls double in size so there should be enough space in the pan for them to cook. Don't overcrowd the pan with too many balls. Cook in 2 batches if required.

The water to sugar ratio is 5:1 respectively. This ratio is important to get the right syrup consistency. Drop the balls in the syrup only when it comes to a full boil and the heat should be set to high throughout the duration of cooking.

In case you have added less water and you feel the sugar syrup is getting thicker and balls are sticking to the bottom of the pan, then keep adding little water constantly. The balls should not touch the bottom of the pan. The syrup should always be thin in consistency. If you stick to 5:1 ratio, you will hardly need to add any water. 
Assembling Rasmalai:
Once the paneer balls are cooked, let them cool down to room temperature.

Squeeze the paneer ball gently in between your palms to remove sugar syrup before adding to the saffron milk, otherwise the rasmalai balls will not absorb the milk.


The thickened saffron milk should be warm when you add the rasmalai balls/paneer balls to it. So, basically the balls should cool down to room temperature but the saffron milk should still be warm.

You can add nuts of your choice.
Shelf Life:
Being a milk based dessert the shelf life of this dessert is 1 to 2 days. So, it should be ideally consumed within 2 days.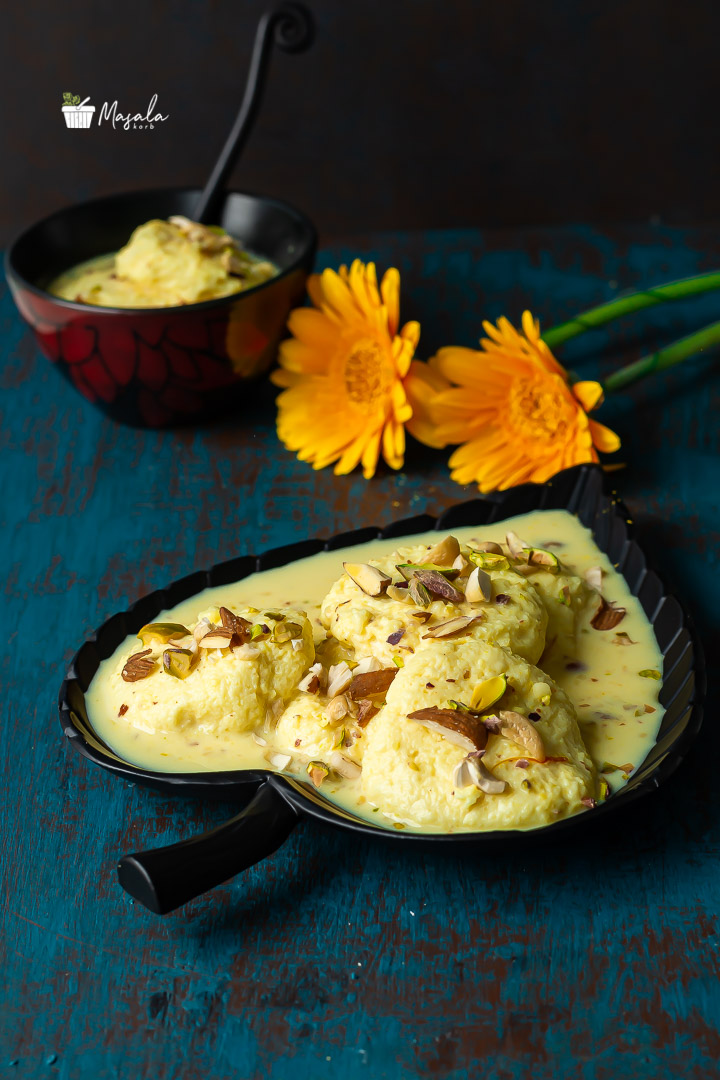 Similar recipes from blog:
Check out other DIWALI SWEETS,  FESTIVAL RECIPES ,  DESSERT RECIPES  and DIWALI SNACKS RECIPES  from blog.
And many more to come!!…..Stay Tuned!!
Hungry for more? Never miss a recipe!!…Subscribe to MasalaKorb and have posts delivered straight to your inbox! And connect with me on Facebook, Google, Twitter, Instagram and Pinterest  for all of the latest updates.
Do subscribe to my YouTube Channel  for latest video alerts!! 
Did you make a recipe? Make sure to tag your photo with this hashtag:  #masalakorb
Happy Cooking 
Cheers!!
Padma.