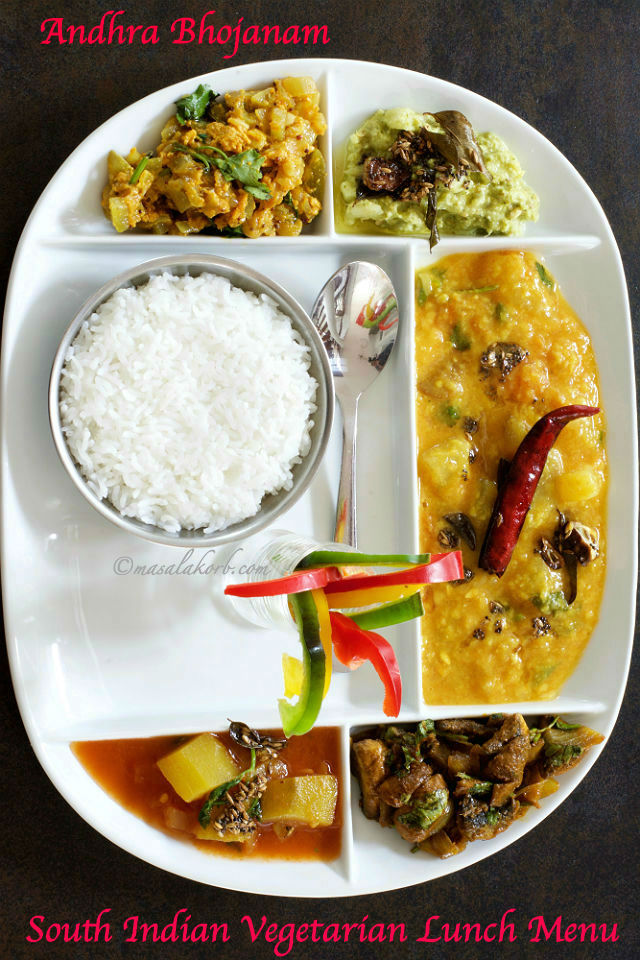 Today I'm sharing a South Indian Vegetarian Lunch Menu – Andhra Bhojanam. This is totally an unplanned post, so please excuse me with the photos. Once I was done with the cooking for a special lunch, I wanted to capture my effort to share with you guys….I guess that's the way food bloggers think!! By the time I wanted to click pictures, it was already getting dull. I couldn't take my time for the photo shoot, just grabbed a plate and quickly clicked….This is what I could manage!! Moreover, now a days it's so gloomy here and the days are getting shorter and shorter. Everything has to be planned and completed within the limited time we are kissed by the sun.
Holidays and special days should be celebrated, and the best way to do that is with great food! This is my 199th post and MASALAKORB is celebrating 2 years of blogging this week….I will be back with my 200th post to celebrate the occasion!! 
Made this simple menu….This South Indian Vegetarian Lunch Menu – Andhra Bhojanam is just an idea for everyday cooking and not an elaborate one. Managed with what I had in the pantry & refrigerator. This is my humble attempt to give an idea about the combos that get along well and you may always adjust the menu to suit your needs.
Off to South Indian Vegetarian Lunch Menu (No particular order…given as in the below picture):
Strawberry smoothie or lassi (not in this picture)

Any salad on the side (optional)

This South Indian Vegetarian Lunch Menu is not a traditional Andhra Bhojanam, but consists of mostly Andhra recipes!! Yo can serve food in earthenware bowls and platters. Set out small bowls to hold individual servings of curries and chutneys. For an authentic meal, you can also serve the food on a banana leaf.
Let's go through each recipe. Well, I have already posted the all the recipes shown in this South Indian Vegetarian Lunch Menu. You will find the pictures of the spread and recipes in the link provided. Click on the photo or the name of the recipe to get full recipe. I have also given below how I have executed this menu. This is just a rough idea and it may differ from person to person, Hope you ENJOY!!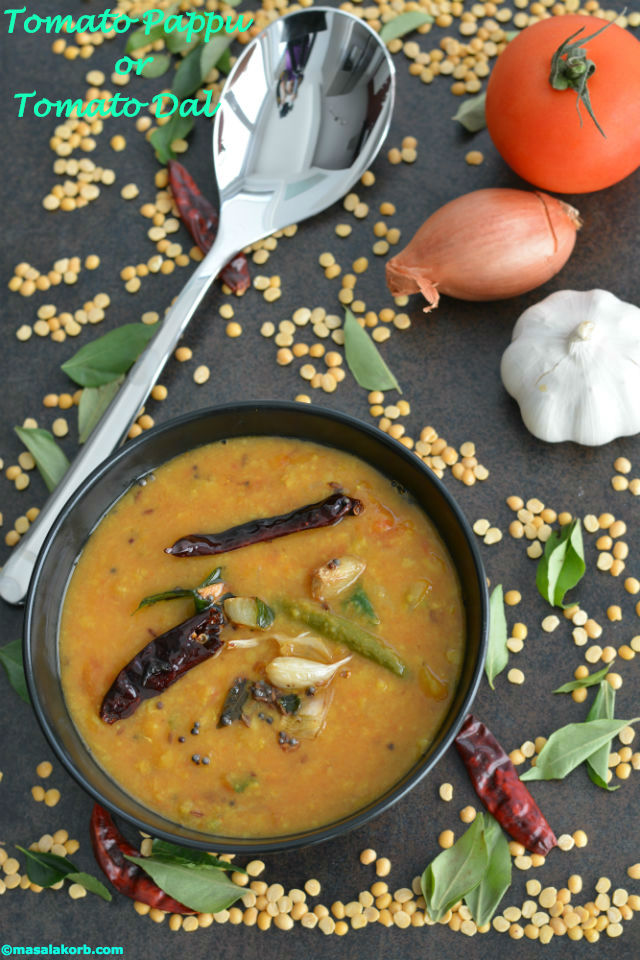 DOSAKAYA PACHADI (YELLOW CUCUMBER CHUTNEY)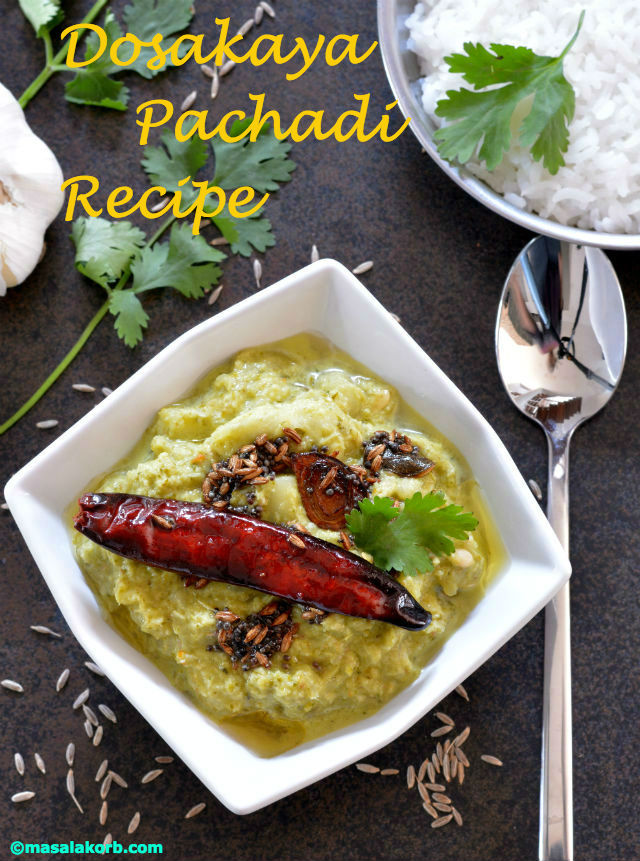 SORAKAYA PALU CURRY (BOTTLE GOURD CURRY WITH MILK)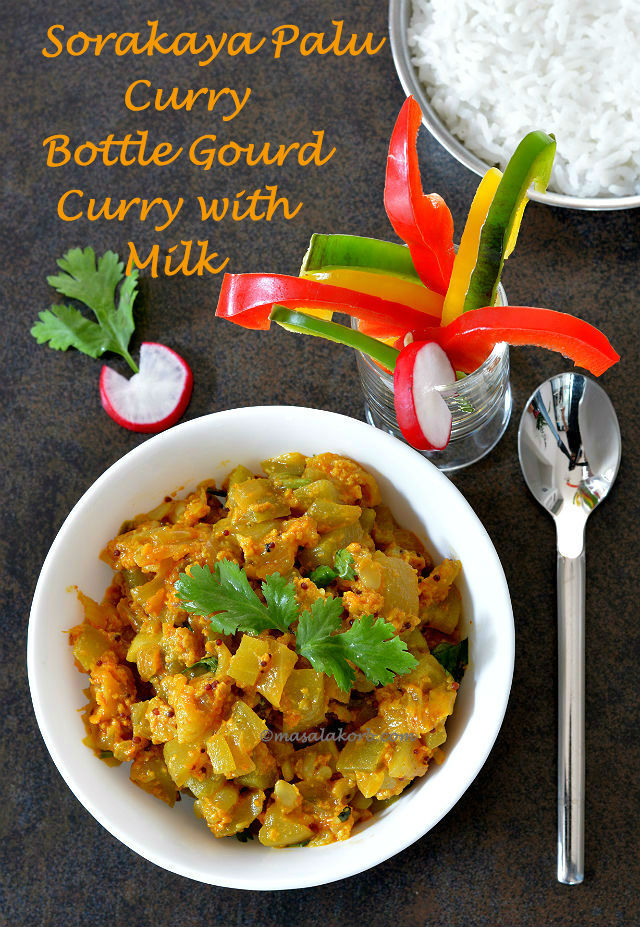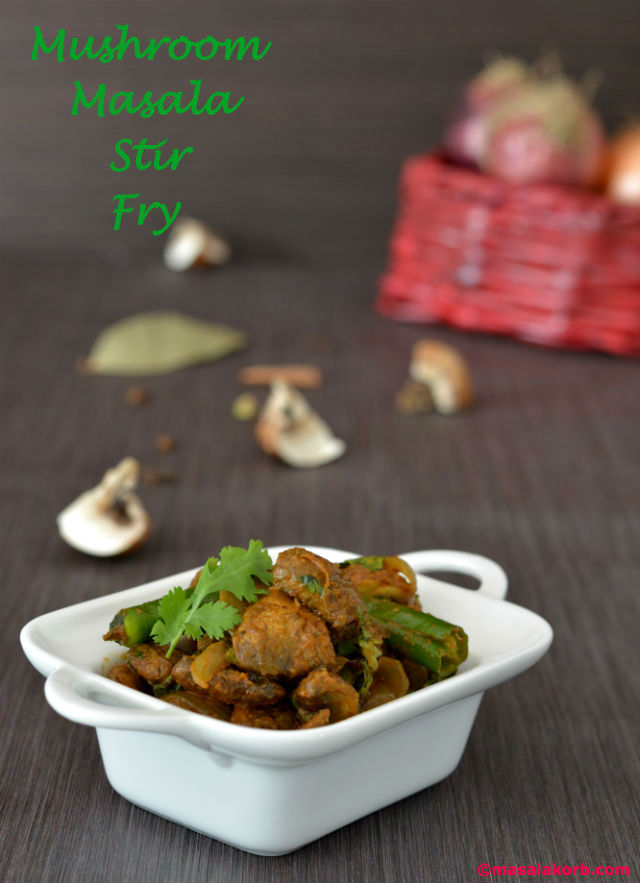 MUKKALA PULUSU (TANGY VEGTABLE STEW)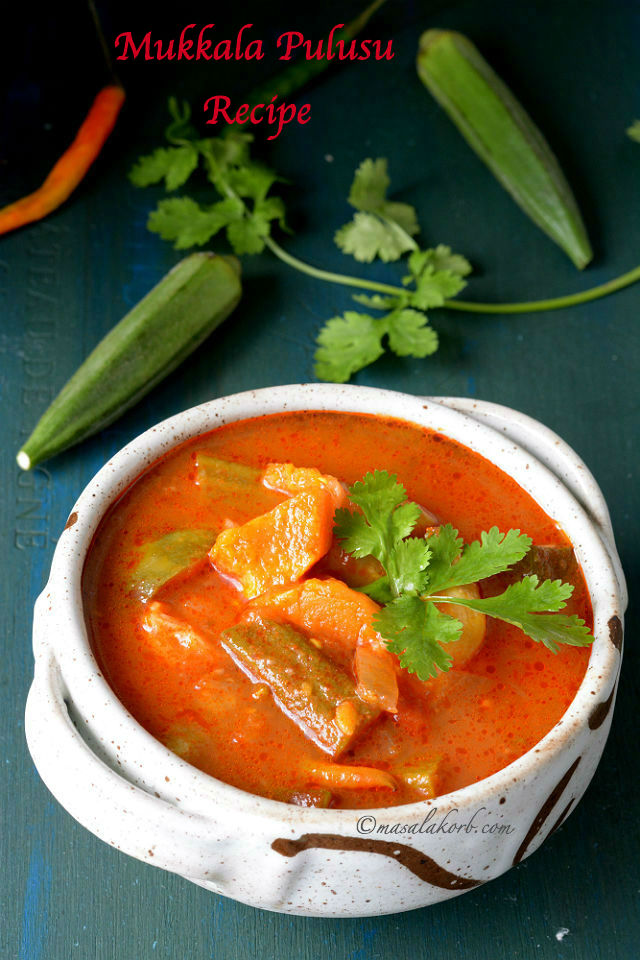 STRAWBERRY BANANA YOGHURT SMOOTHIE OR LASSI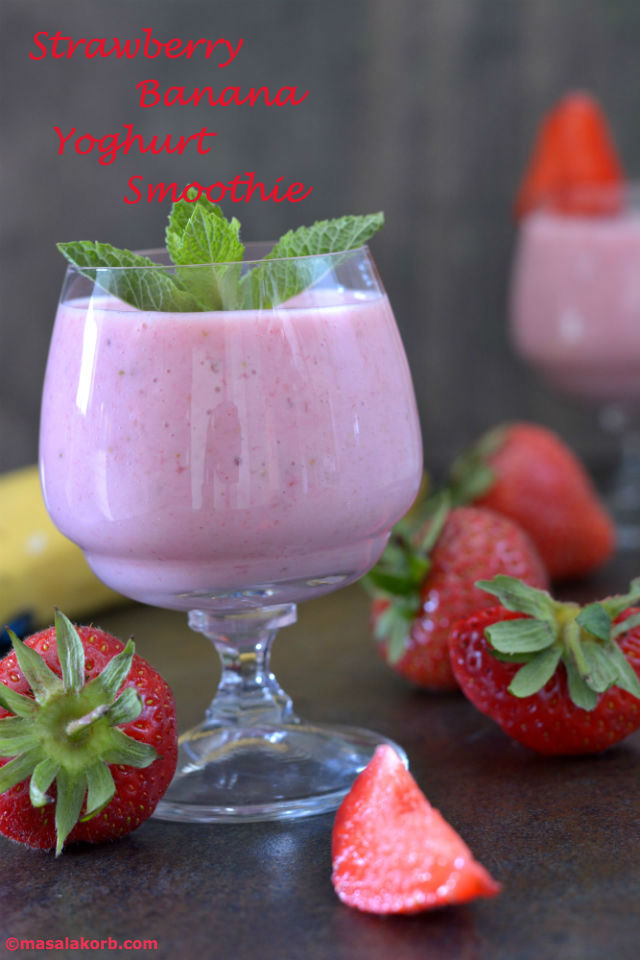 How did I execute this South Indian Vegetarian Lunch Menu?
Among all of the given recipes, Tomato Dal  will take the longest. So, I started off with dal. Get everything ready and prepare dal in pressure cooker. It will take 25 to 30 minutes for the dal to cook.
In the meantime, wash rice and set aside. Soak tamarind in water for Mukkala Pulusu,
Now, start off with all the chopping required for Mukkala Pulusu and Sorakaya Palu Curry.

By now dal will be done. All you need to do is finish off with tempering, which you can do it at the end.

Now prepare Mukkala Pulusu in a pressure cooker. This will not need much attention, so once you fry everything and close the lid, you can simultaneously start with Sorakaya Palu Curry.

Mukkala Pulusu and sorakaya koora will be done in the next 30 minutes….It's break time!!

Chop onions and mushrooms. Prepare Mushroom Masala Stir Fry.
While shallow frying mushrooms, cut yellow cucumber (dosakaya) and sauté stuff required for Dosakaya Pachadi.

Grind all the ingredients for Dosakaya Pachadi in a mixer.

Mushroom Masala Stir Fry will be ready.

Now do the tempering (tadka/popu) and divide among Tomato Pappu and Dosakaya Pachadi. 

Get the rice cooking in the rice cooker when everyone is ready for the meal. Cut some salad to enjoy with the meal.
Finally, whip up Strawberry Banana Smoothie or Lassi to complement the meal and to satisfy your sweet tooth :). You can also substitute with a simple Payasam or any Sweet of your choice.

It took about 2 hours to complete this menu….including a coffee break!! 
My Notes:
The order in which you enjoy this meal: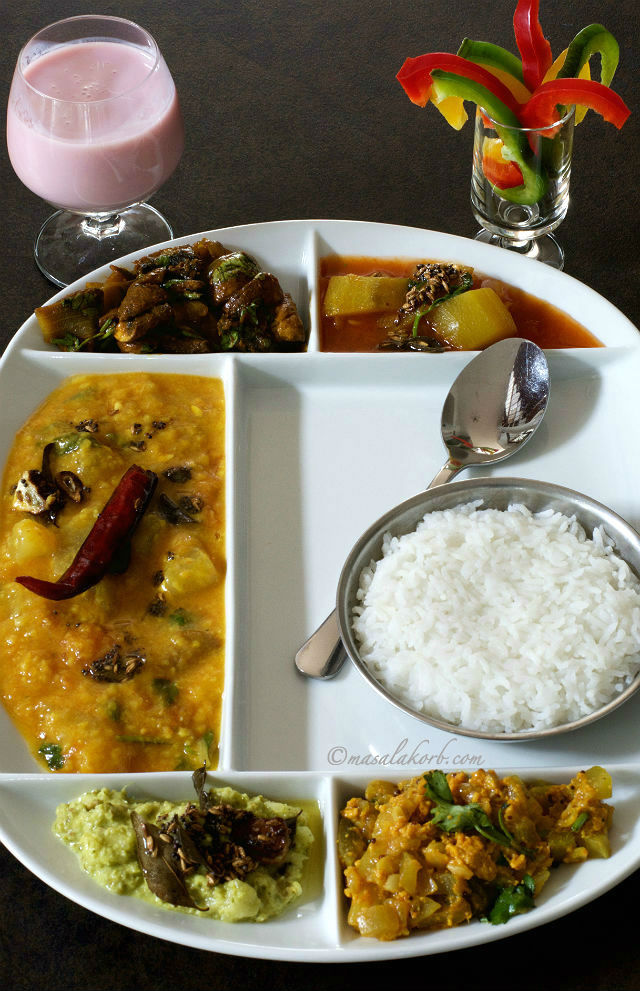 Hope you enjoyed this menu!!
Do check out the GUJARATI SUMMER THALI  and other ANDHRA RECIPES from blog.
Many more to come,,,,,STAY TUNED!!
Never miss a recipe!!…Subscribe to MasalaKorb and have posts delivered straight to your inbox! And connect with me on Facebook, Google, Twitter and Pinterest for all of the latest updates.
Happy Cooking 🙂
Cheers!!
Padma.