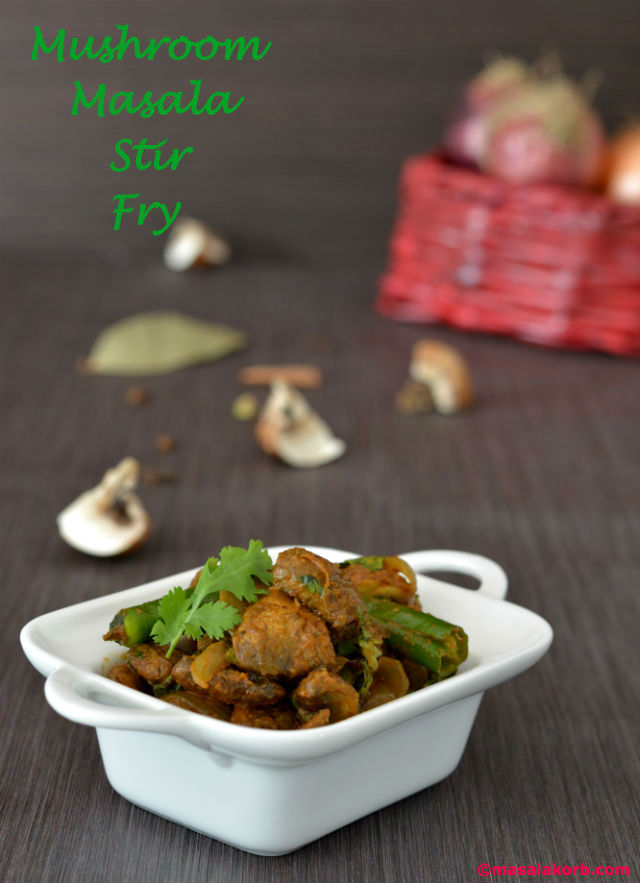 Friends…The weekend is almost there!!….Here is a weekend treat for all of you!!…Mushroom Masala Stir Fry…I think it's vital for any cook to have a collection of recipes for dishes that can be put together quickly. That way, no matter how little time you have or how tired you are, you can still have a tasty home cooked meal quickly. This being one aspect, you know how sometimes you cook something frequently and start to take it for granted until someone else tastes or looks at it and gets excited about it? It kinda revives your faith!  Do you agree with me or not?…..
The recipe for, I share today has the same effect, I've made it many times before, but it was only after it received a resounding lip smacking encouragement from friends who tried it at home, I thought to actually write down the recipe and share with everyone.
So on demand from near and dear, I share this humble Indianised Mushroom Masala Stir Fry. Indian spices offer a nice kick, with a hint of sweetness from onions. Though mushrooms are not traditional Indian ingredient, they are still very commonly used in modern Indian cooking and greatly enjoyed.

Let's know a little about Mushrooms!!
Mushrooms, the fruiting bodies of edible fungi, are amazing things in the kitchen, bearers of flavour that range from nutty to aromatically woody to—naturally—earthy. White mushrooms are a common variety of mushrooms also known as button mushrooms. White mushrooms have a firm texture and a mild flavour. Crimini or cremini mushrooms are in the same family as white mushrooms, but they have some differences. Criminis are similar in size to white mushrooms, but they are light brown in colour and have a firmer flesh and a more prominent earthy flavour than white mushrooms since they are more mature.
White button are also the same species, just at the youngest stage and thus the least flavourful. White and crimini mushrooms have similar nutritional makeups with a few slight differences. If bolder mushroom flavour is what you're after, it's worth shelling out a little extra for creminis. Today's recipe uses brown mushrooms or creminis.
To know more about mushrooms click here.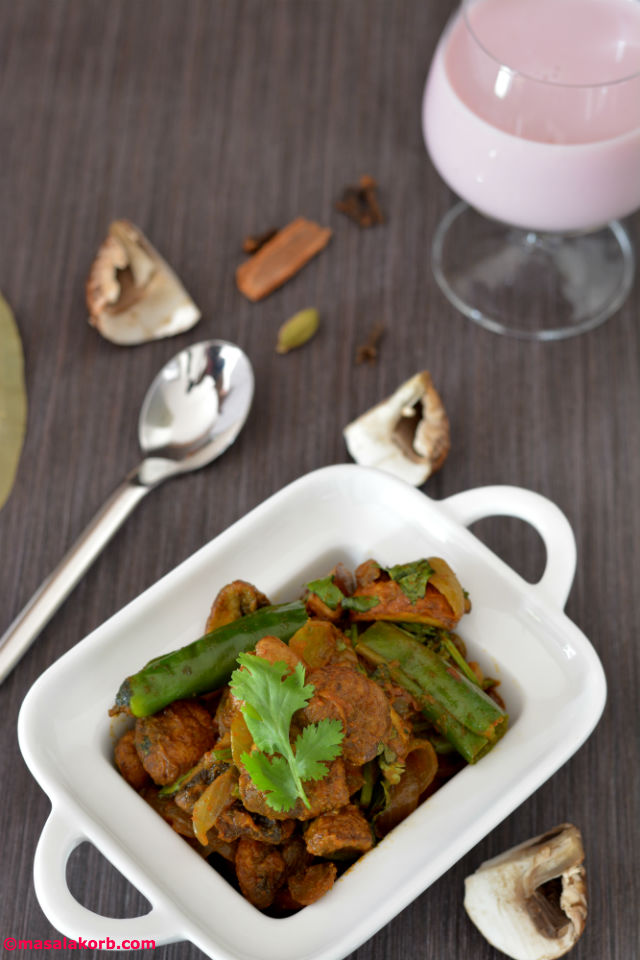 Mushrooms are a new super food. Researchers have found that mushrooms can help in improving immunity, reduce heart diseases and even fight as well reverse cancer. High in fibre and vitamins, mushrooms are also fat- and cholesterol-free. They're popular around the world due to their versatility as well as their meat like heft and texture. But this is one vegetable that is most likely not favoured by vegetarians probably for their appearance after they are cooked.

How to cook mushrooms?
Sautéing is a quick, versatile way to cook any kind of mushroom and they are a great way to add depth and body to a dish. The ginger and garlic gives them a little something extra. You can make variations and reduce the spice addition according to your taste level and tolerance. You can optionally add some diced capsicum too, bell-peppers give a nice flavour to the curries and also makes a compatible pair with mushrooms.
For all those mushroom fans and non-fans (anyways you are going to convert) out there, here is a delicious mushroom masala stir fry with awesome flavours.
Off to the recipe for Mushroom Masala Stir Fry!!…..Enjoy!!!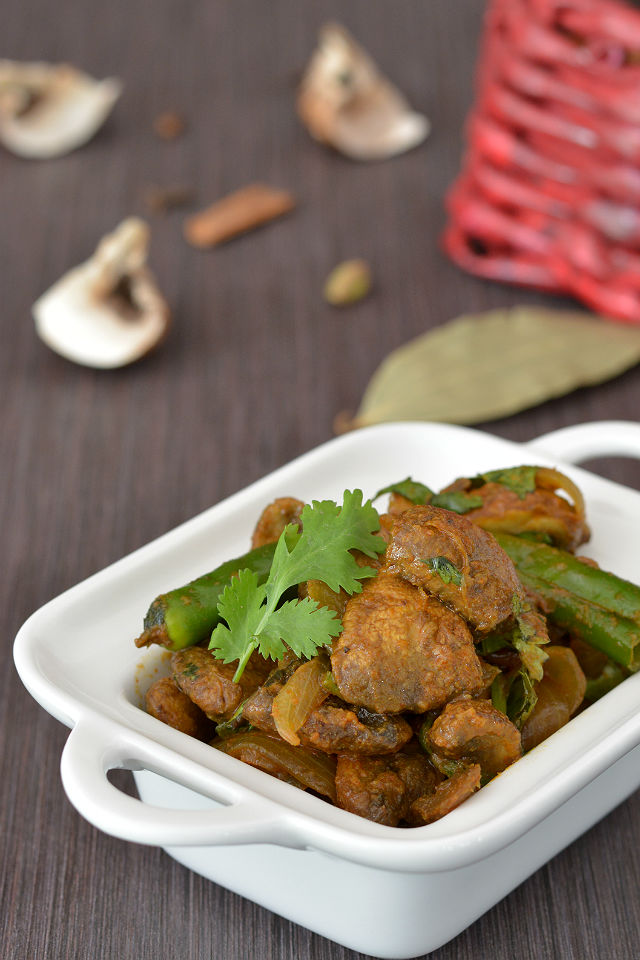 Step-by-Step process in making Mushroom Masala Stir Fry:
I have tried to add some tips on how to work with mushrooms as a NOTE in each section!!
How to clean Mushrooms?
NOTE: The best way to clean fresh mushrooms is to wipe them, one at a time, with a damp cloth or paper towel or to use a soft mushroom brush to remove any dirt. You can lightly rinse them, but dry them immediately and gently with paper towels. Don't soak fresh mushrooms in water or they will become soggy, making browning very difficult.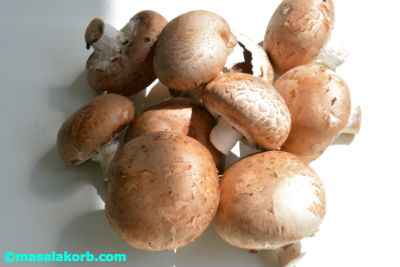 You don't always have to slice mushrooms. I like to quarter my mushrooms.
Slice onions lengthwise, slit green chillies and set aside.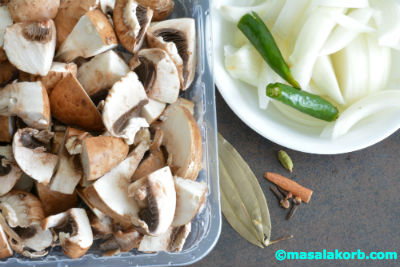 Heat oil in a wide skillet over medium heat. Season it with the bay leaf, cloves, cinnamon and cardamom.
Once the spices start to turn brown, add sliced onions and stir until the onions turn translucent.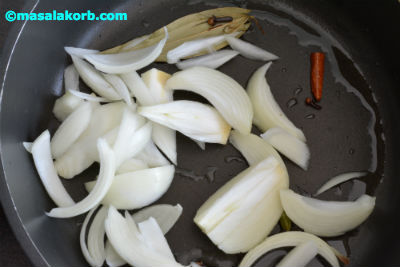 Now add ginger garlic paste and sauté for a minute.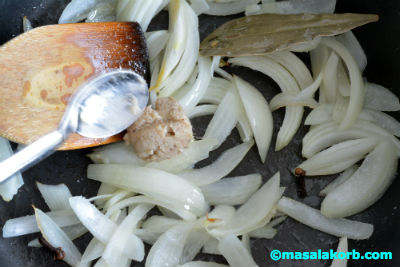 Add mushroom pieces, a little turmeric and increase the heat to high.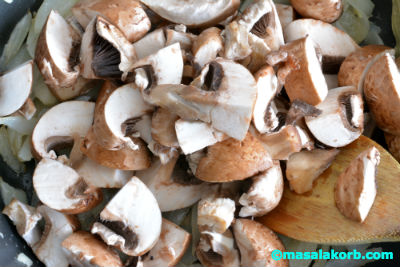 NOTE: As you know now, mushrooms have a ton of water in them. When you cook them in a pan, the water will seep out. If you keep the heat low, the mushrooms will just simmer in their liquid. Medium high or high heat will get rid of all that liquid, and will give the mushrooms a nice brown colour. Make sure all that water has evaporated before taking your mushrooms off the heat.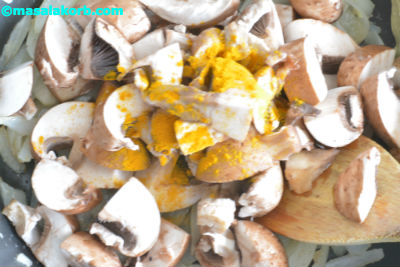 NOTE: Don't overcrowd your mushrooms! You want enough room for their liquid to evaporate—if you pack them in, they'll just steam. Give them a little room to do their thing.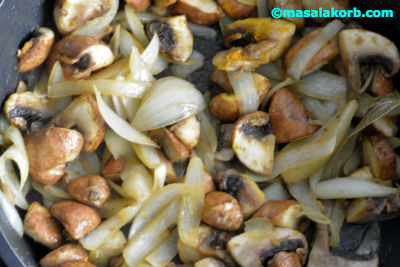 Sauté for another 3 to 4 minutes and add red chilli powder.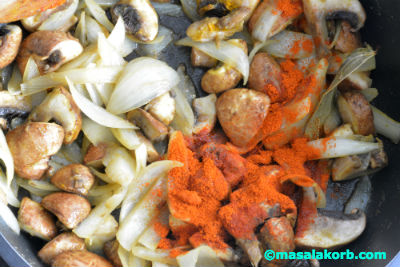 Stir for 4 to 5 minutes. Add slit salt, green chillies and curry leaves ( I don't have fresh curry leaves available here as I already mentioned in one of my last post…You please add).
NOTE: Seasoning with salt at the end of the cooking process may seem unconventional, but it actually works better in stir-fries. Salt encourages vegetables to break down and release water, and that is not the goal in these dishes.
Fry for 2 to 3 minutes,  and turn off the heat.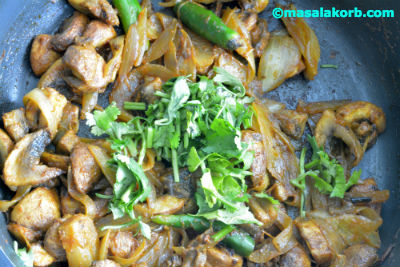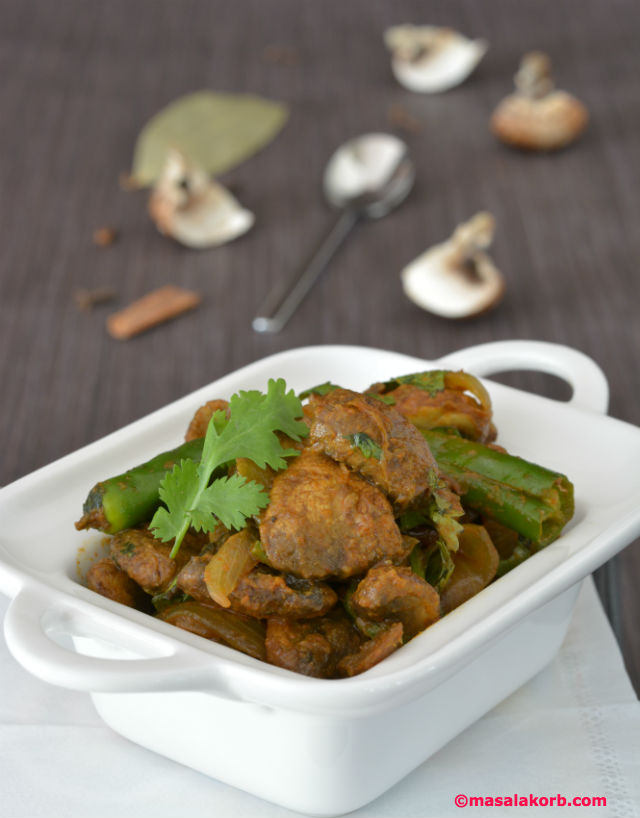 Variations:
It tastes great as a sandwich filling or also relished in a wrap.
You can also use it as a topping variation for bruschetta and serve as an appetiser. For this toast your bread in a toaster or on the grill and Serve mushroom masala warm, on top of the bread slices.
I hope you'll give this a try and share with me if makes a place on your dinner table.
Warning: If you are not a fan of spicy foods, then you might want to tone down the amount of spices just a tad, as they definitely have a powerful kick.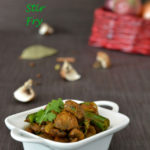 Print Recipe
Mushroom masala stir fry-A delicious and flavourful dry curry with an extra kick of Indian spices balanced with a hint of sweetness from the roasted onions.
Ingredients
1

Tablespoon

oil

1

bay leaf

2

cloves

1

cm

cinnamon stick

1

Cardamom

1

large onion

thinly sliced lengthwise

1

teaspoon

ginger garlic paste

10 to 12

brown button Mushrooms

sliced or quartered

¼

teaspoon

turmeric powder

½ to 1

teaspoon

Red chilli powder

2

green cillies

slit lenthwise

A sprig of curry leaves

2

Tablespoons

coriander

finely chopped
Instructions
Heat oil in a wide skillet over medium heat. Season with the bay leaf, cloves, cinnamon and cardamom.

Once the spices start to turn brown, add sliced onions and stir till onions turn translucent.

Now add mushroom pieces, a little turmeric powder and increase the heat to high.

Stir for 4 to 5 minutes. Add slit green chillies and curry leaves.

Fry for 3 more minutes and turn off the heat.

You can also use it as a filling in sandwiches or in a wrap or as a topping variation for bruschetta and serve as an appetiser.
Notes
1. Feel free to adjust spice levels with chilli powder to suit your taste.
2. Always cook the mushrooms uncovered and on high heat.
3. Include a lot of onions as they pair well with mushrooms. They add taste and flavour to the curry.
4. If required add some more oil.
5. You can also sprinkle a pinch of garam masala at the end for an extra spice kick.
6. To make it rich in taste, you can include cashews. Add them along with the seasonings.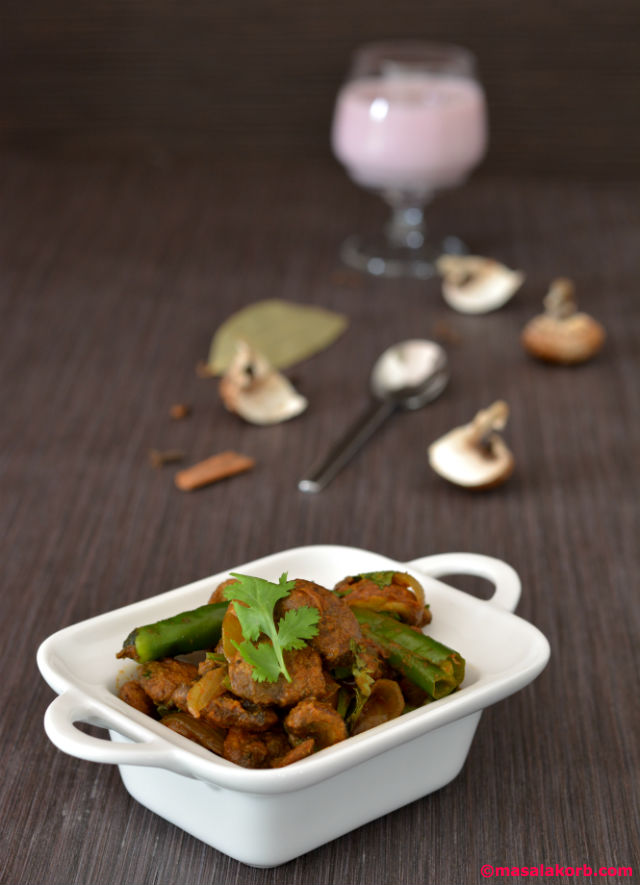 You may want to check out other popular posts in the similar category-
And many more to come!!!….Stay Tuned!!!
Happy Cooking 🙂
Cheers!!
Padma