These spiral-shaped treats are sinfully addictive, delicious and they don't need any introduction!! This is an Instant Jalebi Recipe Without Yeast and not the elaborate one prepared with fermented batter. Crispy and juicy Jalebi can be made easily at home whenever you crave for them and all you just need is 20 minutes and a few pantry ingredients.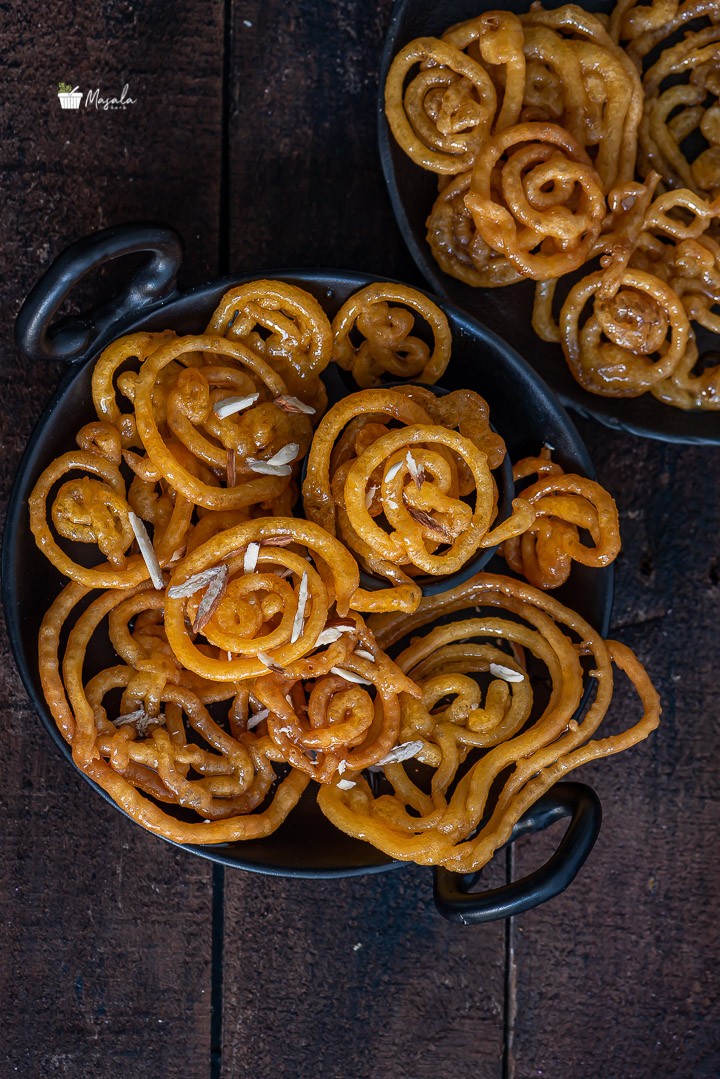 To get crispy and crunchy jalebis is not difficult but you need to follow a few tips & tricks. Traditional way to make jalebi is a long process where the batter has to ferment for 24 hours. But, you can make the instant version in just a jiffy and they stay crunchy for more than 30 minutes.
I recently got to know the secret behind the crunchy jalebi recipe sold on streets. They use a chemical called hydro (rang kat) generally used to ferment or make jalebis crispy. I definitely wouldn't use or even recommend to use that chemical when you are preparing at home. The Instant Jalebi Recipe Without Yeast which I am sharing today is yeast free and chemical free, yet you get the same results like the Street Style Crunchy, Crispy & Juicy Jalebi.
There are always some street favourites in every town. Similarly, in my husband's hometown Tenali, there is a street which is famous for Jalebi. Everyday around 5:00 pm, the shops on this street make fresh Bellam Jalebi (Jalebi in Jaggery Syrup) and serve them hot. I never miss to have them during every visit….They are truly delicious!!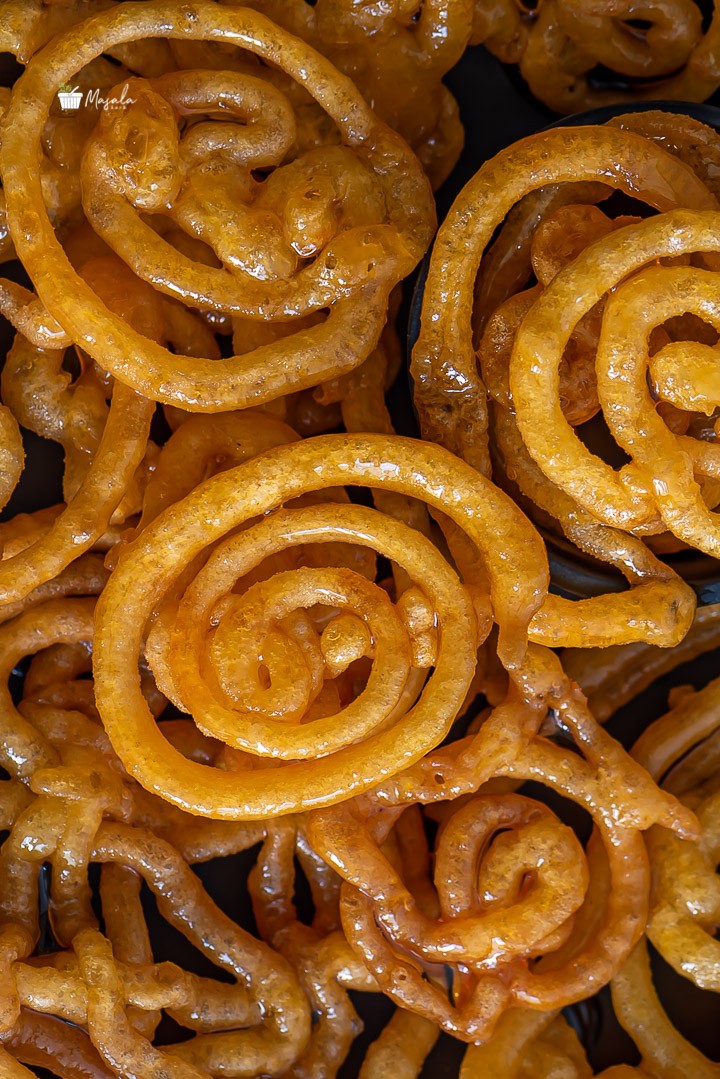 What is Jalebi?
Jalebi is a popular sweet prepared with all purpose flour, shaped in oil like pretzel or circular shapes using a piping bag or cloth, deep fried & later soaked in sweet syrup. They taste best when served hot. Though making perfect concentric round shape is difficult to master, you can practice & get it right with time. Jalebis are prepared for festivals like Diwali, Eid, Holi, etc & are also popular at weddings & special occasions. Do try this Instant Jalebi Recipe Without Yeast at home today & enjoy with your family…….Off to the recipe!!
Steps to follow for Instant Jalebi Recipe Without Yeast:
Making Jalebi Batter:
In a mixing bowl, add all purpose flour or maida, rice flour (skip if you don't want crispy jalebis), a pinch of salt and yoghurt. I'm adding a pinch of orange food colour. But, this is optional. Instead you can add some turmeric if you don't want to add artificial colour.

Now add water little by little and mix well with a whisk in circular direction. Beat for 3 to 4 minutes until there are no lumps. The batter should be of semi thick consistency. Keep the batter consistency on the slightly thicker side if you want thicker and softer Jalebis.

Cover the batter and set aside for 10 minutes.
Making Sugar Syrup: Close to 1 String consistency
In the mean time let's prepare the sugar syrup. Today I'm going to make sugar and jaggery syrup. You can just stick to any one kind. You can check my video for the jaggery version.
Whether you are using sugar or jaggery, add half its quantity of water to make the syrup. So, If using 1 cup sugar, use half cup water and boil it. It should not reach string consistency, but close to it….almost like Gulab Jamun Syrup.

Turn off the heat and add half a teaspoon lemon juice to prevent the sugar from crystallising.
Loading Jalebi Batter In Jalebi Dispenser:
Get back to the batter after resting for 10 minutes, add a pinch of baking soda to it and give it a gentle mix.

P

our this batter into a

Jalebi Dispenser, or a

sauce squeeze bottle with a small nozzle (

if you have it) or you can use cloth like how the sweet shop guys do or you can use any plastic cover, make a small hole at the bottom and use it.

Today, I'm using a piping bag today. Couldn't find my bottle. Frankly I like to use bottle, you kind of have better grip and control while squeezing.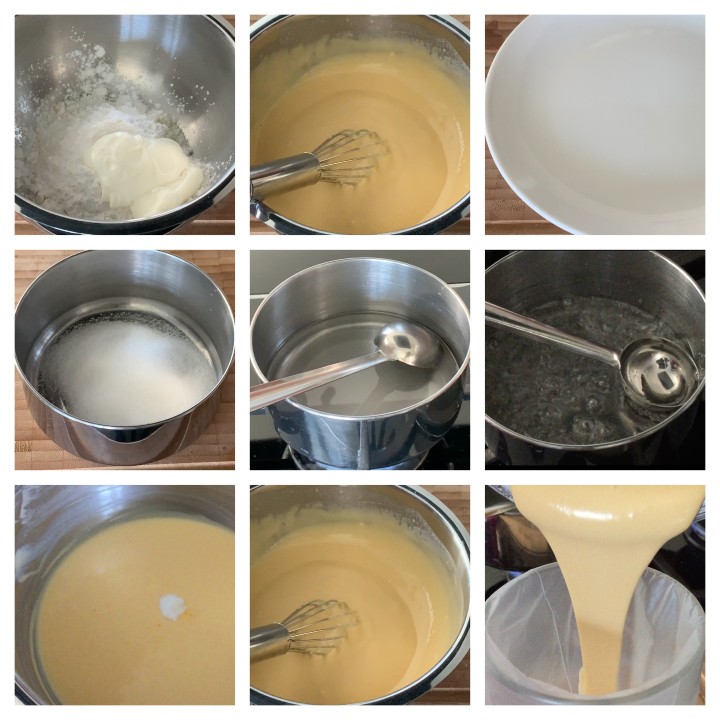 Getting Pan Ready for deep frying &

Frying the Jalebi

:
H

eat oil in a pan over medium heat. A flat pan works best to make jalebi. I'm using a small pan and showing individually so that it will be clear to understand. Now, the only challenge is to bring in your drawing skills on the jalebi shape. Whether you are an expert or a new comer doesn't really matter, you will always discover some new shapes and sizes.

The oil should not be smoking hot. Keep it on medium heat. S

queeze and make round spirals with the batter. How much ever you try, finally the jalebi takes its own shape when dropped in oil. It comes with practice. Don't worry about the shape, it's the taste that does the magic, so just enjoy making them!! 

When one side is partly cooked, turn over and fry on the other side.

Fry until the jalebis become light golden colour and crisp. Repeat the process and finish making jalebis with the remaining batter. 
Dipping Jalebi into Sugar Syrup or Jaggery Syrup:
Remove jalebi from oil and immediately drop into the warm sugar syrup. So, basically the sugar syrup should be still hot or at least warm and the jalebis go directly from the pan into the syrup. I just got tempted added a pinch of food colour to the sugar syrup…it's just optional. I did add a few jalebis to the jaggery syrup, you can watch it in the video.

This helps to absorb the syrup. Leave them for 3 to 4 minutes in the syrup and remove to a plate. So, basically by the time the next batch is ready, you can remove them from the syrup and add the new ones. Crispy and juicy jalebis are ready. This quantity makes about 20 medium sized jalebis.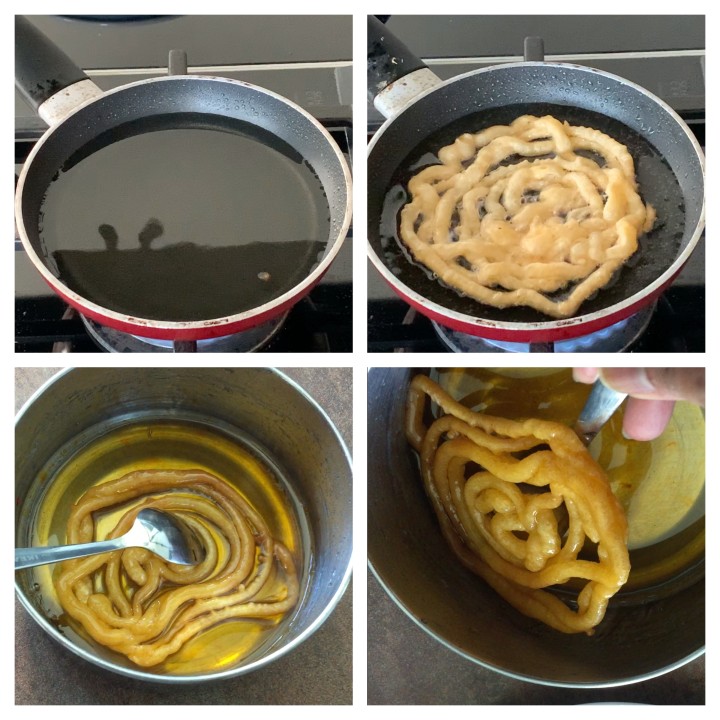 Storage & Serving Suggestions:
S

erve Jalebis hot, warm or at room temperature….I like them hot. Have you tried dipping piping hot Jalebi in cold Rabdi or milk….they taste divine!!

You can optionally garnish Jalebi with almonds, pistachio or Saffron before serving.

The Jalebi can be refrigerated for up-to 2-3 days, re-heat Jalebi using a Microwave again before consumption. But, DO NOT re-fry them. But, they are crisp and juicy and taste best when fresh.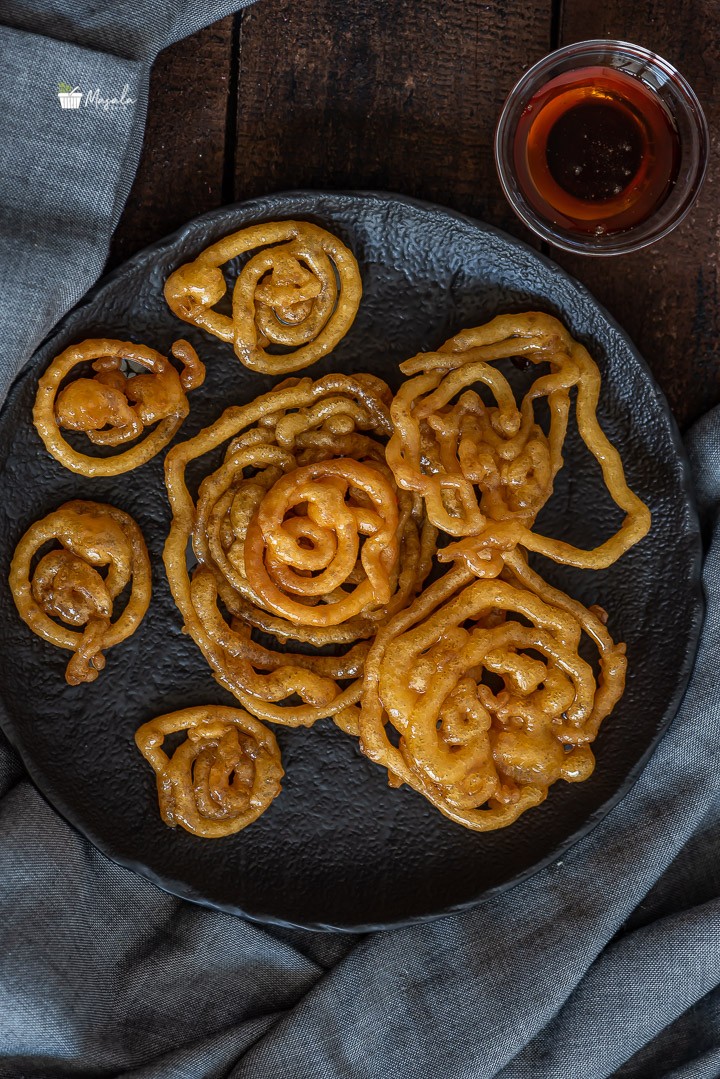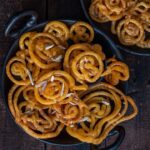 Print Recipe
Instant Jalebi Recipe Without Yeast is a popular sweet dish prepared with all purpose flour, spirally shaped using a piping bag or cloth, deep fried & then dipped in sweet syrup.
Ingredients
1/2

Cup

All Purpose Flour

Maida

2

tsp

Rice Flour

Skip if you don't want crispy

A pinch Salt

2

tbsp

Sour Yoghurt

A pinch

Orange/Red/Yellow Food Colour

or Turmeric Powder

A pinch

Cooking Soda
For Sugar/Jaggery Syrup:
1/2

Cup

Sugar or Jaggery

1/4

Cup

Water
Instructions
Preparing Jalebi Batter:
To a bowl, add all purpose flour, rice flour, a pinch of salt and yoghurt. If you like add a pinch of food colour or turmeric powder to the batter.

Add water and make a smooth batter.

Batter should not be too watery or too thick.

Rest aside for 10 minutes. In the mean time prepare syrup.
Sugar or Jaggery Syrup:
Mix sugar or jaggery, add 1/4 cup water and bring it to boil.

Syrup should reach close to 1 string consistency.
Loading Jalebi Batter In Jalebi Dispenser:
After 10 minutes, add cooking soda to the batter and mix gently.

Transfer the batter to a jalebi dispenser, a sauce squeeze bottle with a small nozzle, cloth or a piping bag.
Deep Frying jalebis:
Add oil in a frying pan, preferably flat pan.

Now squeeze the bottle and made your desired shape or circular shape.

Fry until golden and crisp.

Transfer the fried jalebi into hot syrup.

Rest for 4-5 minutes and remove to a plate.

Serve hot or at room temperature.
Notes
The batter should be of semi thick dropping consistency. 

Keep the oil over medium hot. Don't add jalebis to smoking hot oil. Jalebis will disperse as soon as they comes in contact with oil. Maintain medium heat.

While squeezing the batter in oil, move your hand in a clockwise direction to form spiral jalebis..

Initially, jalebis will sink to the bottom and then slowly rise to the top.

It will require a lot of patience and practice to get a perfect spiral shaped Jalebi.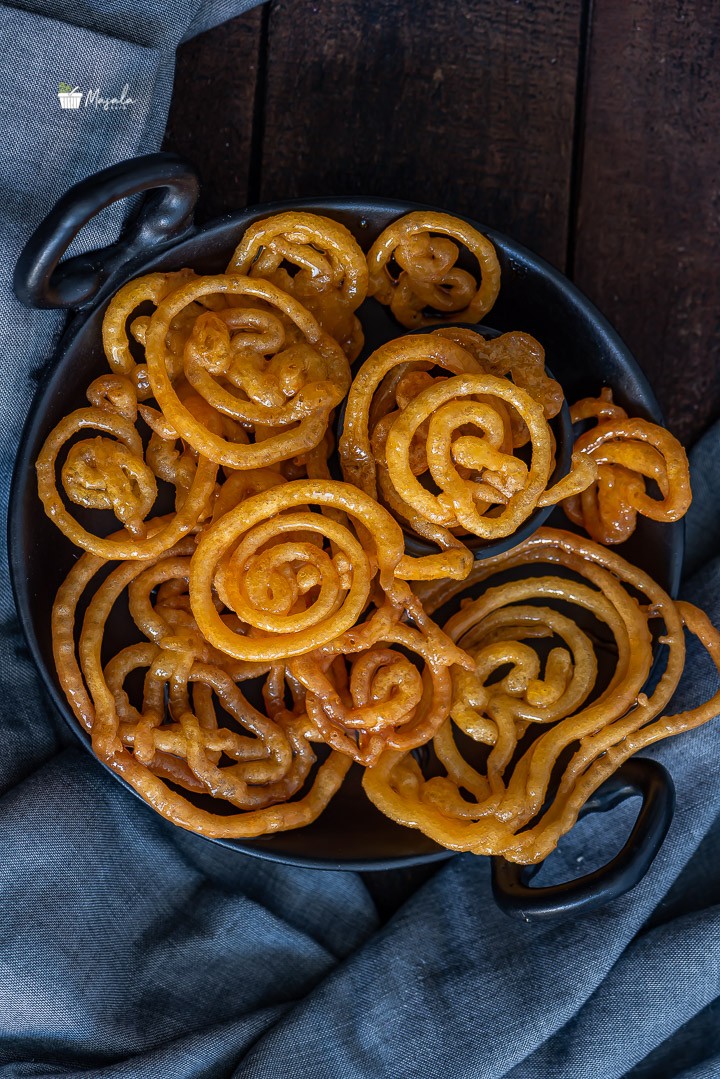 HOPE YOU ENJOYED THIS RECIPE!!
Check out other DESSERT RECIPES and a few collections from blog:
Below are some popular sweets from blog:
And many more to come!!…..Stay Tuned!!
Hungry for more? Never miss a recipe!!…Subscribe to MasalaKorb and have posts delivered straight to your inbox! And connect with me on Facebook, Google, Twitter, Instagram and Pinterest  for all of the latest updates.
Do subscribe to my YouTube Channel  for latest video alerts!! 
Did you make a recipe? Make sure to tag your photo with this hashtag:  #masalakorb
Happy Cooking 
Cheers!!
Padma