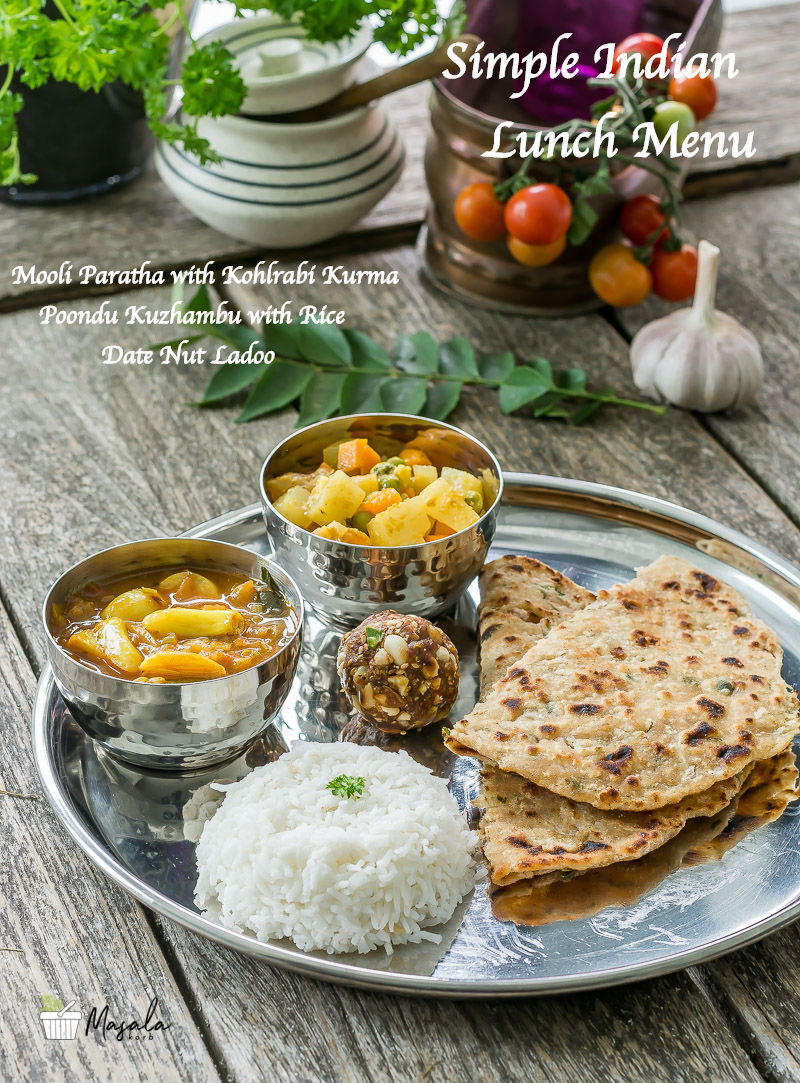 Meal planning is the biggest challenge for most of us. Right from the moment we enter into the kitchen, the one and only question that pops in our mind is "what to cook for lunch/dinner?" Having a plan ready for mealtimes, rather than deciding what to eat on the spot, reduces your stress levels. Meal planning can be quite a task…I know it's not that easy!! It could be a formal or casual, simple or special meal… .. at the end of the day, we have to create magic and come up with something good with the available stuff. Take a sneak peek into your refrigerator, I think it's a good place to start, list out the veggies that are desperately looking at you and put them to use. Today, I'm sharing this Simple Indian Lunch Menu, which I cooked a few days ago ….It's completely vegetarian!!
Through this Menu Idea Series, I'm just trying to give my inputs…..This menu may not exactly work for everyone, you can swap some recipes to your liking. This will be useful for those who are looking for ideas to put together simple menus to cook for their guests or for any special occasions at home. No matter what your cooking issues are, planning out your meals ahead of time can make the whole process much easier, so, I recommend giving it a shot!!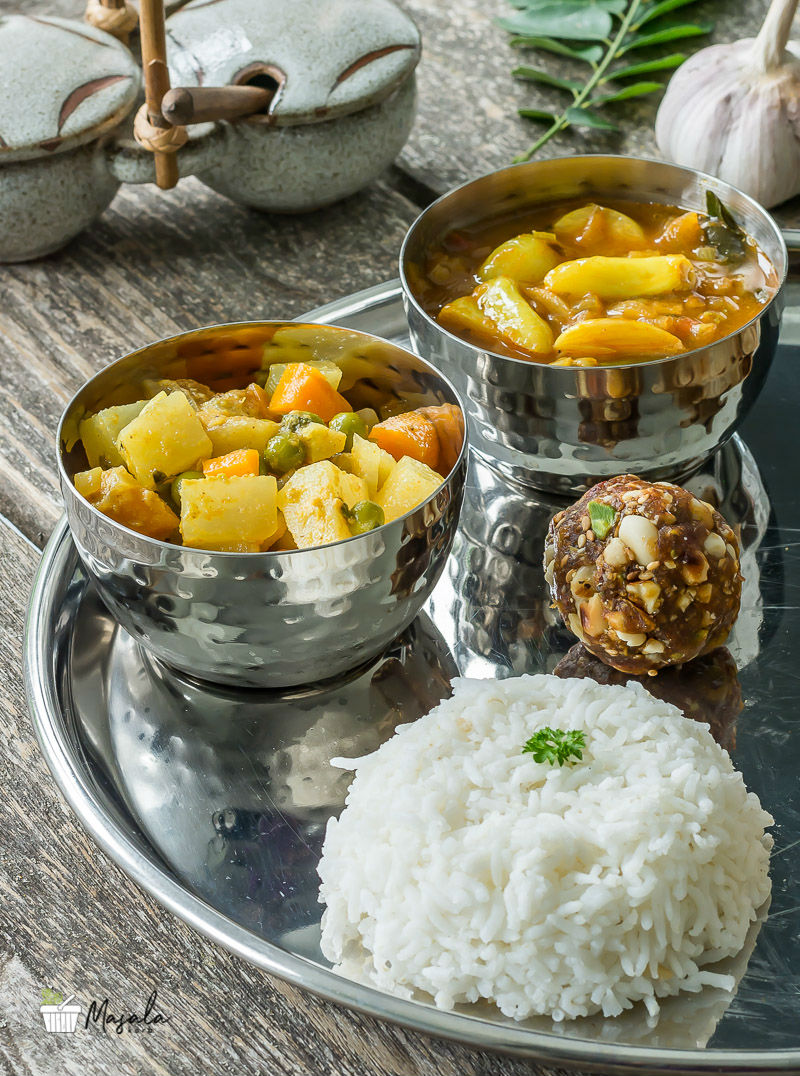 Simple Indian Lunch Menu 4 

comprises of:
Click on individual LINK for the detailed recipe with a stepwise pictorial guide!!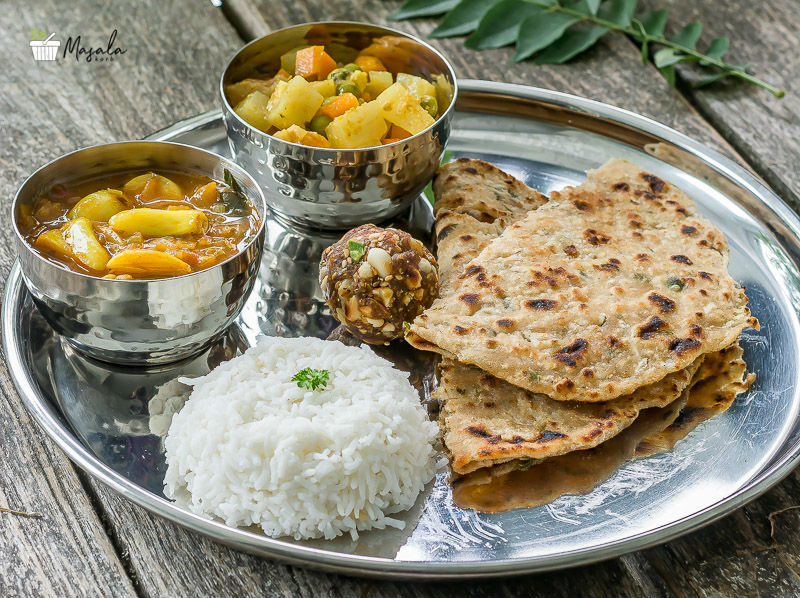 Let's see how I executed this 

Simple Indian Lunch Menu:
This is my approach to organise this meal. You don't need to follow it to T. If you are a newbie and cannot multitask, you can prepare at your own pace. This meal prep took me about 1.5 hours and this is just to give you a rough idea of my way and the order in which I cook!!
Wash rice and soak for 10-15 minutes.

In the mean time, grate radish and make the paratha dough.

Turn on the the rice cooker so that rice will be ready by the time the rest is getting ready.

Now, cut the veggies for the kurma and prepare kurma directly in the pressure cooker. This will save you time & also energy efficient.

Soak tamarind in hot water. Peel some garlic and chop onions. Make the Poondu Kuzhambu directly in a pan while the kurma is cooking.

Finally, make hot parathas.

Skip the dessert or substitute with anything else you have at home. I included this ladoo, as I had already prepared it the previous day.

Serve Mooli Paratha  with Kohlrabi Kurma……..White rice  with Poondu Kuzhambu ………and finally……. enjoy  Date Nut ladoo to satisfy your sweet tooth….SLURP 🙂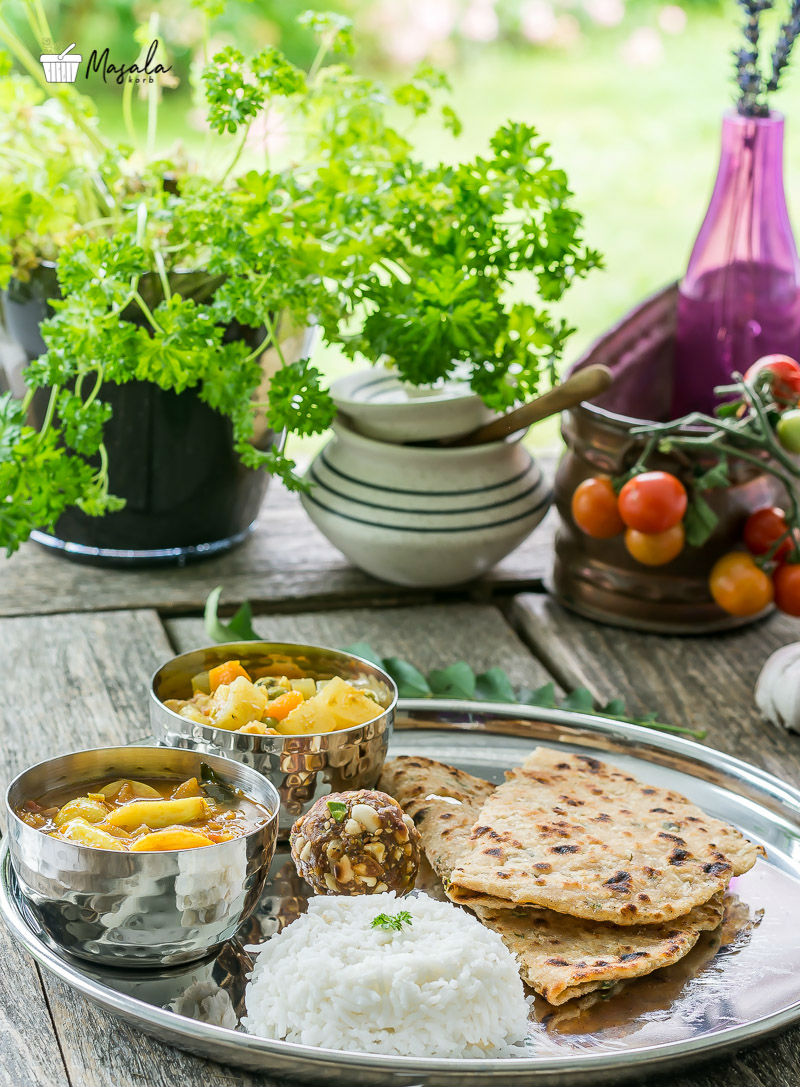 Hope you enjoyed this menu!!
Do check out the GUJARATI SUMMER THALI, other VEGETARIAN MENU IDEAS  and BREAKFAST MENU  from blog.
Many more to come,,,,,STAY TUNED!!
Never miss a recipe!!…Subscribe to  MasalaKorb and have posts delivered straight to your inbox! And connect with me on Facebook, Google, Twitter  and Pinterest  for all of the latest updates.
Do subscribe to my YouTube Channel  for latest video alerts!!
Happy Cooking 🙂
Cheers!!
Padma.