Hope you all had a fab weekend!! Looks like Summer is almost coming to an end….Today is such a dull weather with showers though. But last weekend was quite warm. For me, warm weather means cool drinks, ice-creams, pops…!! This Frozen Strawberry Sunrise Smoothie fits just that. Two of my favourite fruit smoothies blend separately, swirled together and frozen.
This Frozen Strawberry Sunrise Smoothie is aesthetically pleasing and perfect dessert on a summer day. You can also blend them together in one batch. They will still be equally delicious but you will lose the pretty looking vibrant colour duo.
You can freeze them in ice pop molds, paper cups or just any mould like I did it today. They are healthy, filling and totally satisfy my sweet tooth. It mimics the gorgeous colours of a summer sunrise, and will truly brighten up your dull and boring day! The smoothie version will lure you in first thing in the morning and have you happily sipping your breakfast as the sun comes up.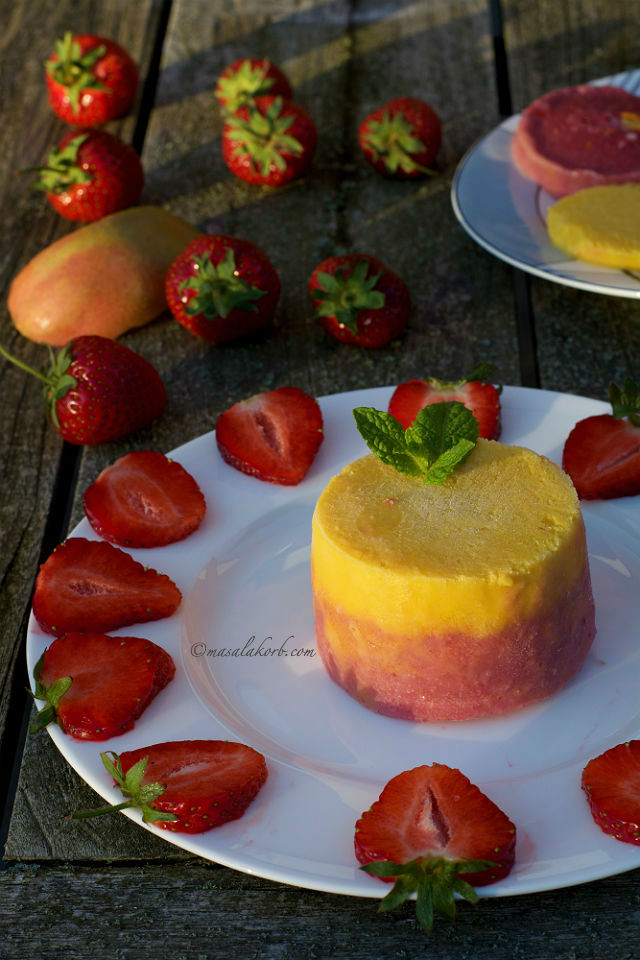 And just experiment with the ingredients!  I often use strawberries and mangoes because I love the flavour combination, but you can use any fruits according to the season or your preference. There is no fixed recipe….Play around and make a healthy, homemade pop that's so much better than anything you'll buy in the store.
This Frozen Strawberry Sunrise Smoothie starts out with a load of strawberries. Then, you'll top your red berries with a layer of sweet mangoes and freshly-squeezed orange juice. The mango layer has a spice kick with some grated ginger….skip it if you do not like the taste.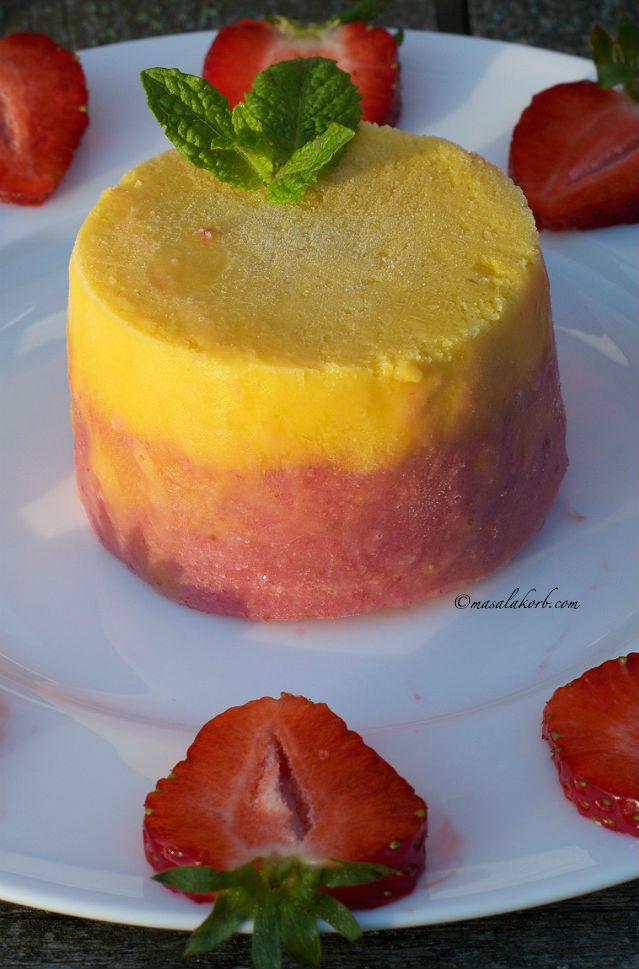 With all three fruits in one go, you end up eating a full dose of vitamin C, as well as loading up on tons of essential antioxidants, vitamins, minerals, and fibre. Drink it as a smoothie or have it as a dessert in the frozen form, it will definitely have you energised all day.
This frozen smoothie is 100% inspired by my previous layered strawberry mango breakfast smoothie with a few changes. Click here to get the recipe.
Enjoy this bright and cheerful dessert!!
Off to the recipe for Frozen Strawberry Sunrise Smoothie!!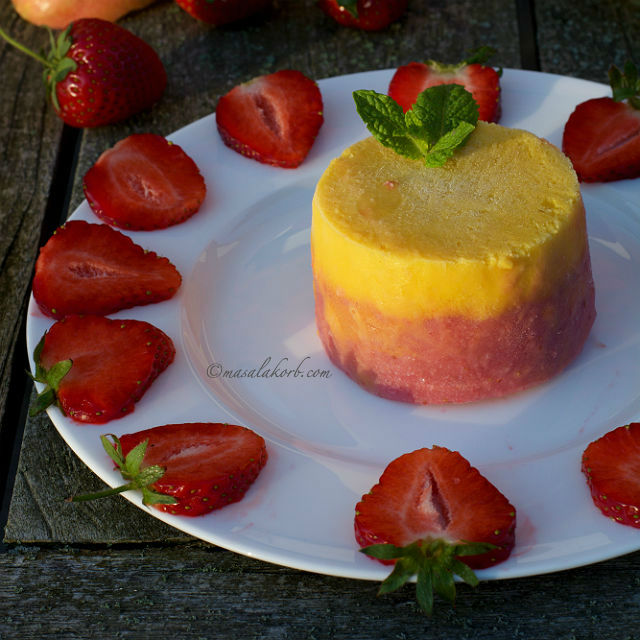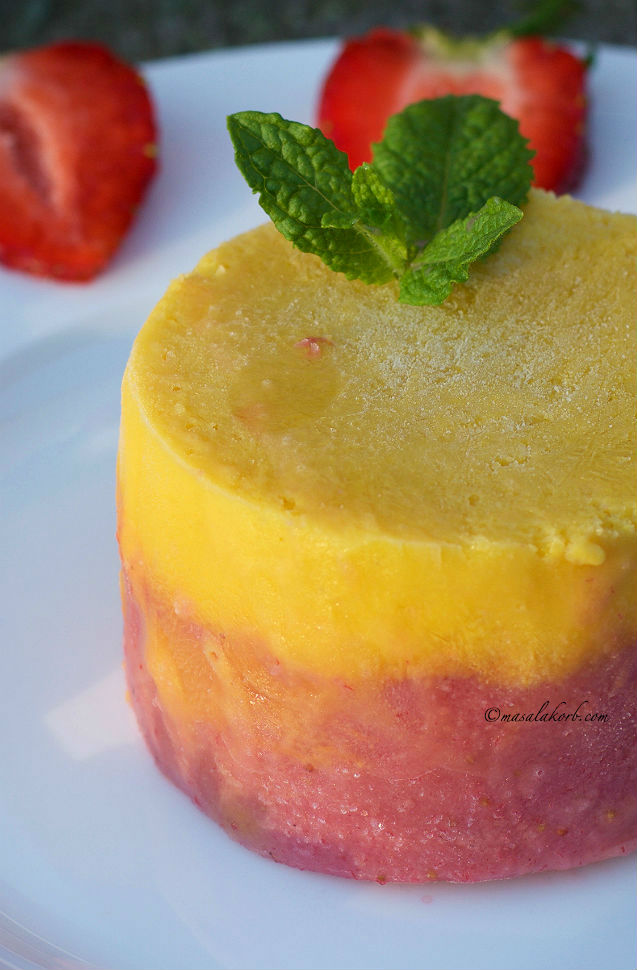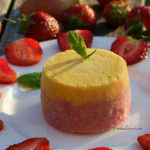 Print Recipe
Frozen strawberry sunrise smoothie is layering two simple smoothies in ice pop molds or in small paper cups before swirling and freezing to create an impressive frozen dessert.
Ingredients
For Mango smoothie layer:

1

cup

Mango chunks or pulp

or frozen

1

Tablespoon

Greek yoghurt

or normal yoghurt

¼

cup

Orange Juice

¼

teaspoon

grated ginger

1

teaspoon

honey

Optional

For Strawberry Smoothie layer:

1

cup

fresh strawberries

hulled and sliced in half (or frozen)

1

Tablespoon

Greek yogurt

or normal yoghurt

2

teaspoons

honey

optional

Other Ingredients:

Few Mint leaves for garnish
Instructions
For the mango layer:

Place all of the ingredients in a blender; pulse until smooth, adding a little more orange juice or water to thin, if needed.

For the strawberry layer:

Place all of the ingredients in a blender; pulse until smooth, adding a little water to thin, if needed.

Assembling:

Fill any ice pop mold, a small paper cup or any glass half way with the mango mix then fill the rest of the glass with the strawberry mix. You can also repeat layers.

Freeze until solid Approx. 5 hours or overnight.

If using conventional molds, put on the lid and freeze until solid, 3 to 4 hours. If using glasses or other unconventional molds, freeze until the pops are beginning to set (about an hour), then insert the sticks and freeze until solid, 3 to 4 hours. Or just serve it in a bowl.

When ready to serve, remove molds from the freezer. Run molds under warm running water to remove easily.

Serve immediately, for a cool and refreshing treat!
My Notes:
Add more honey or sugar for a sweeter drink.
Increase yogurt quantity if you want a creamier consistency.
Try out other fruit combinations of your choice.
Prep time doesn't include freezing time, which is approx. 5 hours.
You can also add half a cup of banana chunks to the strawberry layer.
Ideal would be to insert wooden sticks but after I was all done, couldn't find neither my pop molds nor the sticks…..Oops!!…Sorry about that!! We still enjoyed digging into it with a spoon and sipping the melted as a smoothie!!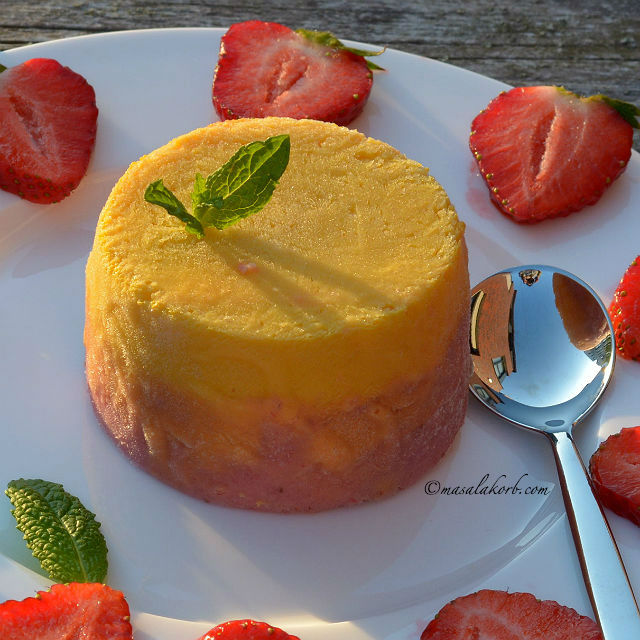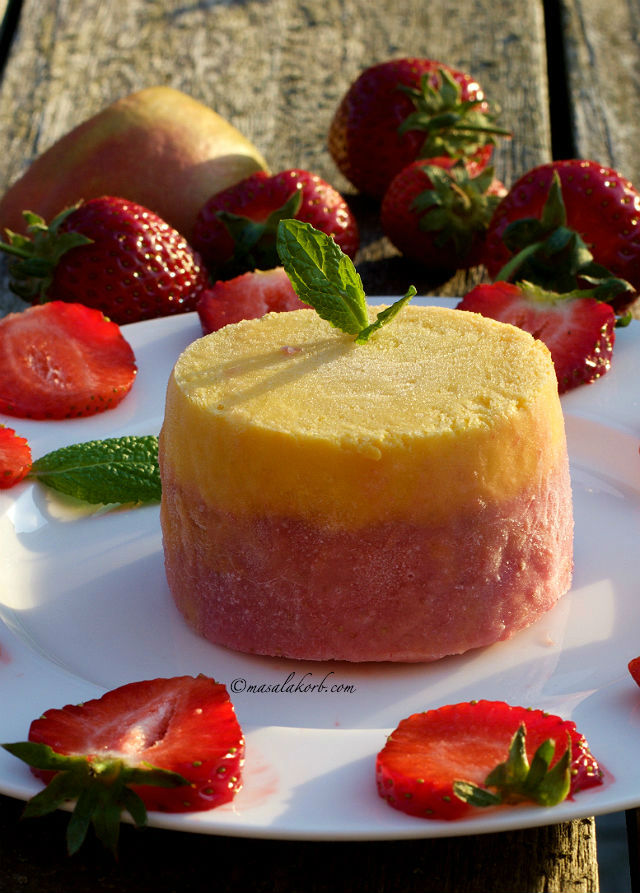 Check Out other recipes SUMMER TREATS from blog:
Many more to come…..STAY TUNED!!
Happy Cooking 🙂
Cheers!!
Padma.