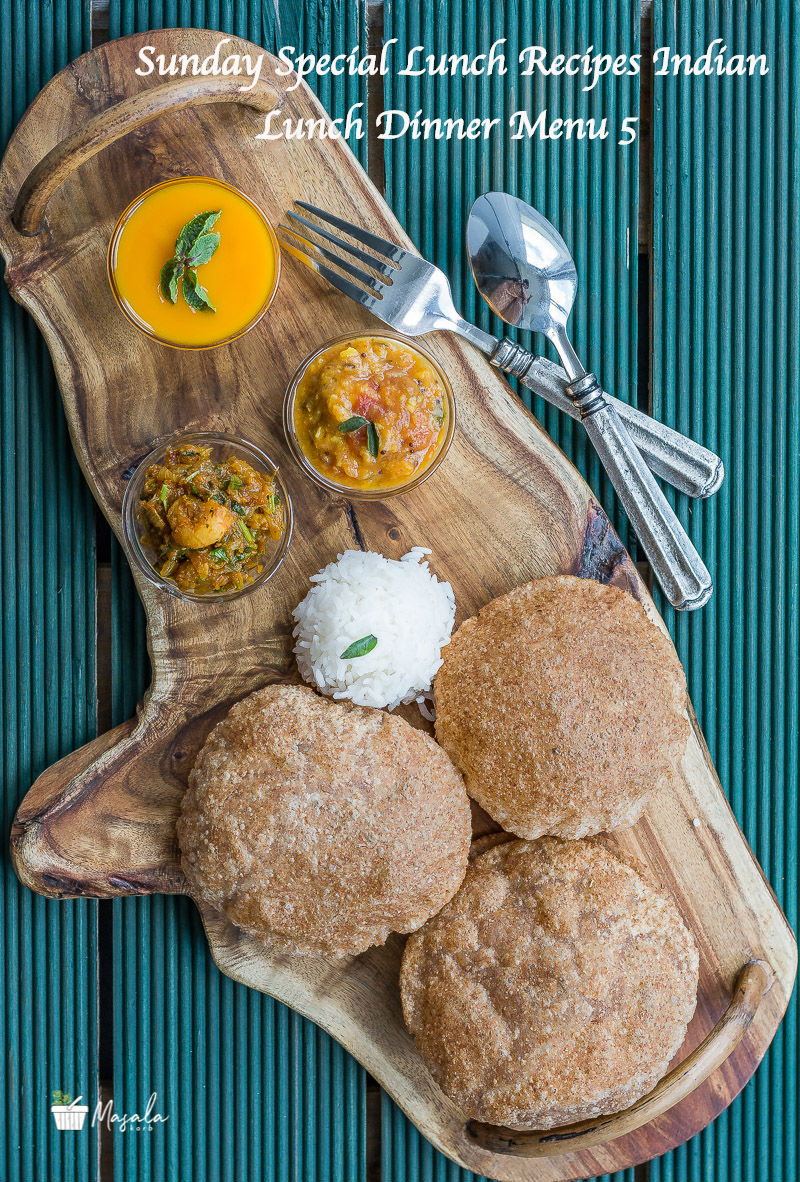 I'm here today to share a Simple Sunday Lunch Menu that I created to use up the last batch of saved up mangoes of the season. It's always tempting to buy a bunch of mangoes when they are in season and to save them for later use. These Sunday Special Lunch Recipes Indian will help you get a delicious, quick and easy lunch/dinner on the table in an hour and half or less.!! This menu will definitely uplift your mood for the rest of the day and keep you in good spirits. This also works as a brunch option as it's the perfect balance of lunch and breakfast….. offering the ultimate indulgence during the weekend.
Sunday meals are usually special at many of our homes. One of the most enticing qualities of a meal is that it appeals to all types. Everyone can coordinate and customise a simple meal so that there will be something for everyone to enjoy in a calm and relaxed environment. Enjoying simple flavours in home-cooked meals is not only healthy, but, you can also incorporate your favourite ingredients to suit your liking.
Without further ado, off to the Sunday Special Lunch Recipes Indian !!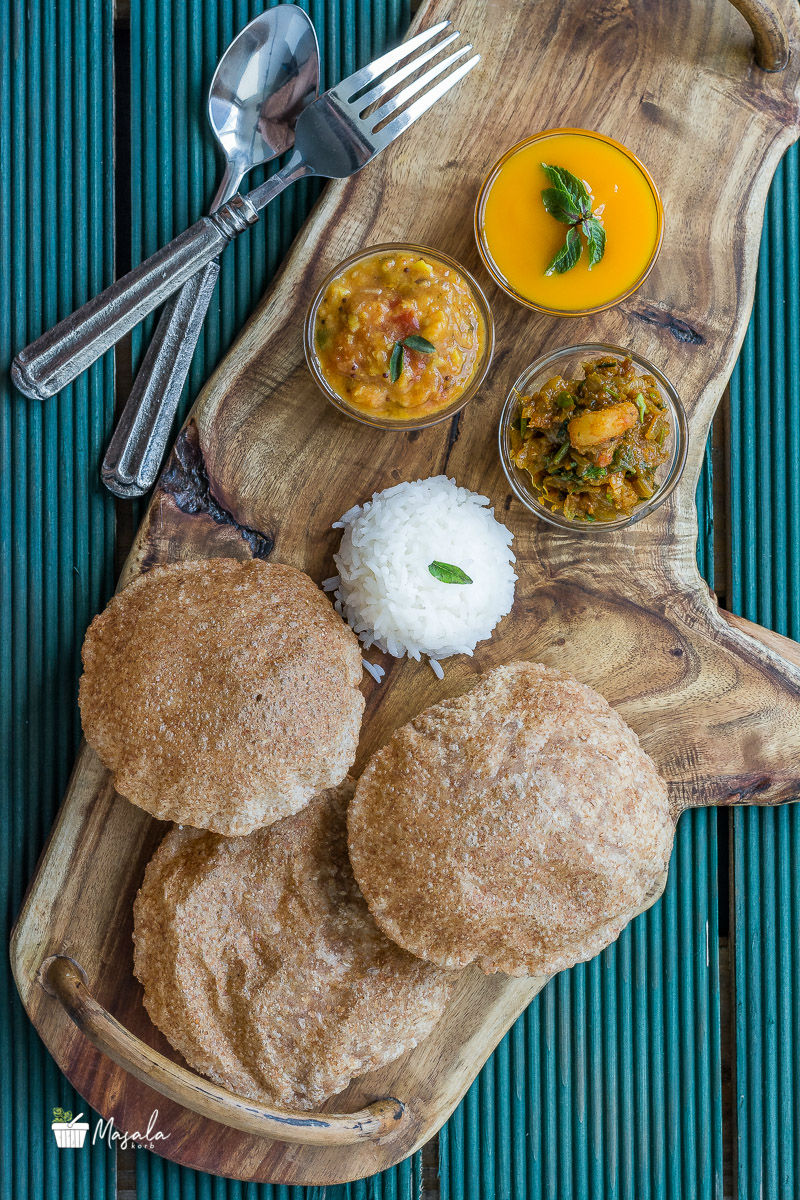 Sunday Special Lunch Recipes Indian – Lunch Dinner Menu 5 :
Click on each link to get the respective detailed recipes!! This menu consists of:
How did I manage to execute this menu?
Chop all ingredients needed for Tomato Dal. Cook dal along with other ingredients in a pressure cooker. Click here for stepwise pictorial guide to make Tomato Dal. This may take about 30 minutes.


During this time, wash rice and set aside.

Clean prawns, chop onions and make prawn curry following this procedure.

By now, tomato dal will be ready. Prepare tadka and add it to the dal.

Turn on the stove/rice cooker to cook rice. If you are new to Indian cooking, check out here to perfectly cook rice.
Prepare Aamras (Mango Pulp) following this procedure and keep it in the refrigerator. You can also make this ahead of time and leave it in the fridge.

Serve puris with aamras for the sweet version or you can enjoy with prawn curry. Have rice with tomato dal and prawn curry on the side.

You will not need any dessert as Aamras-Puri will satisfy your dessert cravings.
Hope you enjoyed the combination of flavours. If you are a vegetarian, just replace prawn curry with any vegetarian curry of your choice. You can also replace Puri with paratha or be padi rotli or just plain  roti / phulka for a healthier option.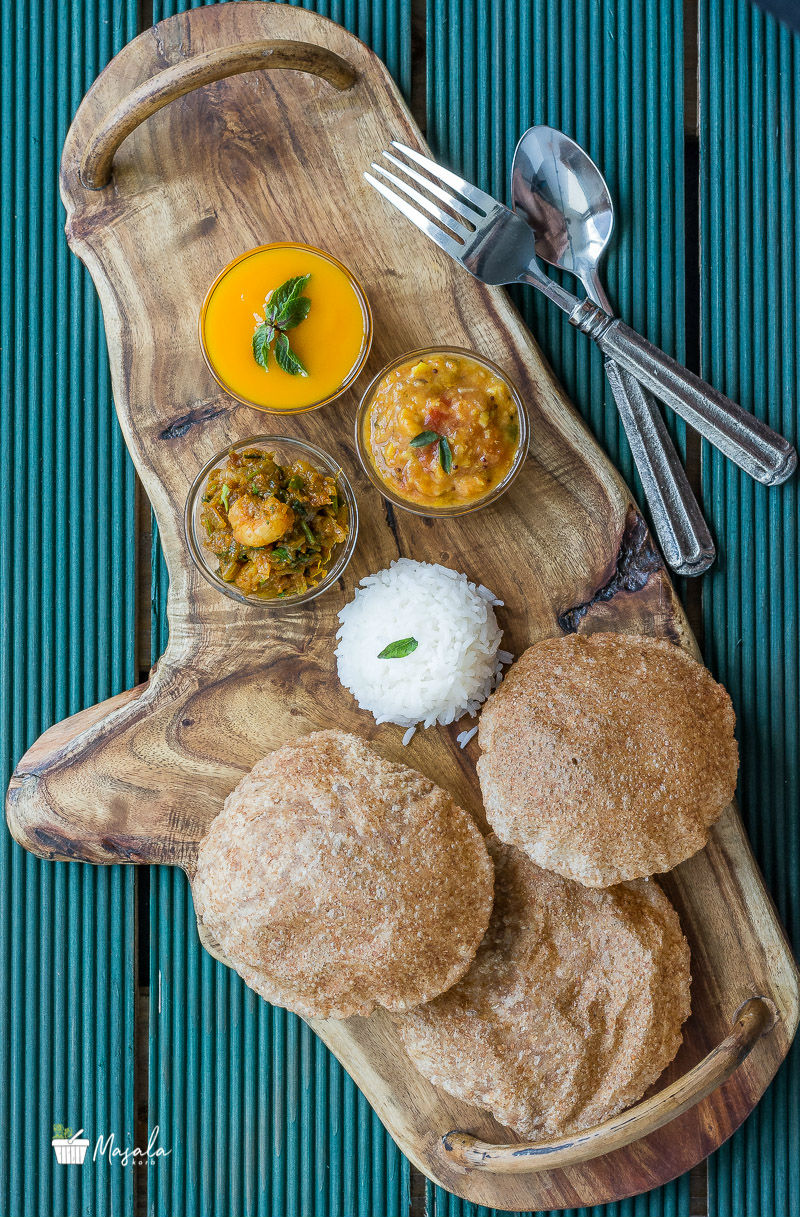 Hope you enjoyed this menu!! Have a great Sunday 🙂
Do check out  GUJARATI SUMMER THALI, other VEGETARIAN MENU IDEAS  and BREAKFAST MENU  from blog.
Many more to come,,,,,STAY TUNED!!
Never miss a recipe!!…Subscribe to  MasalaKorb and have posts delivered straight to your inbox! And connect with me on Facebook, Google, Twitter  and Pinterest  for all of the latest updates.
Do subscribe to my YouTube Channel  for latest video alerts!!
Happy Cooking 
Cheers!!
Padma.