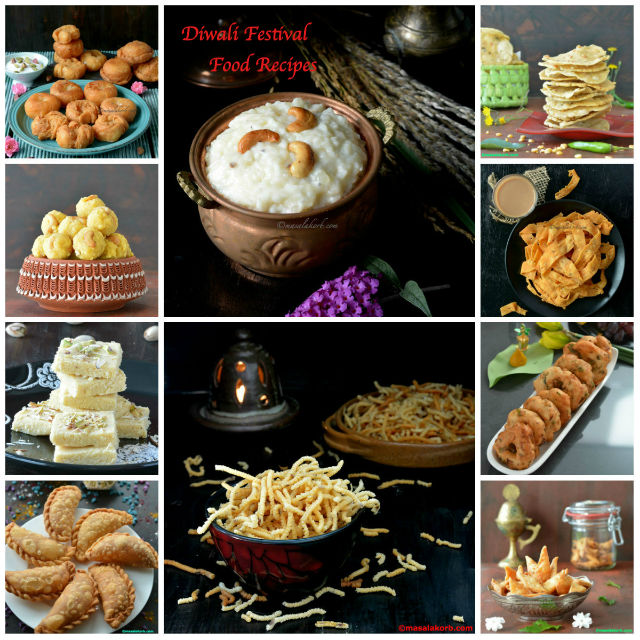 Diwali or Deepavali is one of the THE grand festivals of India, celebrated all over the country with utmost joy and enthusiasm! Diwali in India is equivalent to Christmas in the West. Diwali is a vibrant, colourful, joyous celebration expressed through the medium of food. Today, I am sharing a compilation of my favourite homemade Diwali sweets and snacks from my blog – Diwali festival food recipes. Go through the list and pick out your favourites and learn to make different types of sweets and snacks for this festive season.
The word Deepawali literally means 'Light in a row' where 'Deep' means light and 'Awali' means a row. It is a four day affair, where each day signifies a different tradition. Click here to know more about the mythological perspectives of the festival.
We cannot think of festival in India without sweets and the one thing not changed yet and will not change. Talking about Diwali, brings good old pleasant memories…. especially remembering childhood. Those were the days, our mothers and grand-mothers used to prepare loads of such goodies passionately at home not only for the house but also to pack boxes of such eatables for close friends and relatives. Since giving sweets to others is the best way to express the joy of happiness. 
Before Diwali night, people clean, renovate, and decorate their homes. Deepavali also marks a major shopping period. A cheerful time to dress up in new clothes, light up diyas (lamps and candles) inside and outside their home, participate in family puja, followed by fireworks. and then a family feast. People cook different speciality meals traditionally on different days of the festival, and these vary further depending on region. 
Diwali captures the essence of light and illumination. Diwali is important to one and all. Every family tries to celebrate the festival to the best of its ability and make it as special as possible.
Click on the pictures below to get the respective recipe, which will guide you through pictorial steps, making it a breeze to prepare!!
Diwali Festival Food Recipes – Sweets:
Diwali Festival Food Recipes – Savoury Snacks
Happy Diwali Everyone! Have fun and be safe. Because of the increasing concerns about environment, hopefully most of you will try to have an Eco- Friendly Diwali 🙂
Happy Cooking 🙂
Cheers!!
Padma.