Tamil New Year Recipes 2020 – A collection of a few traditional and authentic recipes that can be made on Tamil New Year's Day or Vishu. Most of the recipes require only pantry staples. Pick your favourite, head on to the kitchen, prepare what you like and enjoy with your family!!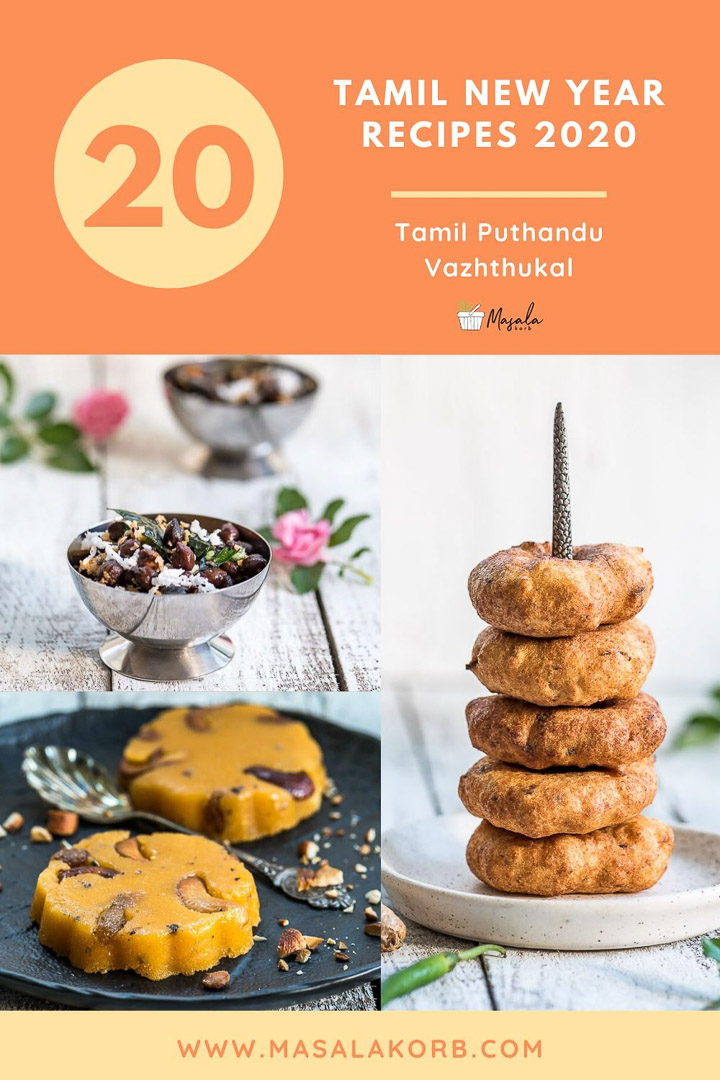 WHAT IS TAMIL NEW YEAR?
Tamil new year falls on April 14th every year. Tamil New Year's Day or Varusha Pirappu or Tamil Puthandu is celebrated in the beginning of Chithirai, the first month in the Tamil Calendar year. In the state of Kerala, they celebrate this day as "Vishu". Just like the English calendar New Year, this day is believed to be auspicious for new beginnings. To know more about both the festivals, click here and here.
What food to prepare on Tamil New Year?
Food is a very important part of any festival in India and hence followed by many mouth-watering and jaw-dropping sweets and meals. Every festivity has its own special dishes. Tamil New Year also boasts an extensive list of special foods. A special dish known as Maanga Pachadi, or Raw Mango Pachadi, is a must in the Tamil New Year's menu. The dish is a mix of sweet, sour and bitter ingredients like raw mangoes, jaggery and neem flowers. I have not yet posted this version of the pachadi on the blog, but you can check out Ugadi Pachadi  that we make for Ugadi – Telugu New Year.
The celebration doesn't stop there, but it continues to an elaborated feast. The most common dishes, other than Maanga Pachadi, are at least one kind of Vada, accompanied by the evergreen sweet, Payasam. This is then followed by the main course, which usually comprises steamed rice with any vegetable, sambar or dal and a simple Rasam,….all of this served on a banana leaf to create that festive touch!! Check out the menu I prepared for Ugadi – Telugu New Year.
Here is a list of recipes we generally make on Tamil Varuda Pirappu or Vishu. Click on the links to get Tamil New Year Recipes | Vishu Recipes. You can also follow the same recipes for Ugadi | Telugu New Year. 
Sweets Recipes:
Savoury Recipes:
I HOPE THAT THIS LIST WILL BE HELPFUL!
Hungry for more? Never miss a recipe!!…Subscribe to MasalaKorb and have posts delivered straight to your inbox! And connect with me on Facebook, Google, Twitter, Instagram and Pinterest  for all of the latest updates.
Do subscribe to my YouTube Channel  for latest video alerts!! 
Did you make a recipe? Make sure to tag your photo with this hashtag:  #masalakorb
Happy Cooking 
Cheers!!
Padma